Da Ban Chinese Restaurant – Szechuan cuisine
By CK Lam
Da Ban Chinese Restaurant is renowned for serving Szechuan cuisine as well as steamboat. Its location in Jalan Zainal Abidin, stuck between Jalan Macalister and Burma Road, has a huge gold and black signboard on its facade.
A man-made bridge after the main entrance leads us into several dining areas. This fairly large air-conditioned restaurant has its interior decorated with Chinese furniture and bamboo plants.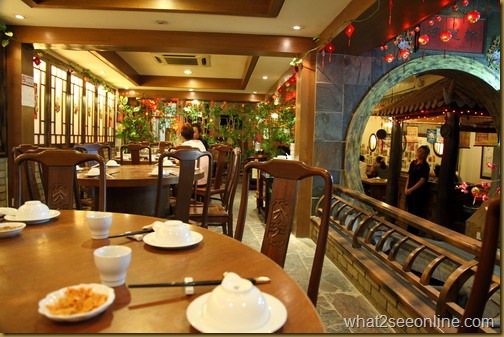 The pre-dishes of ikan bilis and lotus root are first served. The menu offers a wide selection of pork, seafood and porridge dishes. For appetizers, we ordered the century egg and spicy fried duck tongue. The duck tongue (RM13.80) was well flavored. Boiled until tender, the duck tongue is then stir-fried with garlic, chopped chili padi and garnished with spring onions.
Spicy fried duck tongue
It also offers its speciality – classic Szechuan dishes such as dried fried diced chicken (RM25). Cooked with dried red chili and Szechuan peppercorn, the chicken pieces were flavored with a mélange of chili and pepper heat.
We were recommended the fish broth. The serving was enough for the six of us, with second helping. The broth was rich and creamy, delightfully flavored with Chinese herbs – angelica and wolfberries, as well as with the sweetness of the fried fish. Our choice of the red snapper fish, priced at RM7 per 100gm, cost RM77.
The two fatty pork belly dishes are a must-have. The first was the braised sliced pork served with garlic sauce (RM16). The fatty pork belly pieces were delicious with the sauce that was flavoured with garlic and a burst of chilli heat.
The steamed pork roll with preserved Chinese cabbage (RM12) was similarly flavourful. The  green sauce has an interesting taste, while the  spring onion garnishing  enhanced the dish.  It was clearly a more delicious dish of the two.
Steamed pork roll with Chinese cabbage
Braised sliced pork served with garlic sauce
Every dish  had its own unique taste. The fried pork intestine with shredded ginger (RM16) comes with a light and sweet gravy. The addition of shredded ginger provided a spiciness to the dish.
Accompanying the dinner was the fried brinjal with fish and gravy sauce (RM9.90). The eggplant with its supple flesh went well with the sweet, sour and spicy sauce with minced meat. This was the only vegetable dish that we had. We thoroughly enjoyed it with white rice.
The restaurant serves over 10 types of porridge. They come with chicken, seafood, abalone, dried oyster and century egg. Each order comes with a plate of deep-fried fritters.
There were also a fair number of interesting Chinese teas, wines and other beverages. The flavourful food with lots of oomph by Da Ban has attracted many diners from near and far since its opening in 2005. Click here for the Map Location.
Da Ban Chinese Restaurant
大班中國風味館
84 Jalan Zainal Abidin
10400 Georgetown
Penang
Tel: 04-2272777
Business Operating Hours: 6pm – 4am
Closed on Tuesday
Open on Public Holidays
* This is a reproduction of my article published in New Straits Times