Shanghai Ding House of Dumplings, Penang
By CK Lam
Having started off more than a decade ago in Penang, Shanghai Ding House of Dumplings is still drawing in the crowds, with many going for its noodles and dim sum.
A group of us made our way to this restaurant located at a corner shop lot near Queensbay Mall. We devoured a sampling of sweet and savory dishes from its varied menu. The first dish was the fried radish cake with seafood. The soft-textured radish cake was stir-fried with bean sprouts, egg, prawns, squid, Chinese sausage, dried prawns and preserved turnip.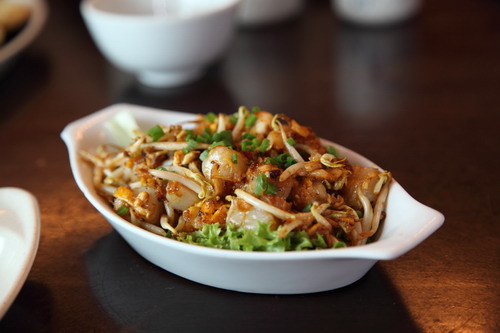 Next up was a hearty bowl of Yunnan fish noodle, served in a soup boiled for eight hours with delicious fish flavour. I slurped my way through the bowl of noodle with fresh pieces of garoupa fillet, romaine lettuce, ginger and wolfberries. The rice noodle imported from China had a nice chewy bite and almost the same thickness of the laksa noodle. The serving at RM19.80 is good for two.
We had another noodle dish, the supreme stock prawn ramen with a hint of Chinese wine. The noodles were just ordinary but the soup was deliciously soothing after eight hours of boiling with prawn shells and chicken bones. The serving came with romaine lettuce, bamboo pit, wolfberries and large prawns.
Supreme stock prawn ramen (RM28)
From the dim sum menu, we had the signature dish of meat dumplings, popularly known as xiao lung bao. These came in four variants, namely original, scallop, crabmeat and superior.
The original dumplings with delicate skin came with a juicy meat filling and rich broth. The large order at an attractive price of just RM12.80 had eight dumplings in a bamboo steamer. This piping pocket of delicacy is best eaten with ginger strips in black vinegar.
Our meal continued with fried broccoli. Stir-fried with prawns, scallops and oyster sauce, the crunchy broccoli went nicely with the meal.
Fried broccoli (RM15.80)
We shared the egg tarts, pandan-flavoured durian pancake and also individual servings of black sesame glutinous rice ball in ginger soup.
The egg tart had a nice custardy filling with less flaky crust. The durian pancake had a filling made of cream and chilled durian flesh. The filling would have been perfect if the durian flesh was better thawed, as the frozen state made it not as creamy.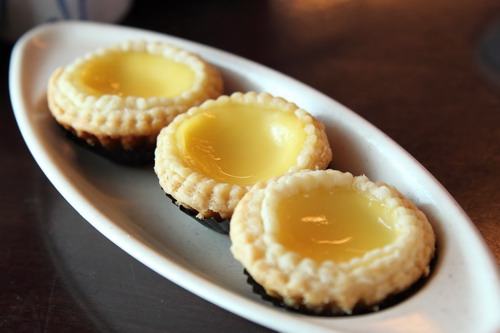 Egg tart (3pieces RM3.80)
The warm ginger soup was appealing, with a lovely balance of sweetness and strong ginger heat. I really love the soft-textured glutinous rice balls with sesame paste filling.
Black sesame glutinous rice ball in ginger syrup (RM3.80)
Shanghai Ding House of Dumplings, with its simple modern setting, is bright with lots of sunlight coming in from its many glass panels facing the road. The restaurant is open daily from 8am to 10pm, making it a convenient place for not just breakfast, lunch and dinner but also an evening snack.
Shanghai Ding House of Dumplings
Block H, 4/G
Persiaran Bayan Indah
Bayan Bay
11900 Penang
Tel: 04-6441644
* Many thanks to Bee for laying on this invitation.
* This is a reproduction of my article published in New Straits Times