Ristorante Bella Italia – Place for Italian Food
*The outlet has since closed down
Ristorante Bella Italia is  the place to go when it comes to Italian food in Penang. It has two outlets, with the first one at Bellisa Row in Pulau Tikus, and  the other in Batu Ferringhi, which has a casual and friendly atmosphere. Both the outlets serve a slightly different menu.
The Batu Ferringhi outlet welcomes visitors with its delightful selection of food and its relaxing dining hall looking out into a small garden.
During our visit, we sampled several dishes. We started with two appetisers — brushetta and funghi fritto. The classic brushetta con olive had toppings of tomatoes in extra virgin olive oil, basil and oregano. The flavour was well-balanced but could do with less olive oil.
Brushetta con olive RM7.50
The funghi fritto came next with the batter on the deep-fried mushroom still crispy. I enjoyed it with the rich garlic mayonnaise sauce served on the side.
Ristorante Bella Italia offers a selection of beers and freshly-squeezed fruit juices. There are the  mixed fruit juices of orange, apple and carrot, and the refreshing orange juice.
Pasta-lovers will be spoilt for choice with the wide variety of handmade pastas, from sicliana, to alla salmone and tonno.  We loved the linguine aragosta and gamberoni. Cooked nicely, the pasta was served with sweet prawns and lobster meat in a rich tomato basil sauce.  Do try this dish with its generous amount of ingredients and hint of spiciness when you are in Bella Italia.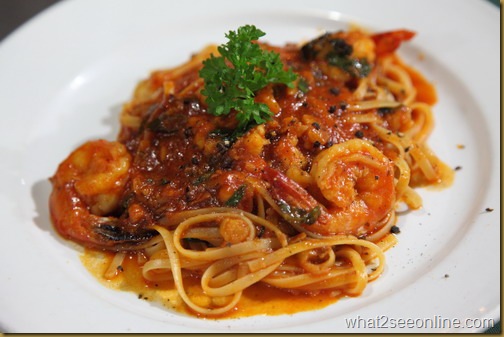 Linguine aragosta & gamberoni RM32.80
One of Ristorante Bella Italia's specialties are its pizzas cooked in a wood-fired oven, and made from homemade pizza dough and fresh ingredients. The pizzas are thin-crusted and come with a variety of toppings. The pizza alla bella Italia was the pizza we tried.
Served on a wooden board, the pizza has a layer of homemade sweet tomato sauce for the base, and  toppings of beef bacon, mushrooms, garlic and  mozzarella cheese. The crust is crisp and a little chewy.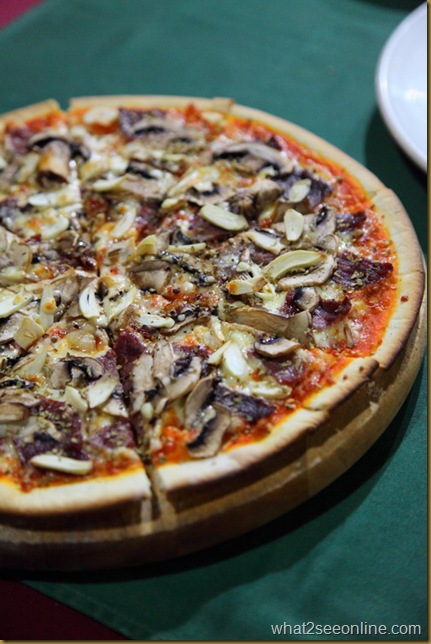 Pizza alla bella Italia RM29.80
The restaurant also does home deliveries for  those living in the vicinity. On the night of our visit,  its staff was busy carrying out several pizza deliveries.
Ristorante Bella Italia is reputed for making the best tiramisu in Penang since its opening several years ago. The cake is irresistibly mouthwatering, made with sponge cake layered with coffee and mascarpone. Batches of this popular dessert is freshly baked  several times a day.
Tiramisu – RM13.80
Nestled along the row of shops facing Golden Sands Resort in Batu Ferringhi, Ristorante Bella Italia is not air-conditioned. The restaurant is open daily for dinner from 6pm to 11pm. Click here for the Map Location.
Ristorante Bella Italia Batu Feringghi
149 Jalan Batu Feringghi
11000 Penang
Tel: 04-8813741
* Many thanks to Ristorante Bella Italia Batu Feringghi  for laying on this invitation.
* This is a reproduction of my article published in New Straits Times