Fabulously French Cuisine @Eastin Hotel, Penang
BY CK Lam
Located on the ground floor of Eastin Hotel in Penang, Swez Brasserie is offering all things French for the month of May. Senior sous chef Daniel Tan and pastry chef Franco Ho will each prepare a variety of savory and sweet dishes for the Fabulously French Cuisine buffet.
Savory and sweet dishes by senior sous chef Daniel Tan and pastry chef Franco Ho
Among the starters, are the crevettes et avocat en salade (french shrimps with avocado) and  vol au vent – petite salade de fruit de mer en vol au vent (marinated seviche of seafood). The latter is a delightful finger food with freshly baked puffed pastry filled with seafood in creamy sauce.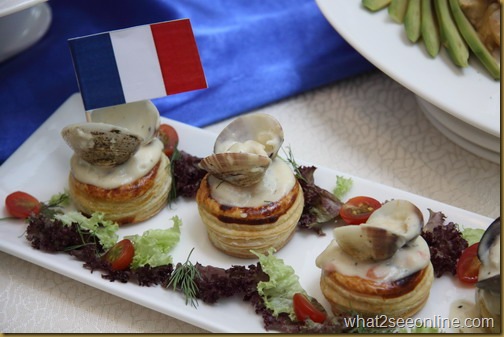 Marinated seviche of seafood
The shrimps with avocado come with a blend of flavors, sweetness of the shrimp, creaminess of avocado and the sauces.
French shrimps with avocado
The soup counter features French favourites of Bouillabaisse (Mediterranean seafood soup) and the creamy Bisque de crabe armoricaine (crab bisque). The clear Mediterranean seafood soup with carrots and tomatoes has a nice lively taste with the sweetness of the prawns, fish, scallops and mussels.
Mediterranean seafood soup
The crab bisque soup is a hearty and creamy soup, strongly flavored with beautiful crab and spices. The dish is topped with cream for a nice texture addition.
Crab Bisque
Next to follow is the main dishes, which features fish and meat. Look out for the meaty dishes of Canard al'orange (roasted duck with orange sauce) and Carre d'agneau Provencale (rack of lamb Provencal).
Chef Daniel Tan does well with the rack of lamb Provencal. The lamb done medium rare is rich and delicious. The browned crust has a balanced flavor of rosemary and thyme, onions and garlic. The lamb is brightened by the accompanying brown and mint sauce.
The combination of ingredients of the Canard al'orange is good but the taste of the relatively bland sauce does not complement well with the duck meat. This dish could have come through with a much stronger sweet citrus sauce.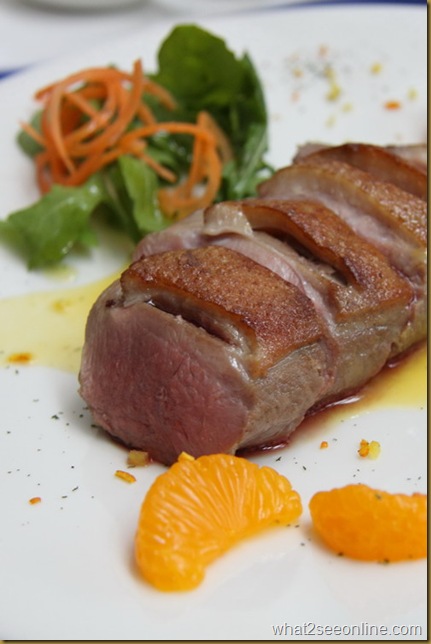 Pastry chef Franco Ho prepared a line of desserts and they include macaroons, creme brulee and tarte aux pommes. The well torched creme brulee makes a lovely light dessert while the tarte aux pommes (French apple tart) is definitely worth trying. The apple tarts come with a balance of crust and plenty slices of crunchy green apple.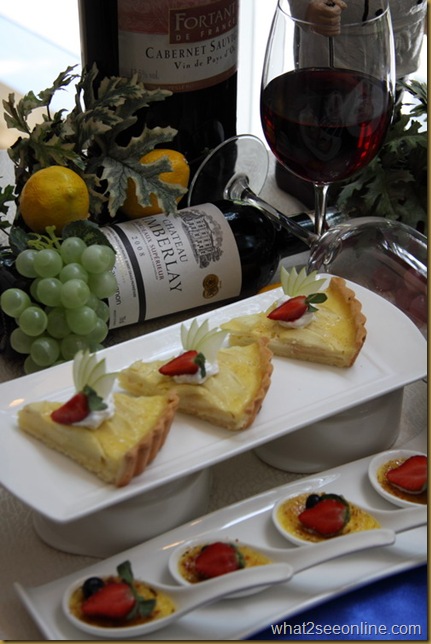 Tempting desserts
The little rounds of macaroons come with soft chewy texture and the best filling is chocolate, with perfect sweetness and flavor.
The Fabulously French is available from 1st May till 31st May 2012, during lunch, hi-tea and dinner. The lunch from Monday till Friday is priced at RM48++ for adult and RM24++ for children. Hi Tea is from 12pm to 3pm, available only on Saturday, Sunday and Public Holidays. It is priced at RM55++ for adult and RM28++ for children. Semi Buffet Dinner from Monday to Thursday is priced at RM48++ per person.
Swez Brasserie offers a special discount of 15% for all Maybankard & Visa card members.
For reservations, call 04-612 1128.
Eastin Hotel Penang
1 Solok Bayan Indah, Queensbay
11900 Bayan Lepas
Penang
* Many thanks to Eastin Hotel for laying on this invitation.