Penang 24-hour Food Tour Guide
By CK Lam
Spending your weekend in Penang? Do check out this 24-hour guide to eating on the island non-stop, written by me for TimeOut Penang 2012. Hope everyone have a great time indulging  in all the flavourful food, rich in spices and herbs from the many restaurants and hawker stalls in Penang.
6am – 7am: Special Famous Roti Canai
56 Jalan Transfer
Open daily, 6.30am-1pm, 3.30pm-7pm
Soak in the slow pace of life in Penang with breakfast at this road side stall, which is famous for its crispy roti canai. There are several varieties of curries to complement the roti canai – mutton, beef, chicken, fish and dhall. The place is usually packed with customers waiting for a table.
7am – 8am: Toh Soon Cafe
Lebuh Campbell, off Jalan Penang (+604 261 3754)
Open Mon-Sat, 7am-6pm
This side street cafe has been operating for almost 50 years, offering a light breakfast of half boiled eggs, steamed bread, nasi lemak and charcoal toast bread. The owner has kept the tradition of toasting the bread on a specially-made clay stove embedded in a tin drum. The homemade bread is spread with choices of kaya (coconut jam with pandan leaves), butter and peanut butter.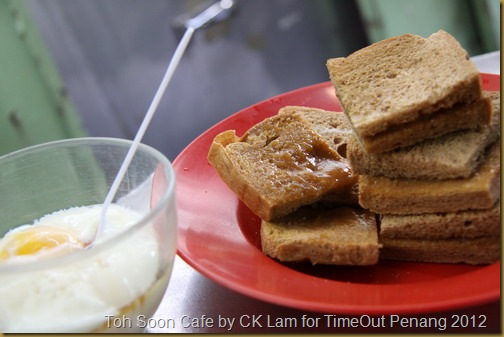 8am – 9am: Aik Hoe Restaurant
6 & 8 Lebuh Carnavon, Georgetown
Open Tue-Sun, 5am-2pm
Expect to find waiters at this eatery walking around carrying bamboo baskets filled with dim sum and specialties of steamed gai chat (chicken and Chinese cabbage) and yoke aun kuen (pork roll). The pork roll is a piece of lean meat wrapped in a piece of fat, liver and Chinese water chestnut.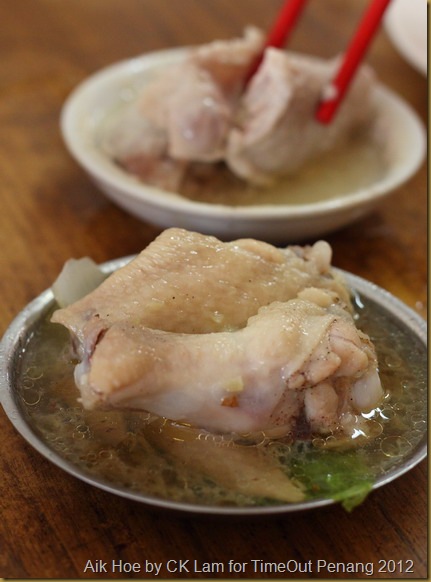 9am – 10am: Ferringhi Coffee Garden
43-D Batu Ferringhi (+604 885 1192)
Open daily, 7am-10.30pm
The menu at this garden restaurant showcases a good selection for breakfast, using free range eggs, home-baked bread and Italian-style espresso coffee. A good option is the club sandwich with two thick slices of housebaked focaccia bread with turkey ham, mozzarella cheese, omelette, grilled beef, smoked salmon and plenty of greens.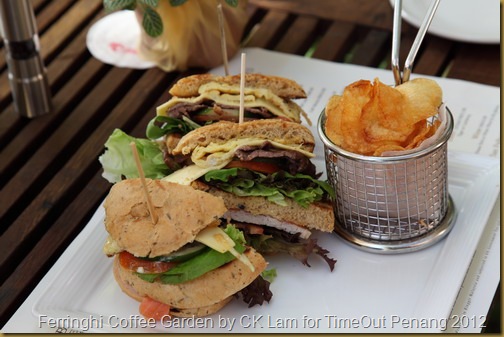 10am – 11am: Ais Tingkap
Lebuh Tamil (Beside Chowrasta Market)
The classic ais tingkap (or windows sherbet) is so named because it used to be sold through an open window. The sweet red rose syrup drink is a mixture of getah anggur (olibanum gum resin), biji selasih (basil seeds), kembang semangkuk (jelly) and fragrant herbs, served in a glass with fine shaved ice and pieces of coconut flesh.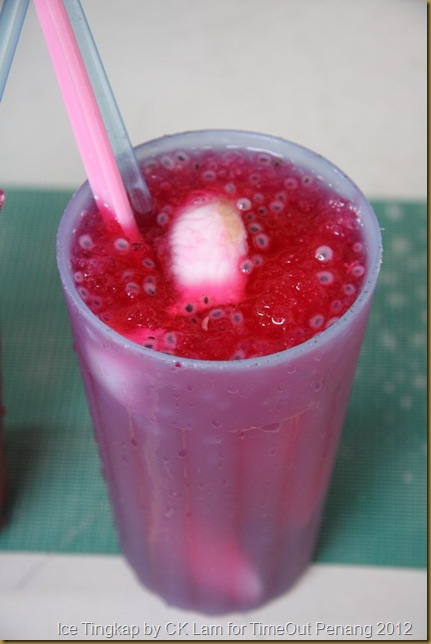 11am – 12noon: Tho Yuen Chicken Rice Restaurant
94 Lebuh Campbell (+604 261 4672)
Open daily, 6am-3pm
This bustling Cantonese restaurant serves a variety of noodles, porridge and chicken rice during lunch hour. Noodle dishes include fish head steamed with noodles, a stir-fried mix of hor fun and vermicelli and braised duck noodle with ginger. Sui kow (dumpling) soup comes with a generous amount of water chestnuts and minced pork meat. Don't forget their signature oval-shaped egg tarts which are usually sold out by early morning.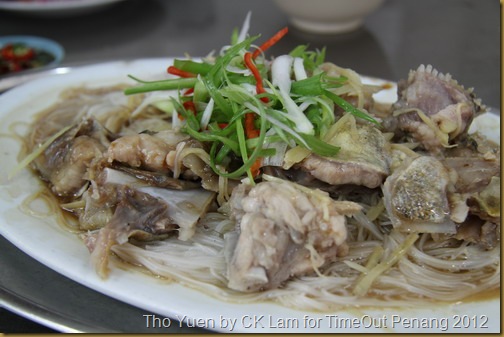 12noon – 1pm: Miraku Japanese Restaurant
168A Persiaran Gurney, First floor (+604 229 8702/ www.miraku-restaurant.com)
Open daily, 12noon-2.30pm, 6pm-10.30pm
If you are looking for something beyond the usual Japanese cuisine, then head over to this Japanese restaurant. You'll fing find expertly prepared set meals and course menus made with premium ingredients air-flown from Japan.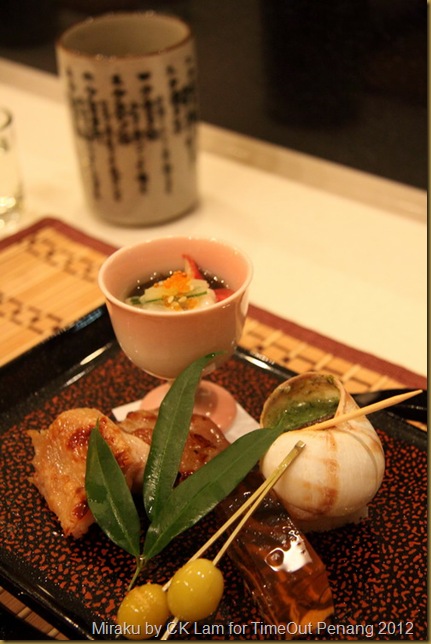 1pm – 2pm: Ong Cheng Huat Seafood
2004 Bagan Lallang, Butterworth (+604 331 4782)
Open Tue-Sun, 11am-5.30pm
Take a drive over to Ong Cheng Huat located on the mainland. Signature dishes include deepfried baby chicks, deep fried prawn fritters, stir fried mussels and steamed fish. The crunchy deep fried heh piah (prawn fritters) made of popiah skin and prawns make a good starter. The fermented coconut water, known as tuak or toddy, is good enough to drink but a word of advice – you can get drunk drinking this sour and sweet fizzy drink.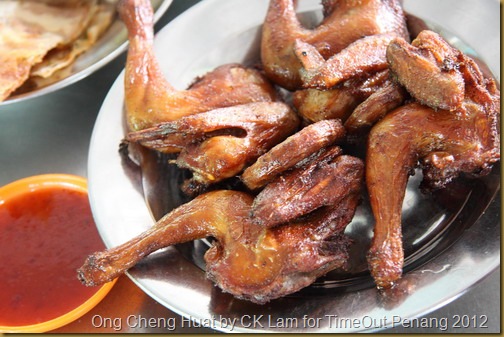 2pm – 3pm: Kuih Nyonya Moh Teng Pheow
Jalan Mesjid, off Lebuh Chulia (+604 261 5832)
Open Tue-Sun
Enjoy sweet and savoury nyonya cakes and snacks here – the steamed and deep-fried cakes come in different textures, shapes and colours. Sample the fragrant green and white kuih, serimuka, as well as the crispy kuih talam. Another favourite is the pulut tekan (glutinous blue rice) served with homemade kaya (coconut jam with pandan leaves).
3pm – 4pm: Hock Seng Rojak
Lebuh Macallum (+6016 403 0724)
Open daily, 1.30pm-5pm
This refreshing fruit salad has a combination of sliced mango, pineapple, guava and cucumber. The fruits have a buzz of heat from the chilli paste, roasted peanuts, pungent dried shrimps, dried squid powder and har koe (shrimp paste).
4pm – 5pm: Assam Laksa Air Itam Market
Pasar Air Itam, Jalan Pasar
Open daily, 11am-8pm
Assam Laksa, a noodle fish-based soup, is one of Penang's signature dishes. The blanched thick white rice noodles in the spicy and sour soup go well with the raw vegetables of cucumber, chillies, onions, spoonful of har koe (shrimp paste), fragrant mint leaves and a touch of ginger flower.
5pm – 6pm: Coffee Lane
10-B King Street, George Town (+604 261 0625)
Open Fri-Wed, 11am-8pm
Watch while owner Terry demonstrates his brewing skills at Coffee Lane, a brew-to-order cafe which offers a variety of coffee and chocolate drinks with a few brewing methods including the syphon brewers. Many different types of quality coffee beans from over the world are available for sale including the famous kopi luwak.
6pm – 7pm: Shing Kheang Aun
2 Lorong Chulia
Open daily, 11am-2.30pm, 5pm-8.30pm (closed on alternate Mondays)
This non air-conditioned restaurant is popular for its Hainanese food. A unique lift (operated manually) is used to deliver food from the kitchen on the ground floor to the first floor dining area. Specialties of Shing Kheang Aun include curry gulai tumis, kerabu prawns, assam prawns, Hainanese pork and chicken chop.
7pm – 8pm: New Lane
Lorong Baru, off Jalan Macalister
Open daily, 5pm-11pm
New Lane is a good place for mouth watering street food including grilled fish, roti canai, satay, Hokkien mee, char koay teow, assam laksa and ais kacang. We love the charcoal-grilled Batu Maung satay. The owner still uses the traditional method of fanning the charcoal fire with a hand-held fan. The marinated skewered meat is served with raw onions, cucumber and spicy peanut sauce. Other tasty dishes include the barbeque chicken wings and drumsticks.
8pm – 9pm: Chin's Stylish Chinese Cuisine
Tanjong City Marina Church Street Pier
8A Pengkalan Weld (+604 261 2611/sohopenang.com)
Open daily, 6pm-11.30pm
Chin's Stylish Chinese Cuisine is one of the best fine-dining restaurants on the island. The Heavenly Blessed Joystick is a favourite with skewers of seashell meat, baby abalone and sea fungus, soaked in spicy and pungent chilli oil. Chin's Aromatic Crispy Duck is another one of their signature dishes. Shredded at the table, the meat is assembled on homemade pancakes with hoisin sauce served with scallions and cucumber.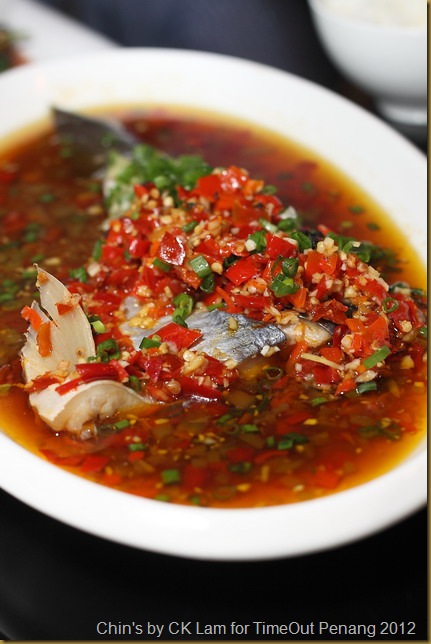 9pm – 10pm: Adnan Bin Hassan: Ikan Bakar & Nasi Lemak Kampung
Teluk Tempoyak, Bayan Lepas
Open Tue-Sun, 6pm-11.30pm
Have a fun getaway to this stall which serves ikan bakar (charcoal grilled fish) with assam sambal mixed with onion and chilli. Grilled crabs and prawns are also available and both are served with soy sauce, cili padi and lime. The seafood is best paired with aromatic nasi lemak, prepared with coconut milk and a variety of herbs. Go around 5.30pm if you want to watch the fishermen load fresh seafood.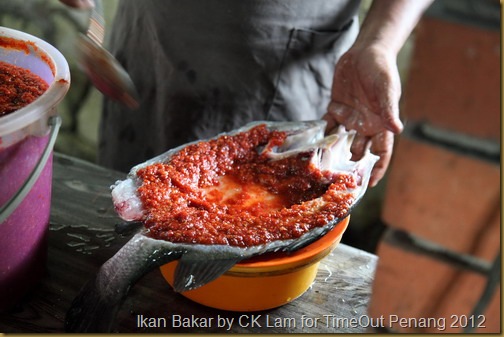 10pm – 11pm: China House
153-155 Beach Street (+604 263 7299/www.straitscollection.com.my)
Open daily, 10am-midnight
The delicious food and cosy environment are some of the many reasons why many people are flocking to the restaurants located in a heritage building. Choose to eat in the elegant surroundings of BTB, their fine-dining restaurant or have a casual meal at their newly revamped Kopi C café.
11pm – 12midnight: Selera Sri Tambang
1 Pengkalan Tambang, Permatang Pasir, Bukit Mertajam (+604 397 1918)
Open daily, 12noon-12midnight
Selera Sri Tambang has been serving lip-smacking mee udang (Malay-style prawn noodles) with huge prawns and crabs for the past 20 years. The mee kuah comes with spicy sweet broth boiled with prawn heads and lots of tomatoes. The dish includes prawns, with tomatoes, hard-boiled egg, crispy shallots and a slice of lime.
12midnight – 1am: Sup Hameed
48 Jalan Penang (+604 261 8007)
Open daily, 24 hours
Fancy having nasi lemak, maggi mee goreng or a variety of aromatic soups for supper? Sup Hameed offers tons of soups on its menu, with popular ones including sup ekor, sup ayam and sup kambing. Their thick Indian bread goes well with the hearty soup.
1am – 2am: Main Street Café
Lobby, Cititel Penang, 66 Penang Road (+604 370 1188/www.cititelpenang.com)
Open daily, 24 hours
Main Street Café is arguably one of Penang's popular hotel venues to satisfy your supper cravings. Indulge in piping hot bowls of porridge served with an array of traditional teochew dishes. Priced at RM19++ per person, their buffet supper promotion comes with around 50 dishes and condiments to mix and match.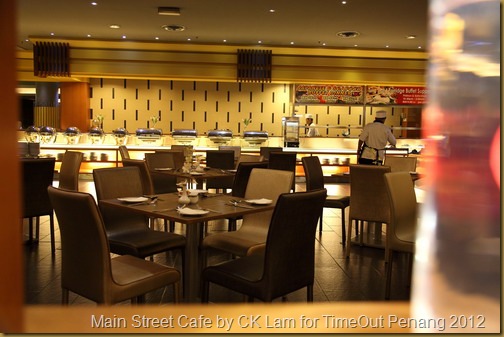 2am – 3am: Da Ban Chinese Restaurant
84 Jalan Zainal Abidin (+604 227 2777)
Open daily except Tuesdays, from 6pm-4am
Da Ban has a huge offering of appetisers, pork dishes, seafood and porridge. Notable dishes include century eggs and spicy fried duck tongue stir-fried in garlic sauce, chopped chilli padi and chives. We also recommend the classic Szechuan dish of dried fried diced chicken, flavoured with a mélange of chilli and peppers.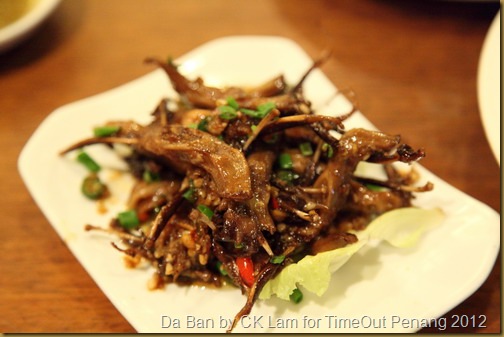 3am – 4am: Old Green House Restaurant
223 Burma Road
Open Mon-Sat, 8pm-4am
Go for a comforting spicy bowl of Penang Hokkien mee at this stall. More commonly known as prawn mee, it comes in a fragrant broth flavoured with the sweetness of prawns and pork ribs. Garnishes include braised egg, beans sprout and chilli paste. Additional toppings of roast pork, chicken feet and fish balls are also available. This place is usually packed until the wee hours of the night.
4am – 5am: DeHappy Seafood Restaurant
62 Jalan Macalister (+604 227 7809)
Open daily, 5.30pm-5am
How about some warm Teochew porridge for supper? The popular ones at DeHappy are the stir-fried bitter gourd with bean paste, salted eggs, Chinese sausages, fried fish, curry chicken, sweet sour pork, braised pork and intestines.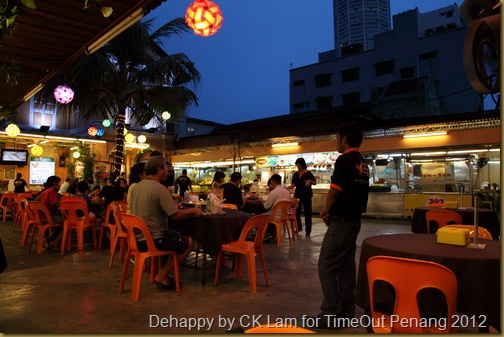 5am – 6am: Restaurant Kapitan
93 Lebuh Chulia (+604 818 2811)
Open daily, 24 hours
A meal at Restaurant Kapitan is a good way to wrap up this food tour. This 24-hour outlet is the place to feast on tandoori chicken, nasi biryani and nutritious badam milk (almond milk). The milk is boiled with raisins, cashew nuts and saffron. The nasi biryani comes with the choice of chicken and beef and is served in claypots, accompanied by a light curry gravy.
* This is a reproduction of my article published in TimeOut Penang 2012 magazine