Penang Hawker Food at One Corner Cafe
By CK Lam
Located on Jalan Bawasah directly behind the iconic Penang Plaza, diners begin filling One Corner Café as early as eight in the morning to savor the Super Hokkien Mee. The proprietor has been dishing out this noodle for decades, and this place remains a favorite for many.
Slices of prawns and well balanced stock are the key ingredient to the Super Hokkien Mee, with the chili paste providing the wow factor. Every spoonful of soup is bursting with prawn flavor, while the noodles itself are cooked just right. Waiting time could be an hour or less, depending on the crowd. Do bring along some reading material to keep yourself occupied during the waiting time!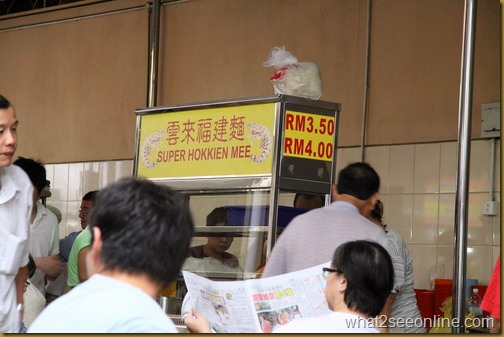 As the morning recedes and afternoon approaches, several other stalls come to the fore. One particular stall that never fails to attract a steady and consistent crowd is the char koay teow and assorted fried noodles. With approximately two decades of experience, this husband and wife combo produces piping hot yet flavorful plates of fried noodles.
There are many options available, such as koay teow, yellow noodles, vermicelli and even rice. One of my personal favorite is the char koay teow and I normally opt for additional sambal sotong which rounds off the dish beautifully.
Char Koay Teow with sambal sotong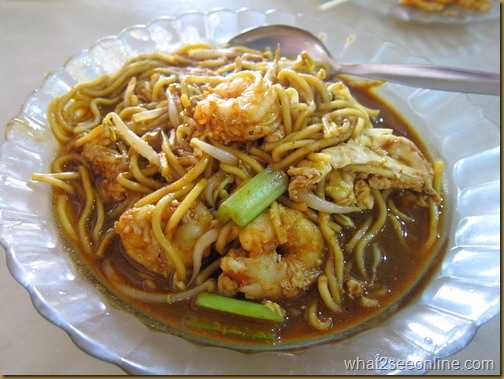 Soon before long, the lunch crowd fills up One Corner Café, with most of the stalls bustling with orders. There are plenty of choices available such as chicken porridge, economy rice, deep-fried Lorbak, Western food and also chicken rice.
Remaining open throughout tea time, this coffee shop has an even more attractive variety of snacks to cater to the mid-afternoon crowd. The yam cake, or more affectionately known to locals as or kueh, is an excellent choice. The texture of the cake itself is springy with cubes of yam. Topped with a generous amount of deep-fried shrimps, shallots as well as spring onions, this dish is well complemented with the chili and sweet sauce.
The iconic attraction for the tea time session, however, is the Indian peddler which serves mouthwatering Laksa, assorted deep-fried snacks as well as kuih-muih! Parking his cart right in the coffee shop, his signature serving include deep-fried popiah in Laksa soup.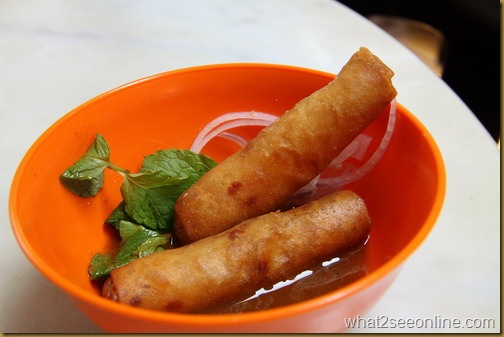 With such a wide selection of food, it is no wonder that One Corner Café is constantly filled with diners throughout the day. Parking is limited along Jalan Bawasah and it can be quite packed on a working day; however there are ample lots in Penang Plaza itself. Click here for the Map Location.
One Corner Cafe
Jalan Bawasah (Behind Penang Plaza)
10050 Penang
Business Hours: Around 7.30 in the morning
Closed on Tuesday