Sushi Tei @Gurney Plaza – A Good Deal of Sushi
By CK Lam
Sushi Tei, the international Japanese Sushi Restaurant Chain which originates from Singapore is now opened in Penang. Located in Gurney Plaza, the dining place with a touch of Japanese interior has a great sea view. The signature open-kitchen concept is also seen in this outlet.
The menu offers one dish meal, ramen, sushi, sashimi, tempura, rolls and grill dishes. I adore the sashimi with four different types of raw fish, garnished with lemon slices. The fresh yellow-tail, salmon and butterfish goes well with wasabi but the marbled tuna belly is best eaten on its own. This highly prized fish is also available in a single plate with five thick pieces per order.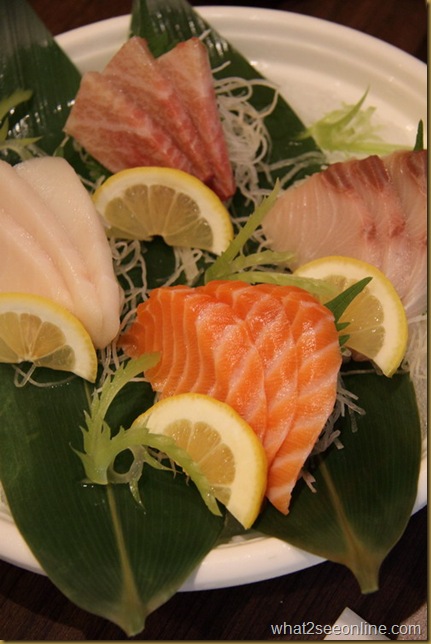 The Mini Dragon Roll with four pieces (RM14.80) comes with prawn and avocado while the thick Dragon Roll at RM21.80 is sliced into six huge round pieces. Both the rolls with lightly seasoned rice has a nice, clean bite and a layer of avocado. For those who prefer mango instead of avocado, they can opt for the golden roll.
Other interesting rolls include the dai dai roll, unagi roll, deep-fried crunchy tuna roll and phoenix roll. The crunchy tuna roll with chopped garlic is topped with flying fish roe, spring onion and served with chili mayonnaise.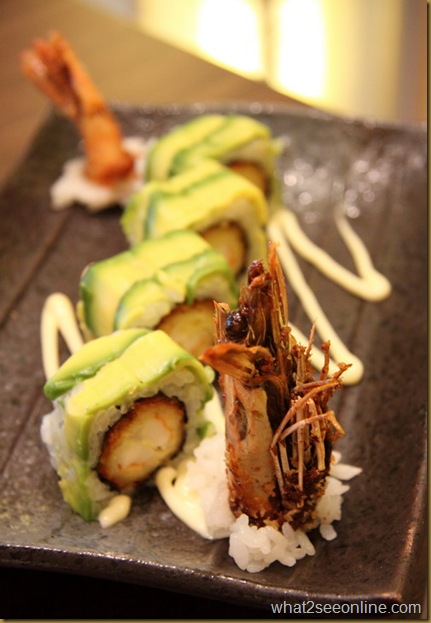 Mini Dragon Roll
The seafood salad at RM16.80 is a simple refreshing salad of greens, fresh seafood and dressing of light mayonnaise sauce. The portion is large enough for sharing.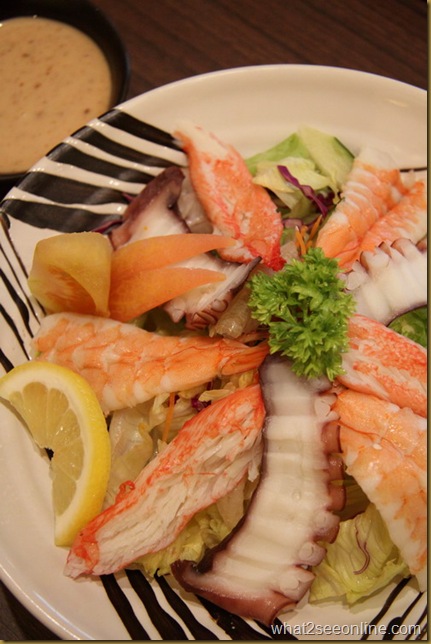 The Ebi Mentaiyaki (RM19.80) is prepared with combo of freshness and taste. With robust saltish flavor of the cod roe and creamy mayonnaise sauce, this grilled prawn dish is one of my personal favorite. Other grilled items on the menu include mackerel, yakitori, shishamo, cod fish, and salmon head and flesh done with salt or teriyaki sauce.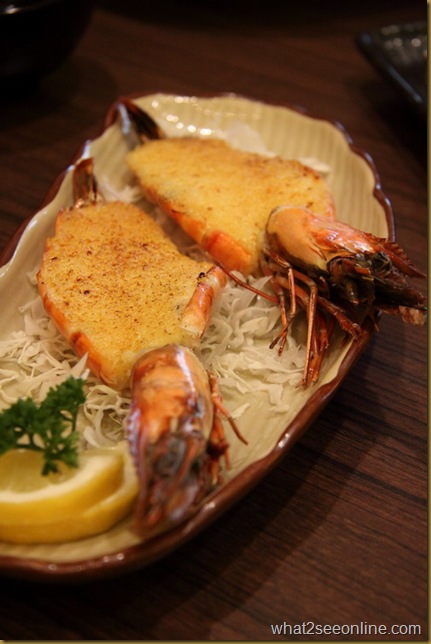 Ebi Mentaiyaki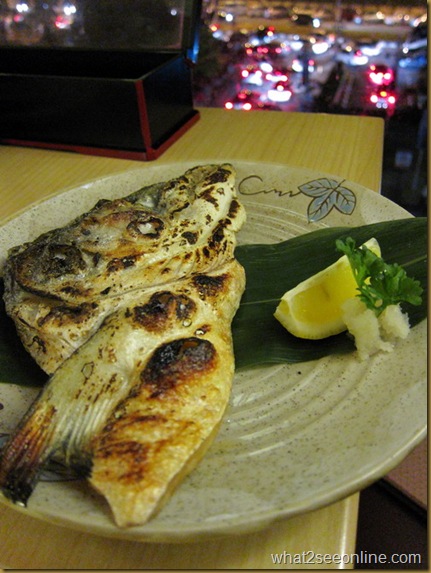 Salmon head done with salt
For more filling dishes, diners may opt for the curry rice with choices of original, beef or chicken katsu. The creamy beef curry with fair amount of spiciness comes with large bites of tender beef.
The menu offers many variety of ramen. There are choices of curry udon, yaki soba, nabeyaki udon and chicken katsu curry udon. We had the bowl of Kaisen Ramen with al dente noodle and flavorful delicate broth. Slight spicy and full of fresh flavors of mixed seafood, this bowl of noodle is indeed comforting.
Several new dishes are added to the menu. Interesting choices include salmon belly karaage, gyupei yaki and buri kaputo pirikara ankake. The latter is a dish of deep-fried yellowtail cooked with plenty of green onions in an appetizing house-made spicy sauce.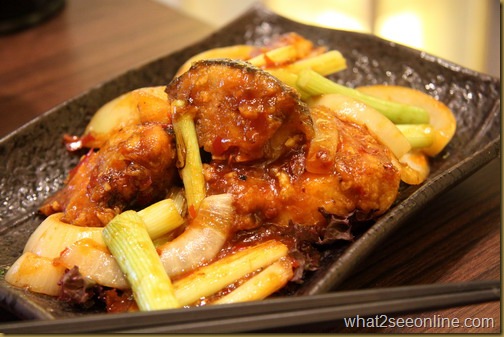 The gyupei yaki comes with a super-thin layer of egg batter, topped with tender pieces of beef, sitting pretty atop a bed of raw vegetables. The meat and the different sauces make a great combo of texture and flavours.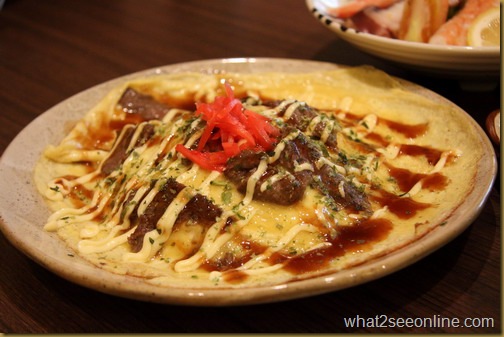 We finished the meal by sharing some desserts. Besides the creamy macha ice-cream served with red bean and mochi, there is also the refreshing fruity treat of frozen strawberries.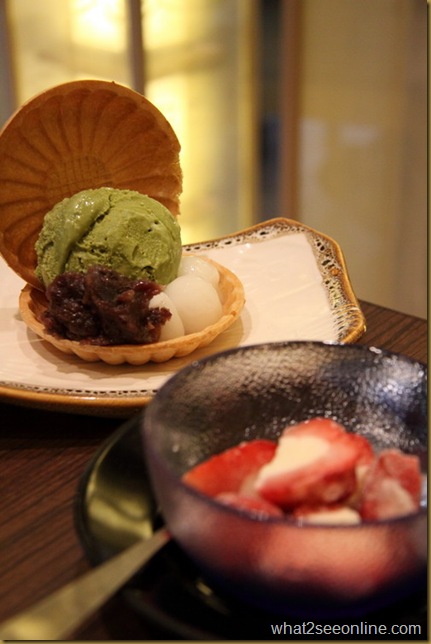 Besides offering ala carte menu for lunch, Sushi Tei has many wonderful choices of bento lunch boxes, starting from RM18.80. Available on weekdays (excluding public holidays), these lunch boxes are excellent option for a quick meal with tastes of many items. The choices include chicken teriyaki, salmon teriyaki, teppanyaki beef, unagi and otsukuri.
Sushi Tei which focuses on simplicity and freshness is open daily from 10am till 10pm. Best seat in the house is in front the sushi bar or at the window seats facing the sea.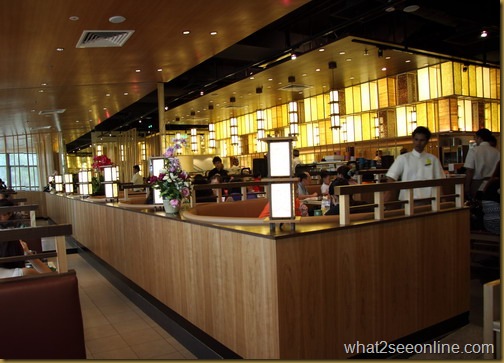 Sushi Tei
Lot 170-02-02
Plaza Gurney
Pesiaran Gurney
10250 Penang
Tel: 04- 226 1486
* This is a reproduction of my article published in New Straits Times