Street food crawl at Kimberley Street, Penang
BY CK Lam
Penang is bursting with restaurants and hawker food stalls but some of the most outstanding are those in inner George Town, particularly along Kimberley Street. It is where the crowds go for a variety of flavours and indulgences.
The area is overwhelming with hawker delights. With most stalls and eateries beginning operation at night, just a walk up and down this historical street will bring you face to face with some of the best hawker food! Enjoy such fare as koay chiap, economy fried beehoon, char kway teow, sweet boiled Chinese desserts, lok-lok and kway teow th'ng.
For those craving for a light snack, head for Ah Seng Char Beehoon stall and enjoy an economical serving of fried noodles with bean sprout and fried with black soya sauce. Options include fried yellow noodles, beehoon (rice vermicelli) and kway teow. The dish is very cheap at less than RM2 a packet.
Wrapped in brown oil paper, the noodle dish comes with condiments of pickled green chillies and crispy deep-fried sweet bean curd strips (tim chuk). If you are into deep-fried savoury items, do check out the stall selling belacan fried chicken and salted fish tofu. It's located just opposite.
A dish of rice noodles served in flavourful dark coloured soup, koay chiap is synonymous with Kimberley Street. This dish is served with duck meat and braised egg. A basic bowl of Duck Koay Chiap is priced at RM6. Adds-on are charged separately. If rice noodle is not your fancy, do not worry. There are other choices, such as rice and porridge. The proprietor, Por, has been serving koay chiap for almost 30 years.
In operation for almost two decades, the dessert stall located directly opposite Por's Koay Chiap has been a hit with locals and tourists alike. Aptly named the Traditional Home of Desserts, the stall serves Chinese desserts such as red bean soup, almond milk and Leng Chee Kang. The latter with gingko nuts, lotus seeds and dried longan is a bit too sweet. Almond milk is an acquired taste but it goes well with deep-fried crullers (ew char koay).
Chinese desserts and yong tau foo on wheels

Nearby is a lok-lok stall and a van selling drinks such as cincau, soya bean and bean curd.
Skewers of meat and seafood from the lok-lok stall

Bean curd and soya bean mix with cincau
Further on up the road, you will find Ah Hai's Koay Teow Th'ng stall situated at the busy intersection of Cintra and Kimberley Street. Slightly different from the common fish ball kway teow th'ng found in Penang, Ah Hai's koay teow is freshly cooked with fish cake, pork slices, liver, minced pork and fish balls.
Round off the piping hot dish with poached egg. Patrons can choose from yellow noodles, rice noodles, instant noodles and vermicelli. Prices range from RM2.80 to RM4.
Instant cooked dry koay teow and the soup version
Parking along Kimberley Street is limited with the hawker stalls taking up the spaces along the road. It is advisable for diners to park at the adjoining roads, such as Cintra Street and Sungai Ujong Road.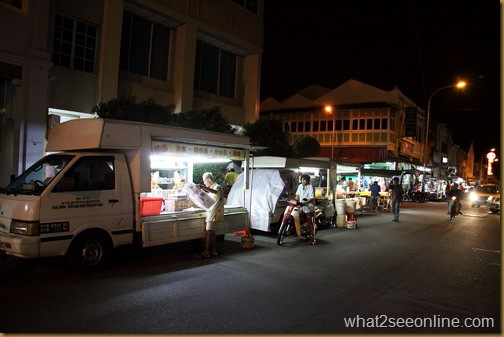 * This is a reproduction of my article published in New Straits Times