Yi Bin – The Mansion of Tea Art in Penang
Yi BIn 一品轩茶艺馆 is a double-storey shop house located on Hutton Lane, Penang. This old tea house operated by Mr E.G. Lai since 2007, sells a range of Chinese tea leaves and pottery besides serving  home-cooked Nyonya and local Chinese style cuisines.
The place with Chinese furniture and antiques has a soothing ambience. The front part of the shop showcases a wide selection of tea leaves, all neatly displayed on the glass shelves of antique cupboards. There are several seating places with old wooden marble top tables.
My favourite place is the court yard, with pleasant views of the greenery air-well decorated with plants, water feature, bird cage and bamboo blinds.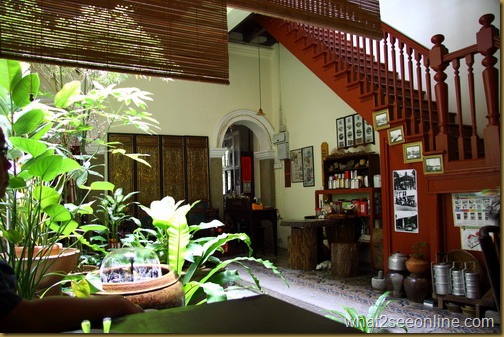 Each table is equipped with a tea-making set of utensils for visitors to brew their own pot of tea; however you can always call on Mr Lai to help brew the tea to ensure a tasty cup.
For a perfect cuppa of tea, it has to be made with the correct water temperature and in the right teapot. Some teas are brewed in glass pot, clay teapots and as mentioned by Mr Lai, small tea pots are good for strong tea.
Mr Lai brewed two types of tea, Pu Er and Ti Kuan Yin. The latter is one of the most famous Oolong Tea. It is a wonderful tea with a floral aroma and taste. The Pu Er on the other hand is a smooth tea with an earthy flavour. I am surprised at how different the first cup of tea taste compared to the last.
Ti Kuan Yin (left)  & Pu Er tea leaves compressed in a disc shaped
Mr Lai wife who does the cooking, offers many delightful dishes. The Jiu Hu Char is the highlight of the Nyonya dishes. Priced at RM10 for the small serving, the dish comes with yam bean (sengkuang), dried cuttlefish, Chinese black mushroom and carrot.  The dish is match with homemade sambal belacan.
This Nyonya dish of Assam Pedas comes with distinctive flavour of daun kesum (laksa leaves), lemon grass, sourish assam and pineapple. There is an option of threadfin (ma yau yue) or the more expensive white pomfret (pak cheong yue) at RM12 per 100g. If you like it spicy, ask for the spicier version.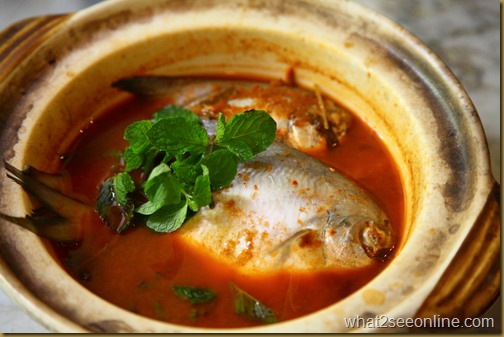 Spicier version Assam Pedas
Milder version Assam Pedas
A popular dish at Yi Bin is the Kua Chai Pui (mustard cabbage rice). This dish has simple combination of dried prawns, three layer pork, Chinese black mushroom and kuah chai (mustard cabbage). The amount of ingredients used complement each other well. Known as Kai Choi Fan in Cantonese, this rice dish is best eaten with some chili padi (bird eye chili).
Kua Chai Pui @RM3
Other dishes on the menu include steamed chicken, Tu Kar Chor (braised pork trotter in vinegar) and steamed fish. The steamed chicken (RM12) is a dish with combination of flavors – right amount of sweet and fragrant rice wine and sweet Chinese sausage.
The Tu Kar Chor (RM16) has large pieces of pork leg cooked to the correct tenderness in Chinese black vinegar and ginger. A little more vinegar perhaps would have added depth to this dish.
Steamed chicken & Tu Kar Chor
The fish dish is the steamed threadfin (ma yau yue) with soy sauce. This fish with a sweet delicate flavor is priced at RM11 per 100g.
The deep-fried tofu and lorbak (RM5 and RM6) is listed under 'snacks', which also include dim sum, carrot cake and fried noodles. Yi Bin also makes its own desserts, including mochi and Ti Kuan Yin tea jelly.
Deep-fried beancurd and lorbak (RM5 and RM6)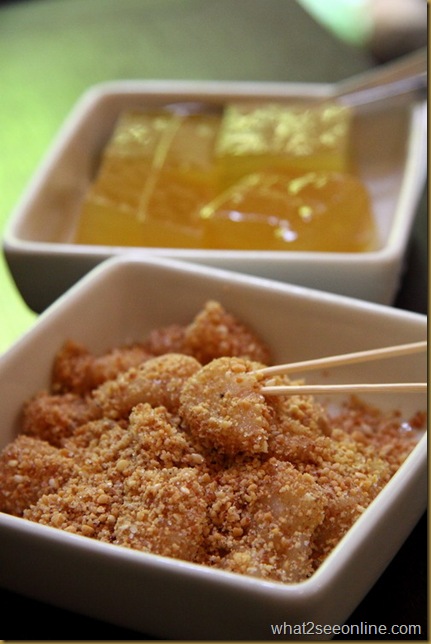 Mochi and Ti Kuan Yin tea jelly
With so many types of teas, delightful home-cooked food and free wi-fi connection (bring your computer), Yi Bin is one ideal place to meet up with friends. The ground floor seats around 30 persons, while the upstairs space with another two rooms offer more privacy dining.
Yi Bin the Mansion of Tea Art
106-C, Jalan Hutton
10050 Georgetown
Penang
Tel: 04-2273967
Business Hour: 11am till 8:00pm
Closed on Sundays
* Many thanks to Yi Bin the Mansion of Tea Art for laying on this invitation.
* This is a reproduction of my article published in New Straits Times