Ramadan Buffet Dinner with Gearbox Soup @Eastin Hotel Penang
BY CK Lam
Eastin Hotel Penang is spicing things up with a spread of kampong style dishes for the coming Ramadan buffet dinner. They will be showcasing some truly traditional Malaysian food, with creations of salads, soups, spicy curries and desserts by junior sous chef Mohamad Bakri and Mohd Fauzi.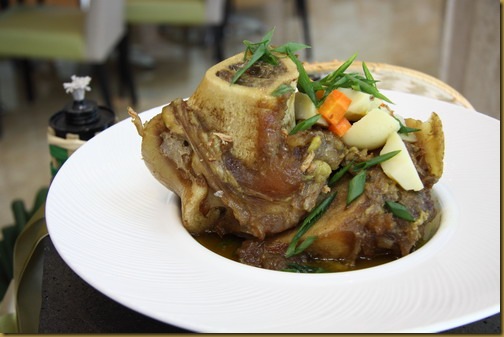 Gearbox soup
The appetizers offer several spicy light bites, including the kerabu nangka muda and the raw vegetables of ulam-ulaman. Dips of sambal belacan, sambal mempelam and cincaluk (fermented small shrimps) are provided to complement the vegetables. The dips are delicately spiced, with the cincaluk (served with shallots, chilies and lime juice) bringing a unique salty taste.
Ulam-ulaman with appetizing dips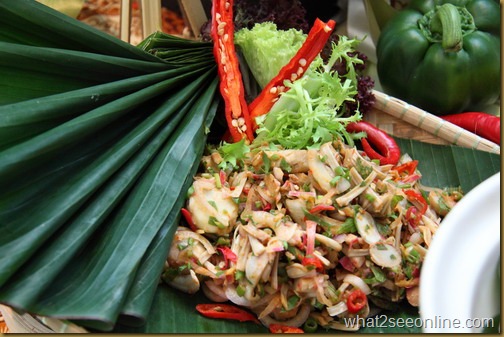 Kerabu nangka muda
Other appetizers selections include lemang with serunding ayam and the flavorful gearbox soup (bone marrow soup). The latter is a crowd favorite with its deliciously rich flavour and fragrance.
Chef Bakri explained that the soup with huge pieces of knuckle joint of the cow has been boiled for several hours with potatoes, carrots, herbs and spices. The dish is a delicacy and many enjoyed the soup, soft meat and cartilage besides the gelatinous bone marrow found in the bones.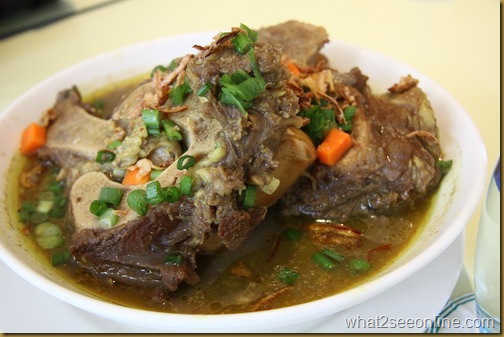 The serunding ayam (chicken floss) is an accompaniment to the lemang (steamed glutinous rice with coconut milk in bamboo). It is a pleasure biting on the slight spicy and fragrant chicken floss. The steamed lemang with subtle flavors of banana leaf and bamboo is however too soft and moist. I would much prefer the firmer texture and aroma of the roast lemang.
 Sticky pieces of steamed lemang in banana leaves
There are many dishes from the main menu and among them are the ayam masak ros, ikan keli goreng cili merah, and pucuk paku masak lemak. The spicy chicken and fish are absolutely delicious, but the pucuk paku prepared in soothing mild coconut gravy is too tough to bite on.
All the dishes are great to go with rice. Rotating favorite rice dishes include tomato, briyani, ulam, kerabu, daging, kacang and carrot.
Nasi tomato
Pucuk paku masak lemak
Ayam masak ros
Dessert is a delightful spread of kuih-muih, fruits and a selection of bubur. The chef had the creamy bubur hijau (mung beans porridge) done with pungent durian flesh.
Swez Brasserie offers a special discount of 15% for all Citibank, UOB, CIMB, Maybankard and Visa card members for the Ramadan buffet dinner which is available daily from 6.30pm till 10pm. The buffet promotion runs from 21 July until 18 August 2012 and is priced at RM85++ per adult and RM43++ per child.
For reservations, call 04-612 1128.
Eastin Hotel Penang
1 Solok Bayan Indah, Queensbay
11900 Bayan Lepas
Penang
* Many thanks to Eastin Hotel for laying on this invitation.