The Eighty Eight Restaurant – Fare with Flair
By CK Lam
It was a wonderful night lingering over dinner for hours with friends at Eighty Eight Restaurant. The newly opened restaurant is in Kelawei Road here. It takes its name from the year of its chef-cum-owner Danny Ng's birth.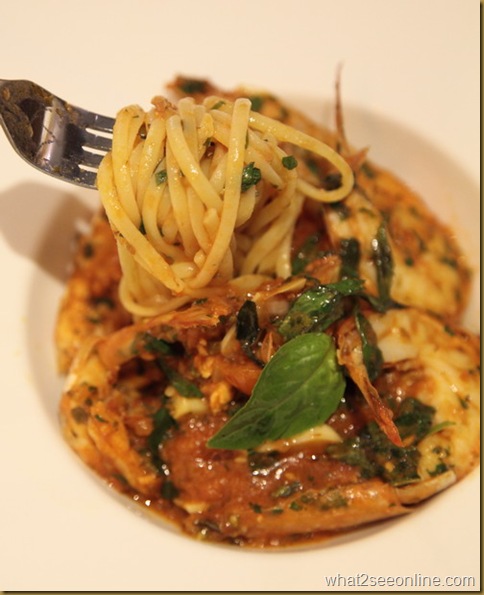 Ng offers fine food with creative touches based on his At-Sunrice GlobalChef Academy training and apprenticeship. Several of his dishes were cooked sous-vide — a technique that involves sealing food in a vacuum and cooking it for a long time.
His garnishes of edible flowers are a work of art. Ng uses violas, carnations and marigolds to add colour and zest to his dishes. He makes almost everything that is served at the restaurant, including the butter for the crusty buns. A favourite at Eighty Eight, the butter is burnt to a velvety texture to produce a lovely flavour. Do not miss out on it.
The cold appetisers include cured salmon tartare and scallop carpaccio. The latter offers lovely air-flown scallops (sashimi grade) that are sliced and paired with the sweetness of the violas.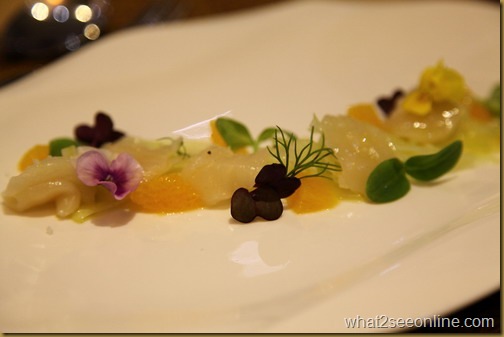 Scallop carpacio
As for the salmon tartare, finely diced cured salmon is seasoned with shallots, dill and lemon zest, before it is drizzled with extra virgin olive oil. I liked the fresh flavours of this dish.
The signature sautéed clam soup (RM18) offers a combination of fresh clams, white wine, chilli flakes, garlic and herbs cooked in a light broth. The soup stands out with its balance of flavours from all the ingredients.
Other soups include the classic Italian minestrone, seafood bisque and cauliflower soup.
Saute clam soup RM18
The chicken roulade (RM38) came stuffed with chicken, goat's cheese and hazelnut. The rolls are served with saffron-infused sweet potato mousse and a burnt-butter vinaigrette. What I love about this dish are the flavoursome mousse, the vinaigrette and the thin, crispy chicken skins.
Chicken Roulade RM38
The fish course is the air-flown Norwegian salmon cooked using the sous-vide technique. The fish was served with its seared, crispy skin. Done with the right amount of vacuum pressure, the texture of the succulent fish is notably moist, and its flavour is enhanced by the addition of a steamed kai lan flower, parsnip puree and the tangy orange-saffron sauce.
Norwegian salmon RM40
We liked the linguine pasta dish. (RM32). The dish was brimming with tomatoes and served with two large prawns. It was flavoured with oregano, basil and olive oil spiked with vodka.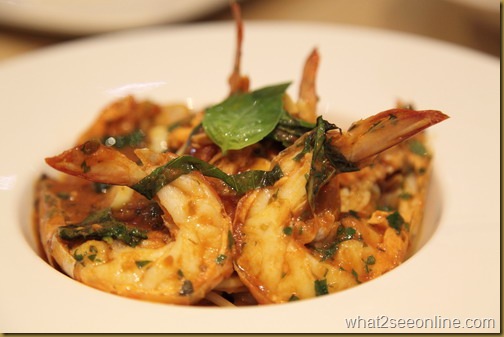 Linguine RM32
Potato gnocchi (RM27) was up next. Each of us had a mouthful of the soft and velvety gnocchi served with wild mushroom ragu. It was not too heavy, but just right for the upcoming meat dish.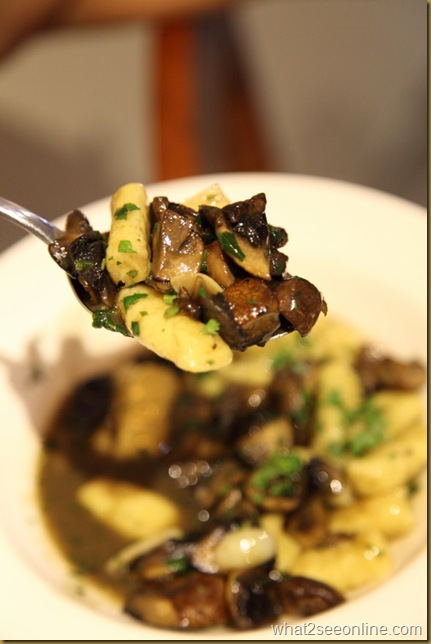 Potato gnocchi RM27
The latter was the pork belly with remarkably crispy skin. Slow-cooked for 36 hours in white wine and citrus, the Spanish pork belly was tender. The crispy skin is seared before serving. The meat went well with the contrasting blackberry jus and a satisfying cauliflower puree infused with white truffle oil.
You can complement the pork belly with some side dishes if you wish – a choice of roast potatoes, rocket salad or mashed potatoes, with prices ranging from RM6 to RM8.
Spanish pork belly RM30
The desserts are equally intriguing. The restaurant serves a chocolate and banana combo, and a strawberry dessert made from strawberry sorbet, strawberry espuma and fructose strawberry. It comes with a refreshing Japanese cucumber fizz.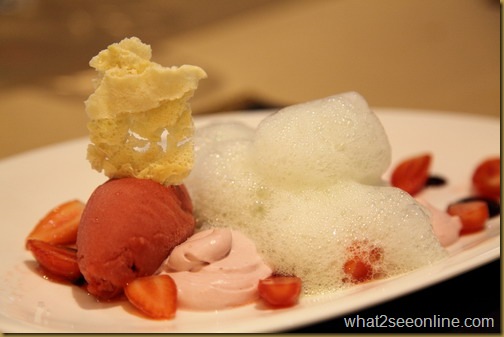 Landscape of strawberries RM22
The chocolate and banana combo comes with different textures of chocolate served with coffee-infused chips, banana espuma, brandy and homemade banana ice-cream. We had coffee and tea with our desserts.
Chocolate & Banana RM22
This restaurant with its simple setting is already drawing in crowds. A group of wine-pairing diners were seen seated at a long table throughout the night, enjoying the food prepared by the chefs.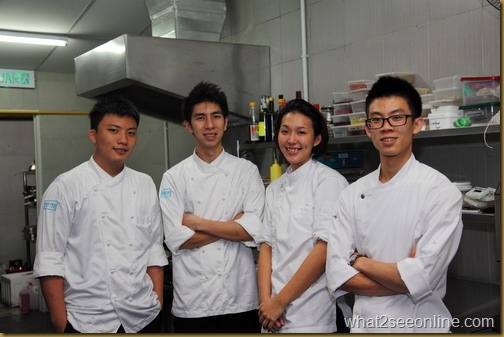 Chefs in the kitchen –  Shen, Marcus, Kristi & Danny
Simple setting of the restaurant
The Eighty Eight Restaurant
49-A Jalan Kelawai
10250 Penang
Tel: 04 2262821
Business Hours: 12pm – 2:30 pm & 6:30 pm – 10:30 pm
Closed every Tuesdays
Click here for the Map Location.
* Many thanks to The Eighty Eight Restaurant for laying on this invitation.
* This is a reproduction of my article published in New Straits Times