Value for money buka puasa Ramadhan buffet at Vistana
* This article was published in the New Straits Times (Life & Times) on 21st July 2012
BY CK Lam
For Ramadhan, Vistana Hotel in Penang is offering a full Ramadhan buffet with a traditional Kampung Nelayan theme from July 21 till August 17. The buka puasa spread has over 120 hearty as well as light traditional kampung dishes. There are western salads and plenty of appetisers. Ulam comes with plenty of choices — daun selon, timun, kacang panjang, petai, ulam pegaga and ulam raja — with a variety of condiments, notable ones being  sambal cincaluk and sambal belacan. Other appetisers include kerabu ulam and acar rampai.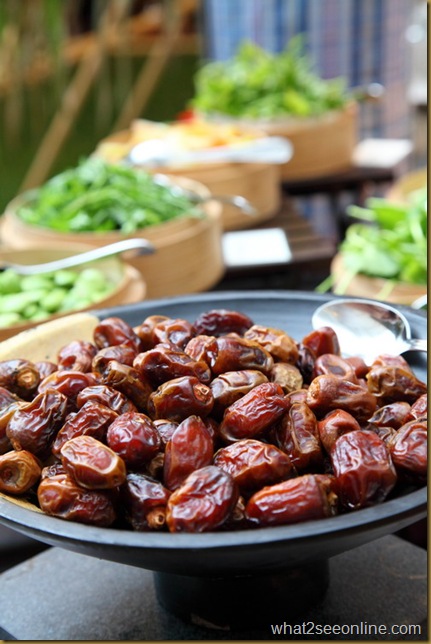 At the buah jeruk (preserved fruit) section, there are varieties of nutmeg, mango, papaya and ampala. From the warung (stalls) are options like chicken and beef satay, roti jala and chicken murtabak with chicken curry.
Just as good is the whole roasted lamb. The tender lamb, flavoured with herbs, is served with lamb gravy and mint sauce.
The main courses feature meat and seafood in aromatic curries. Try specialties such as beef paprik, beef rendang, daging masak hitam, ikan pari masak asam pedas, gulai daging kampung, gulai lemak ikan masin, ayam goreng madu, ketam masak lemak, ikan tenggiri goreng berempah, ayam percik and ikan kari bendi.  Also available are prawn and fish crackers. Apart from white rice, do look out for the nasi biryani.
Vegetable dishes include kacang panjang goreng berlada, sayur kobis kunyit, sayur lodeh bersama tempe, ubi kentang Maksala, pajeri nenas, telur dadar and sambal telur.
One dish not to be missed is the bubur lambuk (porridge), slow-cooked with many ingredients, spices and coconut milk for many hours.
There are varieties of colourful dessert such as Malay and Nyonya kuih muih, bubur kacang hijau, local fruits, ice cream, ais kacang and creme caramel. There is an array of hot and cold beverages too. The hot Nescafe tarik with a great flavour and smooth texture, is a crowd favourite
The buka puasa Ramadhan buffet is priced at RM45 nett (per adult) and children between six to 12 are charged RM30 nett.
Vistana Hotel
213 Jalan Bukit Gambir
Bukit Jambul
11950 Penang
Tel: 04 6468000
* Many thanks to Vistana Hotel for laying on this invitation.