43 Cafe – Homemade oven-grilled pork burger
BY CK Lam
43 Cafe under the hands of proprietor cum cook Jacgy Chan and his family has a following of customers with a simple menu of homemade oven-grilled pork burgers. He has built the cafe with outdoor seating in a relaxing atmosphere at his homely hideaway at Jalan Sungai Dua, Penang.
The owner pride himself on making his pork patty with love as revealed in their tagline,  'cook wat we love and love wat we cook'.  The quality and freshness of the food is a priority, with only a certain amount of patties made daily. The pork patty is approximately 90gms and made without the usage of MSG.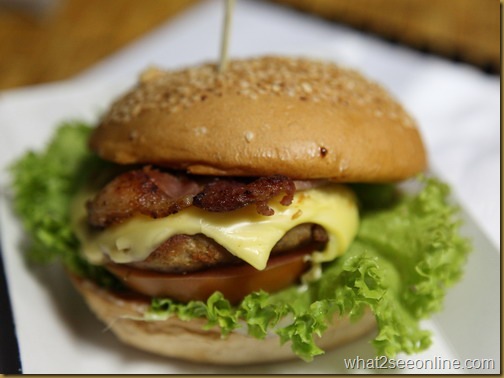 43 Cafe gives the customers the option of choosing the sauce and add-ons. There is a choice of homemade sauces – original, black pepper sauce or the barbecue sauce. Add-ons include pork bacon (RM1.50), cheddar cheese (RM1) and pork patty (RM3).
All the burgers are served laid on rectangle paper trays and there is no need for knives or fork. We first sampled the original pork burger (RM5) with add-on pork bacon. The patty and pork bacon is sandwiched between two toast sesame buns with crunchy lettuce, tomatoes, a slice of cheddar cheese and a spread of mayonnaise. The meat with a homey taste is moist and less oily benefiting from the oven-grilled method.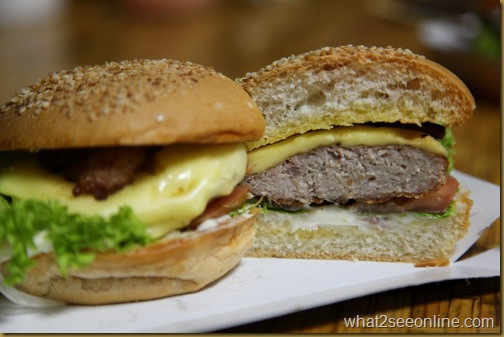 Original pork burger with add-on bacon
We also tasted the double trouble original pork burger with the compliment of barbecue sauce (RM8.50). This burger has it all, with two patties, two slices of cheddar cheese and the basic ingredients of lettuce, tomatoes and a spread of mayonnaise. The add-on of smokey pork bacon provided extra taste and texture.
The black pepper sauce pork burger cost RM5.50. The patty is done with slight crusty char but the homemade black pepper sauce is a little too mild to steer the flavor of the burger. A more flavorful sauce will make the overall taste more robust.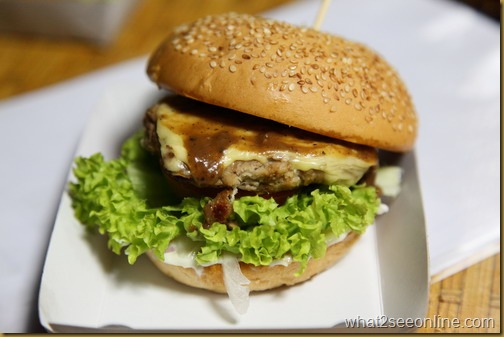 Besides the burgers, 43 Cafe offers other dishes to accompany the meal. Do check out the Nom Nom Nom satay, egg pecah toast and the daily soup. The watercress soup with slight thickness and depth in flavour is served with toast garlic bread.
The Nom Nom Nom Satay is a tasty nibble. The skewers of oven grilled chicken fillet marinated with homemade sauce are served with pieces of raw onions. Each skewer cost RM1 and the minimum order is six skewers.
The egg pecah toast (RM2) is served topped with runny egg wok fried with chili paste. A satisfying topping but we would prefer the toast bread more browned.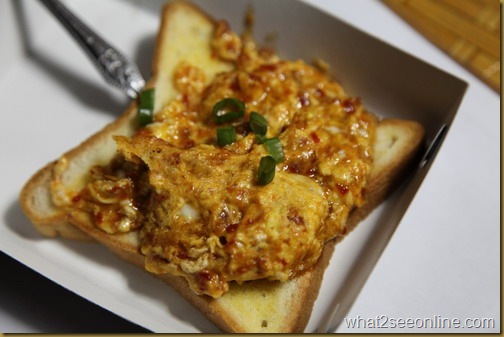 We selected the hot ginger tea (RM1.50) and tomato plum juice (RM3.50). The latter is an appetizing ice blended fruity drink with Chinese dried sour plum.  Other cold refreshing drinks include iced lemon tea, iced ginger tea, mineral water, can drinks, iced white coffee and iced chocolate. Hot beverages include ginger red date tea, white coffee and chocolate.
43 Cafe offers quick and delicious homemade ice-cream. Besides Malta ice-cream (RM6 for two scoops), the other choice is the pandan flavoured ice cream, with customized sweetness of thick brown sugar syrup.
All in all, the prices of the food at 43 Cafe are quite reasonable. The set dinner at RM11 which comes with soup of the day, an original pork burger and a refreshing tomato plum juice is a good deal.
The cafe in a corner terrace house with ample roadside parking is a worthy destination for everyone who enjoys oven-grilled pork burgers. Click here for the Map Location. As the cafe is located nearby Universiti Sains Malaysia (USM), expect to see crowd of university students patronizing the place.
43 Cafe
43 Jalan Sungai Dua
11700 Penang
Business Hours: 5:30pm to 10pm (Open Daily)
Tel: 016 4307009
* Many thanks to 43 Cafe for laying on this invitation.