China House is buzzing in Penang
BY CK Lam
China House is one of the busiest dining and lifestyle outlets within the Unesco heritage zone of George Town. Occupying three refurbished colonial shop houses with facades facing Beach Street and Victoria Street, China House offers a great dining experience. There are five different dining areas besides a wine store, art spaces and a venue for live shows.
The cafe serves all-day breakfasts, lunches and dinners. Diners can whet their appetite at the casual cafe Kopi C, formal dining room of  BTB Restaurant, an outdoor courtyard, the Canteen & Bar and a private dining room.
At Kopi C, there are many dishes to savour alongside an array of rich cakes and pastries displayed on a long table at its bakery. The place has since received many comments on being the haven for cakes.
We normally order slices of cakes for sampling and sharing, accompanied by coffee. Till date, our palates were sweetened with tiramisu, pound cake, caramel cheese cake, coconut cake with lime curd, raspberry cake with pear, brandy fruit cake and tomato basil pie. The creamy caramel cheesecake is especially popular.
Brandy fruit cake with dried fruit, candied citrus peel and nuts

Tomato basil pie (served with butter)  and raspberry cake with pear

We are very happy with the nutty pie with nuttiness of cashew and pecan and adore the creamy and flavorful caramel cheese cake, a variation on cheesecake which is hard to come by.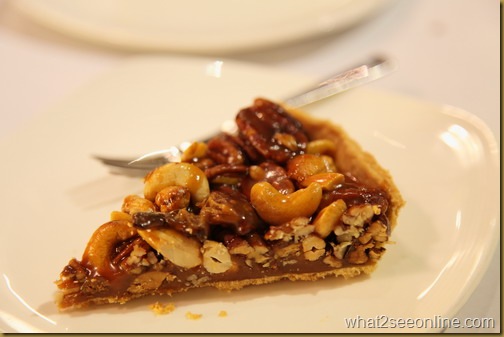 Coconut cake with lime curd and tiramisu
Kopi C also offers breakfast dishes such as the freshly-made breakfast wrap and big breakfast. For lunch, there are choices of salads with a wide range of dips, sandwiches and mezze plate. The latter compirses dukkah and olive oil, capsicum and feta dip, date and onion chutney, chili hummus, and coriander and tahini yoghurt with pita bread.
Simple dinner dishes include lamb shank and beef lasagne. Both are scrumptious in its own way although our favorite is the lasagne, with smooth and soft sheets of pasta.
Beef lasagne
The BTB & Restaurant next door to Kopi C offers a more elaborate gourmet menu featuring a mix of Asian and Middle Eastern cuisine, and a great selection of fine wines. One of China House's retail spaces is located in front of this restaurant.
Highlights of its menu are the many appetisers such as the seared scallops with rocket. Some of their more interesting dishes include the spiced duck confit and smoked duck breast served in orange and cocoa reduction. Priced at RM48, it comes with roasted peach tomatoes and potato and basil puree. The duck drumstick is nicely browned and fragrant.
Its seared sea bass with Ras-el-Hanout spices comes with cauliflower puree, roasted pumpkin, pine nuts and pomegranate dressing. The dish is priced at RM38.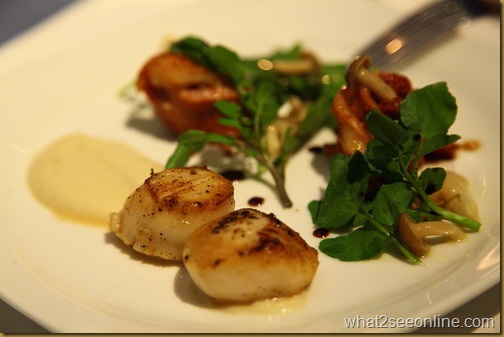 Spiced duck confit and smoked duck breast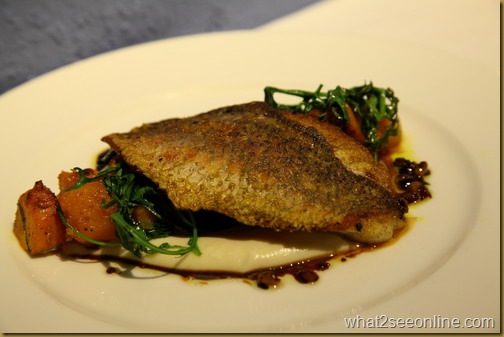 Seared sea bass

There is much other seating area in China House that will accommodate your meal. Expect to see corners and areas decorated with funky and retro furniture and lights.
Reading room (left) and our favorite coffee spot (right)
This private dining place is suitable for private parties and cooking classes
Dining by the outdoor courtyard by a water pond is a completely different experience. This airy dining place is located in the central section of China House. Diners like to hang out in this courtyard which links up the shophouses from Beach Street to Victoria Street.
A pleasant sitting place at the courtyard cafe
The second floor of China House is a retail space. This floor also houses several art galleries.
Another happening venue in China House is its Canteen & Bar which is popular for its live music and comedy performances.
The cosy ambience in China House makes its popular with customers, even though the service here can sometimes take a bit longer, especially when the place is crowded.
Business hours for this house of culinary delights by Narelle McMurtrie and Alison Fraser of Bon Ton Langkawi are from 9am to midnight daily. There are only street parking spaces to park your car. Click here for the Map Location.
China House
183B Victoria Street and 153 & 155 Beach Street
Georgetown
Penang
Tel: 04-263 7299
* Many thanks to China House for laying on this invitation.
* This is a reproduction of my article published in New Straits Times