German food galore at Eastin Hotel, Penang
BY CK Lam
This month, Eastin Hotel Penang is going deutsche with its German Galore promotion at its halal Swez Brasserie Restaurant. The buffet features classic German appetisers and entrees such as sauerkraut salad, goulash soup, bratwurst (German sausages) and scrumptious desserts to satisfy your taste buds.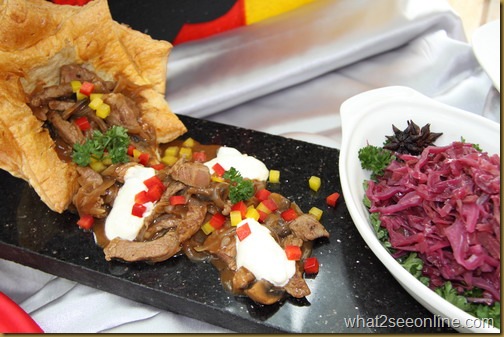 Junior sous chef Kelvin Cheong whips up a variety of chicken and beef dishes. As for the bratwurst, there is an assortment of sausages flavoured with different spices and herbs. There are foot-long and weisswurt sausage as well. The sausages are served with delicious dips of Dijon mustard and onion sauce together with potato salad and sauerkraut.
The creamy German potato salad, cooked with onions and turkey ham, is a delightful appetiser. The cold salad is slightly sourish. The other chilled dish is the recommended German sauerkraut salad. It is prepared with the fresh flavours of capsicum, celery, shredded cabbage and chicken sausages.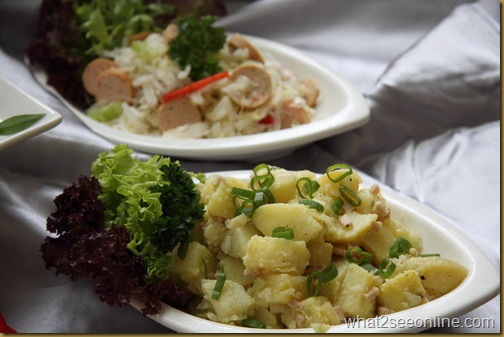 One should also try the rahm-schnitzel. This chicken cutlet sauteed with butter and onions comes with a coating of breadcrumbs and garnishing of almond flakes. Dijon mustard and onion sauce used to complement the flavours of the chicken. The crispiness of the deep-fried breadcrumbs and combination of ingredients made it a popular dish.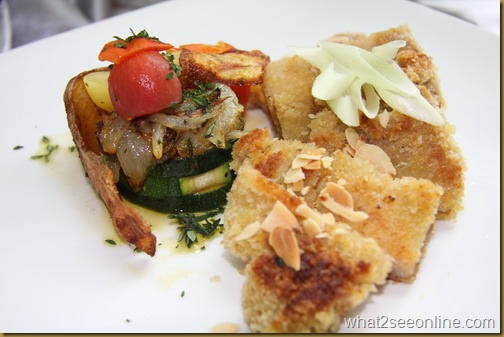 Aside from the rahmschnitzel, another meaty dish is the boeuf stroganoff (beef stroganoff), served on puff pastry.  Cheong makes it by braising beef with onions, mushrooms, thyme, capsicum, sour cream and brown sauce. The tasty gravy goes well with the pastry.
The meaty dishes are served with ratkohl. This sweet and sour red cabbage is cooked with vinegar, cloves, cinnamon barks and turkey bacon to give it a nice tartness.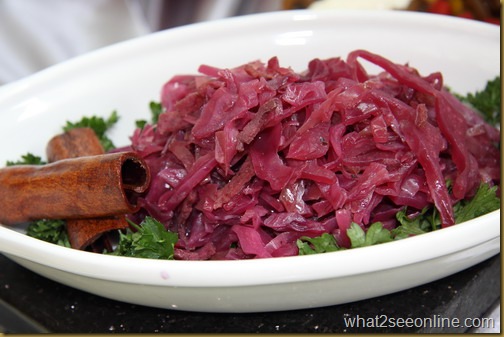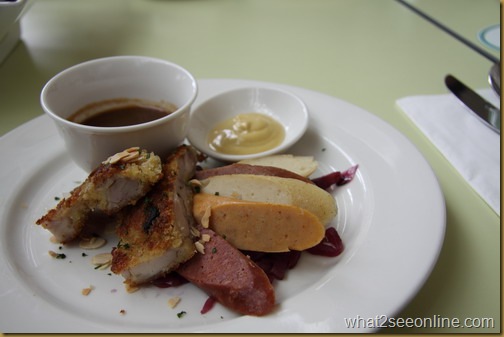 Choices of sausages and schnitzel along with ratkohl and dips
A cup of hot coffee complemented the desserts prepared by pastry chef, Franco Ho. The desserts include deliciously rich black forest cake, Berlin doughnuts and pretzels with icing sugar.
German Galore is available for lunch, high-tea and dinner until the end of the month. It is priced at RM48++ per adult and RM24++ per child. It is available for lunch Mondays to Fridays from noon to 2.30pm, and from noon to 3pm on weekends and public holidays for high-tea at RM55++ (adults) and RM28++ (children).
The semi-buffet dinner is served Mondays to Thursdays from 6.30pm to 10pm at RM48++ per person. A 15 per cent discount is offered to Maybankard, Visa, CIMB and UOB card members for the promotional dinner, and the weekend buffet dinner (Fridays to Sundays) from 6.30pm to 10pm.
For inquiries or reservations, call 04 6121128.
Eastin Hotel Penang
1 Solok Bayan Indah, Queensbay
11900 Bayan Lepas
Penang
* This is a reproduction of my article published in New Straits Times