Hui Lau Shan @Gurney Plaza, Penang offers mangolicious fun
BY CK Lam
Many dessert outlets are sprouting across Penang Island and one popular one is Hui Lau Shan. This Hong Kong's dessert chain journeyed to Penang with its first location in Gurney Plaza. The healthy dessert outlet has since been attracting stream of customers.
The attraction at Hui Lau Shan (HLS) is mango and its menu offers a whole wide range of selections of this tropical fruit. According to senior manager Yvonne Tan, the outlet is using two varieties of quality mango. One is the golden water lily mango from Thailand and the other from Philippines. Each variety is slightly different in flavor, with the sweetness of Thai mangoes for the ice blended and aromatic Philippines mango for topping.
At the food review, we are offered many tempting sweet desserts and not to mention some savory ones.
Fruitties Combo Series
The Fresh Fruitties Sweetie Ball with Double Juices (RM14.90) is an eye-appealing colourful dish. One can choose from a selection of juices which include watermelon, coconut, honeydew melon, mango, papaya and cantaloupe with a fragrant smell.
This dessert is presented with watermelon and mango juice together with glutinous rice balls. The natural sweetness of both the juices was delicious eaten with the chewy glutinous rice balls and the fruit balls.
Juicy fruits – strawberry, kiwi, mango, honey dew, cantaloupe and watermelon
Mango Mania Series
If you are looking for variety, do check out the mango feast (RM12.90). This dessert plays on texture and is very popular in HLS. It comes with three standard small glass bowls. Among the items are:
.Mango cubes, mango ice-cream and velvety smooth strands of 'hor fun' made from coconut milk.
.Glutinous rice ball and fresh mango cubes in mango puree with intense fresh mango flavor.
.Two pieces of light cheese cake – melts in the mouth, but the cheese flavor is too flat. Not as I would like it to be, but still tasty combined with the rest of the ingredients.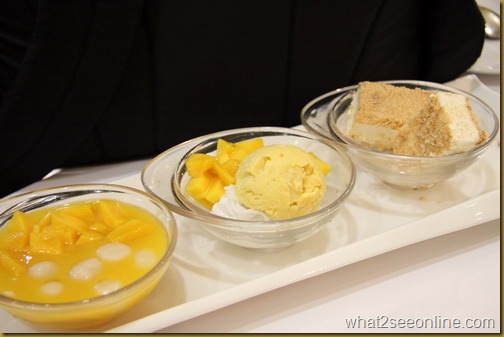 Mango Feast
Fruitties Icy Series
The mango romance (RM12.90) is a platter combining three small servings with a good selection of:
. Glutinous rice ball in mango puree with fresh mango cubes.
. Crystal jeli with mango cubes and mango ice-cream.
. A mango mochi lightly dusted with desiccated coconut together with slices of mango.
This is one of the top sellers and I could not agree more as the flavours of the ingredients are clearly able to complement each other. Particularly tasty is the hand-made mango flavored mochi with fillings of fresh aromatic Philippine mango.
Mango Romance
The mango icy sweetie ball (RM11.90) not only has glutinous rice balls and mango juice but also mango ice-cream. The mango juice is not too sweet and complimented the ingredients.
While the mango icy sweetie ball is a winner the Mango Zimi in Double Juices proves too much for me. I had a few spoons of this dessert made from mango, coconut milk and black glutinous rice but did not enjoyed its flavor combination.
Fruitties Jeli Series
There is a list of fruitties jeli choices, with aloe vera & crystal jade jeli, mango cube & mango juice, bird's nest & honey jeli, mango & coconut series and the golden pinky crystal jeli. HLS had the drinks done with the right amount of sweetness and coldness. I enjoyed myself with the golden pinky crystal jeli.
Delicacy Snack Series
The Choice of Double Series (RM4.90) comes with a topper and base pudding, housed in separate plastic containers. There is a variety of both and customers are given the option to mix and match their choices. Topper choices include mango cubes juice, mango sweetie ball, zimi aloe vera and the pomelo ananas. The base pudding has pineapple, zimi, red bean and mango choices.
Conveniently take-home packaging is well done for this dessert, with the topper stacked on top of the base pudding.
Customers can easily take home the dessert 
Double Delight Sweetie Ball is a dessert of glutinous rice balls served with a combination topping of sesame seeds and peanuts. The earthiness of sesame seeds and the fragrant roasted crush peanuts make a delightful topping for the chewy and firm glutinous rice balls.
Double Delight Sweetie Ball – RM4.90 for five pieces
I sampled the fresh mango mochi coated with desiccated coconut (RM4.90 for three pieces). Each of the mochi is hand-made with mango juice with a soft chewy bite, accompanied by a piece of fresh mango filling. The desiccated coconut added crunch to the soft texture mochi which is one of my favorite desserts at HLS.
There are also savory snacks for everyone. The spicy Swiss sauce chicken wings (RM4.90 for 2pcs) slow-cooked with spices in slightly sourish  black sauce is addictive. This is followed by the signature curry combo (RM7.90), a Hong Kong specialty made with white radish, cuttlefish, taupok and fishballs. To provide for the locals, HSL emphasizes on having a more spicy flavor for this dish.

Nourishing Items
There is even nourishing items with health benefits in HSL. In the menu is fresh papaya with hasmar & coconut milk, herbal jelly and the supreme coconut stewed bird's nest with harsmar.
Not to be missed is the fresh papaya with jelly-like hasmar and coconut milk. The dish priced at RM11.90 with well balanced sweetness is served cold in a halved papaya.
The classics ganoderma herbal jelly (kuai leng goe) is done well with silky smooth texture but with only slight bitterness of Chinese herbs. This black dessert (available hot or cold) can be taken on its own or with clear white sugar syrup for a sweet finish.
The hot supreme coconut stewed bird's nest with harsmar made a nice contrast to the many cold desserts. I enjoyed this warm comforting sweet dessert, finding the coconut milk fragrant with gelatinous harsmar. This dessert with the exotic bird's nest and harsmar is not cheap, at RM22.90.
If you're looking for refreshing desserts, do hop over to HLS. The shop notable for desserts and drinks plans to set up another outlet in Penang soon.
Hui Lau Shan
Lot 03-68
170-06-01 Plaza Gurney
Persiaran Gurney
10250 Penang
Tel: 04 2278745
Business Hours: 10:00am – 10:00pm (7 days a week)
* Many thanks to Hui Lau Shan for laying on this invitation.
* This is a reproduction of my article published in New Straits Times