Macalister Mansion launches Breast Cancer Awareness Campaign
BY CK Lam
October has been declared as the month in a worldwide annual campaign for bringing about the awareness of breast cancer. In conjunction with raising funds for this campaign, Macalister Mansion (MM) has its white front facade glowing in pink.
The event held recently at MM on Macalister Road hosted many esteemed guests including YB Puan Betty Chew, who was welcomed by Dato' Sean H'ng Chun Hsiang, director of MM and his wife, Datin Karen H'ng.
Also present at the event were Yang Berbahagia Puan Sri Datin Seri Dato' Akmal Abdul Salam, patron of Breast Cancer Welfare Association Malaysia (BCWA), Ranjit Kaur, CEO of BCWA and Tham Wei Wei, CEO of Mount Miriam, Keith Tan and Jenny Ooi.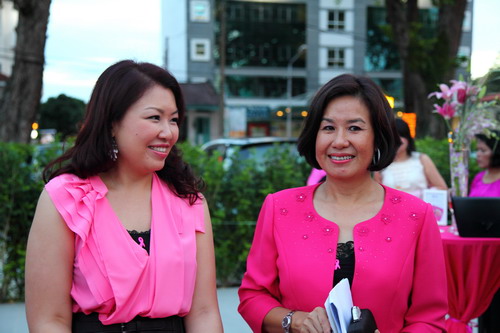 Two charming ladies in pink
From left: Keith Tan, Jenny Ooi, Dato' Sean, Tham Wei Wei, YB Puan Betty Chew, Datin Karen H'ng, Yang Berbahagia Puan Sri Datin Seri Dato' Akmal Abdul Salam and Ranjit Kaur
The event commenced with a press conference, with speeches highlighting the awareness programme by the representatives from BCWA and Mount Miriam Hospital. It was followed by the launching of two new 'pink' sweet offerings, a mocktail – Pinkilicious and a dessert – Garden of Hope.
Priced at RM30++ each, these sweet additions are available in the Dining Room, Living Room and Bagan Bar for this pink October month. 100 per cent proceeds from sales of the Garden of Hope and 50 per cent proceeds from Pinkilicious will go towards BCWA and Mount Miriam Hospital.
The PINKilicious mocktail created by Shah is a blending of refreshing apple and pineapple juices, grenadine and lemongrass.
PINKilicious
The Garden of Hope is a dessert created by MM's Chef Lance. I love this wholesome and tasty dessert made with raspberry bavarois, organic cane sugar crumble, chocolate fondue strawberry with soy and raspberry gelato.
Garden of Hope with shades of pink
Purchasing of either item will entitle guests to a lucky draw with fabulous prizes. Expect to win prizes of either two or one night's stay at MM's luxurious Eight Rooms, dinner for two at the Dining Room and sculpted jewelry sponsored by Penang jeweler Jonathan Yun.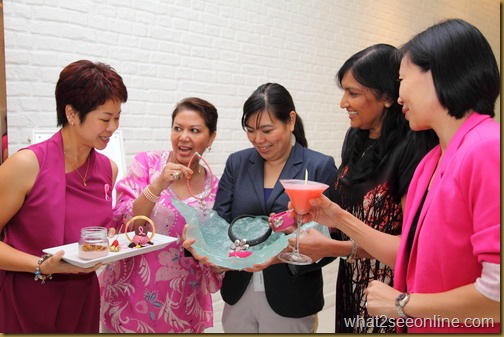 Ladies from BCWA and Mount Miriam Hospital & Josephine with the pink sweet offerings and prizes
Jonathan Yun with the jewelry
During the event, the mansion was illuminated pink by the VIPs. The pink lights will glow throughout the month of October.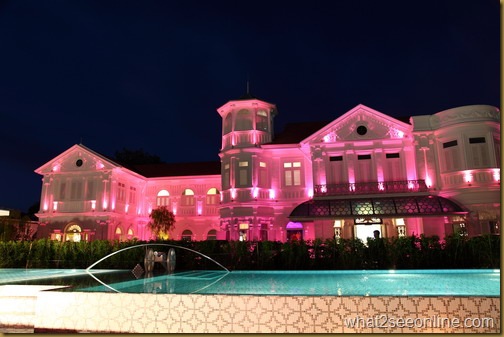 Mansion in pink for the first time
From left : Yeoh Kah Hock, Tham Wei Wei, YB Puan Betty Chew, Datin Karen H'ng, Yang Berbahagia Puan Sri Datin Sri Dato' Akmal Abdul Salam, Ranjit Kaur and Dato' Sean
The evening progressed with dinner, where guests mingled and enjoyed live music and food prepared by Chef Lance. The dishes were presented with themed decorations of pink ribbons and flowers.
The starter was kind of interesting, a sunchoke panna cotta with black truffle gel, mesclun and balsamic pearls. Particularly tasty is the main course, a serving of pan fried miso cod. Its flavor hold up beautifully with the watercress puree.
Appetizer and main course
The meal ended with our palates sweetened with the newly launched, Garden of Hope.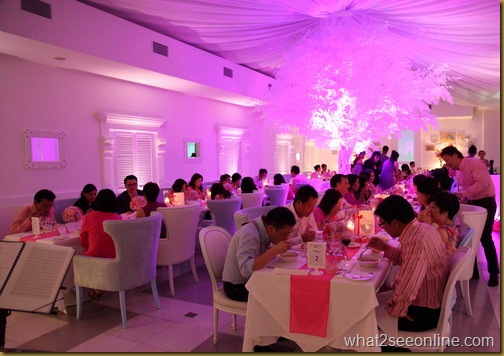 Macalister Mansion
228 Macalister Road
10400 Penang
Malaysia
Tel: 04 228 3888
Business Hours:
Dining Room: 7pm – 11pm (10.30pm last orders)
Bagan Bar: 5pm – 1am (weekdays), 5pm – 2am (weekends)
Website: http://www.macalistermansion.com
* Many thanks to Macalister Mansion for laying on this invitation.