Tao Authentic Asian Cuisine opens in Penang Times Square
BY CK Lam
September 23, 2012 marked the soft opening of Tao Authentic Asian Cuisine in Penang Times Square. This is the third outlet to serve customers in Penang besides its popular outlets in E-gate and Auto City.
A press conference was held on the day of its opening with a short speech from Mr Alex Oung, sharing the insight of the restaurant which specializes in all-u-can-eat buffet, with Japanese, Korean, Chinese, Taiwan and Thai cuisine.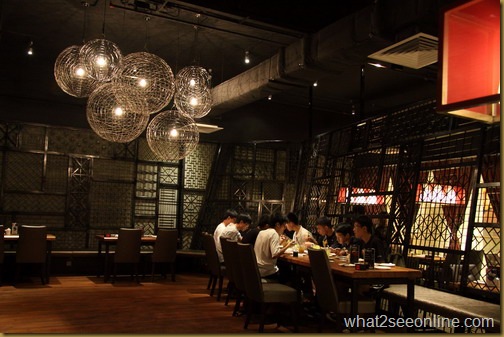 Sitting on the first floor of the shopping complex on Datuk Keramat road, the interior of this pork free restaurant has a variety of dining area, each with its own design and seating.
Similar design with the Sunway Giza outlet…
Tatami seating
Sashimi lovers can satiate their cravings with Tao's offerings. The fresh sashimi comes nicely plated on wooden boats. There are many types of raw fish to choose from besides the usual salmon and tuna.
  Plenty of fresh oyster on ice and chilled seafood
Varieties appetizers displayed beside the sushi bar include sakura ebi, jellyfish, honey lotus root, salmon salad and chuka wakame.
In another corner is the salad counter with standard items of greens with dressings. The hot selection includes oden, beef stew and a salmon dish. The comforting Oden comes with fish cakes, corn and daikon, meat balls and fish cakes. The dashi soup is kept piping hot throughout the night.
At the grill station, skewers of meat and seafood are dipped in sauce and grilled over charcoal fire. Ingredients of many varieties include mushrooms, bell peppers, chicken, prawn, sausages and fish. The teppanyaki station offers many choices. Red meat lovers would love the beef.
The dessert station has a small array of Japanese and Western desserts like jellies, cream puff, mini fruit tarts, chocolate fondue and ice-cream besides fresh fruits. For warm desserts, there is a choice of two – red bean and soya bean. There are also hot and cold beverages, with coffee, tea, chocolate and cappuccino along with iced peach tea, green tea and lemonade.
The long ala carte menu offers hundreds of mouth-watering choices from its different categories of yakimono, itame mano, nabemono and makimono. There is no restriction on how many dishes you can choose. Some dishes are better than others, and crowd favorites include motoyaki scallops, grilled mackerel and jade scallops.
Weekdays (Monday – Thursday)
Lunch: 12pm – 4pm, RM46++
Dinner: 5:30pm – 10:30pm, RM62++
Weekends (Saturday, Sunday & Public Holidays)
Lunch: 12pm – 4pm, RM62++
1st Dinner Session: 5:30pm – 8:00pm, RM62++
2nd Dinner Session : 8:30pm – 11:00pm, RM62++
Children between the height of 90cm and 140cm only need to pay half the price. Early birds coming in from 5.30pm till 6.30pm are in for a treat with 10% discount, available from Monday to Friday (except eve of and public holiday).
Tao Authentic Asian Cuisine
77-1-35, 77-1-36, 77-1-37 & 77-1-40
1st Floor Penang Times Square
Jalan Dato Keramat
10150 Penang
Tel: 04- 2285826
* This is a reproduction of my article published in New Straits Times