Little Kitchen @ Nyonya, Penang offers home-cooked Nyonya food
BY CK Lam
Tucked in the heart of George Town's Noordin Street is Little Kitchen @ Nyonya. The charming restaurant housed in an old two storey shophouse with a distinctive heritage façade, serves home-cooked Nyonya dishes.
Stepping inside the restaurant is as though taking a trip back in time for us. The well preserved interior offers something unique and the furniture and antiques reflects the atmosphere perfectly. Even the lightings hanging from the wooden ceiling are of harmonious theme, as described by the proprietor Mr Loh. Remarkably, this is home for all three generations of the family.
The inner section of the restaurant
Initially, Mr Loh's father delved into the bird nest culinary scene in Penang which they continue up till this very day. However, the young Loh decided to diversify his gastronomic scope by serving authentic Nyonya dishes. His mother has been helping in the daily preparation.
Browsing through the menu, it is clear that Mr Loh's dishes really mean business. Several items that have disappeared off the face of Penang Nyonya cuisine is found in this restaurant, much to the delight of everyone!
Ulam and home-made sambal with different tone of spiciness is a must-have

One particular must-try offering is the masak titik, which is a soup made from pepper, belacan (shrimp paste), chillies, white radish, dried prawns and fresh seafood. It is a delight sampling this heartwarming dish, with the spiciness and seafood flavors going hand in hand.
Masak Titik RM10
Another dish that is equally appetizing is the perut ikan, which loosely translates into 'fish stomach'. This Nyonya specialty with pungent flavors of daun kesom (laksa leaves), daun pudina (mint leaves) and daun kaduk is a tedious dish to prepare. The fatty and smooth pieces of salt-preserved perut ikan are cooked with vegetables and herbs in an utterly delicious  sweet, savory, sour and spicy gravy.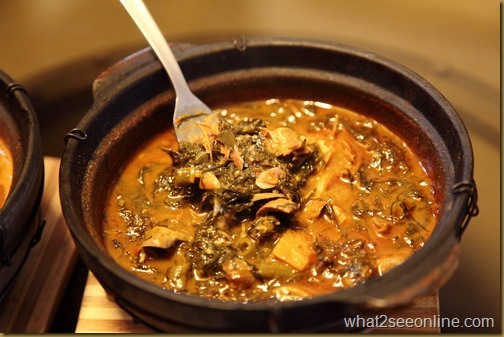 Perut Ikan RM15
Little Kitchen prepares the lor bak (pork roll), which in general is a traditional Chinese delicacy whereby marinated pork are wrapped in bean curd sheet and subsequently deep fried. However, the kitchen adds one more ingredient; tu kua (pig liver), which greatly enhances the taste while adding extra texture.
Tu Kua Lor Bak – RM4 per roll
The dishes are complemented with a plethora of all-time Nyonya favorites, and among them are the tau eu bak (braised pork in soy sauce) and jiu hu char (stir-fried yam bean with dried cuttle fish).
The plate of tau eu bak comes with braised meat – fat and lean meat. The kitchen also offers various innards, such as intestines and stomach. The flavors of seasoning and soy sauce we experienced in this dish is more on the lighter side.
Tau Ewe Bak RM20
Mr Loh recommended the acat chia hu (pickled fish in turmeric vinegar). The deep-fried pickled fishes are cooked in turmeric vinegar, ginger, chili and served topped with spring onions and roasted sesame seeds. The combination of  flavors whetted everyone's appetite.
Acat Chia Hu – RM8 per fish
Served with freshly cut lettuce and spicy sambal, the signature Nyonya stir-fried jiu hu char (RM8) is simply flavorful with sweetness and flavor from the yambean, prawns, meat, mushroom, carrot and dried squid. The restaurant also offers rempah hae (prawns in rempah paste) RM18.
For those who may prefer noodles, do try the lum mee. The yellow noodle comes topped with pork, big prawns, omelette strips, pee hu (crispy deep-fried dried sole) and cilantro besides a side of  fiery sambal belacan. The lum mee is very flavorful and robust with rich broth of prawns and chicken and the aromatic pee hu.
Lum Mee with dried sole
There are also sweet dessert options, with black glutinous rice porridge and pengat. The latter comes in rich coconut milk with sweet potatoes, yam, white beans, banana and pieces of coloured tapioca flour.
We enjoyed the drinks served with the Nyonya dishes, with the perennial favorite being nutmeg (Penang specialty) and ginger tea with palm sugar. Served in colourful self service vacuum flasks, the drinks cost RM3  per glass whilefree flow is at RM4 per person.
All in all, Nyonya cuisine has always been a cultural icon for Penang, and Little Kitchen @Nyonya has successful carried on the tradition of preparing all these authentic Nyonya dishes. This establishment is non-halal and it is open daily except Sunday. Click here for the google Map Location. Parking spaces are available by the roadside.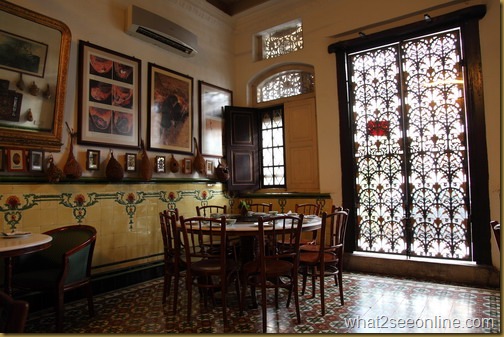 The front section of the restaurant
Little Kitchen @ Nyonya 娘惹小廚房
179 Noordin Street (Ji Tiau Lor)
10300 Penang
Tel: 04-2616731

Business Hours:
6.00pm – 10.00pm