Official opening of Norway & Norwegian Consumer Goods Exhibition in Penang
BY CK Lam
The Norway and Norwegian Consumer Goods Exhibition held at Gurney Plaza, Penang attracted a large crowd. Organised by the Royal Norwegian Embassy in Kuala Lumpur, the exhibition held from November 1, 2012 showcased the best range of products originate from Norway and Norwegian. The exhibition will go on until November 4, 2012.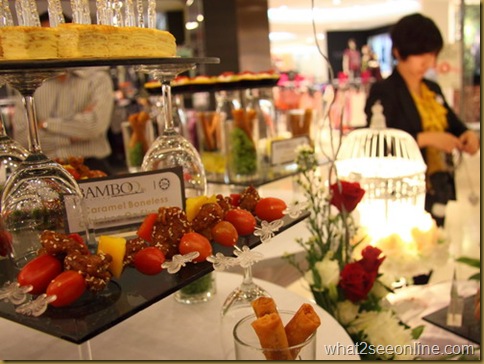 The opening event was officiated by HE Hans Ola Urstad, Ambassador of Norway and YAB Chief Minister of Penang, Tuan Lim Guan Eng. The event introduced a range of exhibitors, from Tine Norway, Trapia Sdn Bhd, Jordan to Jotun. The exhibitors presented a charity gift to the Children's Protection Society after the speech by Tuan Lim Guan Eng.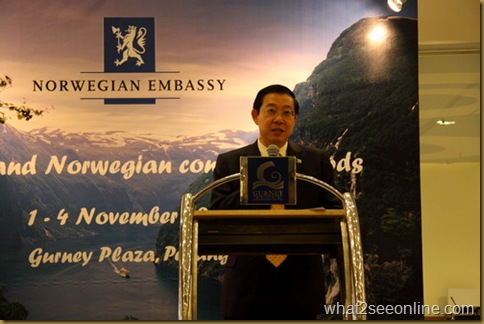 Cheese enthusiasts had the opportunities of tasting Jarlsberg cheeses by importer and distributor Tine Norway. Since 1961 Tine Norway has been exporting the famed Jarlsberg cheeses all over the world. The comprehensive selection included Jarlsberg® Original Wheel, Jarlsberg® Special Reserve Wheel, Jarlsberg® Lite Loaf, Jarlsberg® Smoked Loaf and Ridde.
Jarlsberg, one of the bestselling brands in US, Europe and Australia
The specialty cheese was Gudbrandsdalen, a soft Norwegian brown cheese. This cream whey cheese with hint of caramel and natural sweetness is made with goats milk and cows cream.  The sweet cheese is best enjoyed with bread and waffles.
Wafer thin cheese is sliced with a cheese slicer
Trapia Malaysia Sdn Bhd highlighted its eco-friendly fish farming in Lake Temenggor, Perak.  Starting in 2009, Trapia has already become one of the leading producers when it comes to sustainability and compliance with leading seafood standards. The unique strain of GenoMar Supreme Tilapia is likely the best quality Tilapia broodstock in aquaculture.
A brief cooking demonstration was held at the opening of the exhibition by chef Samuel Cheong from Abbey Road Bistro Restaurant. He presented the pan-fried Tilapia with sauteed enoki and spinach and finished off with topping of sweet spicy harissa.
Catch the other cooking demo by Chef Samuel on 3rd November at 2pm

The exhibition offered much more than food. Jordan which produces quality healthcare products of toothbrushes, dental floss and dental sticks unveiled the 'Individual Generation 4' design collection with vibrant colours.
Jotun exhibited its products of colours, and provided information and tips to the visitors. The company which is one of the leading producers and distributors of paints and coatings is holding the number two spot in the Malaysian market.
The event also featured the photo exhibition "Norway at a glance". The collection gave an impression of Norwegians and life in Norway. Visitors had a great time viewing the many fjords and mountains, cities, industries, modern architecture and design of Norway. It was a perfect introduction for me who have yet to visit Norway.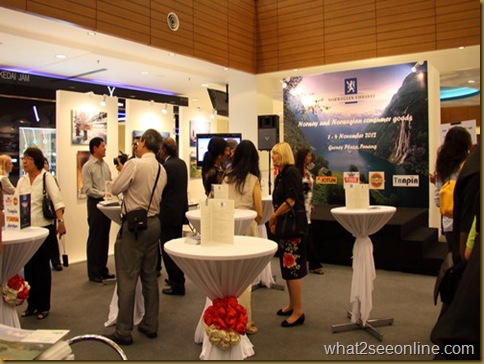 Do make your way to the exhibition of Norwegian experiences and do not leave without tasting the soft Norwegian brown cheese and seafood.
Gurney Plaza
(Ground Floor New Wing)
Persiaran Gurney
10250 Penang
* Many thanks to Marian Eu of Scribe Media Link for laying on this invitation.