Christmas Eve Dinner Menu at Ferringhi Garden Restaurant, Penang
Ferringhi Garden Restaurant is one of only a few garden restaurants in Penang. I have been visiting this restaurant since 2008 and glad to say that it is going stronger each year. For this year Christmas celebration, the restaurant has everyone in a festive mood with its exterior and interior beautifully decorated with festive lights.
The front section of the indoor dining area has a gorgeous displayed of Christmas trees, gingerbread houses and variety of lovely hand-crafted ornaments.
We caught up with the Christmas Eve Dinner menu prepared by executive chef Woei Liang and pastry chef W.K.Tou. The menu comes with a selection of four mains, while the starter, soup and dessert are fixed. To experience all the creations, the dishes were served to us in small portions.
The starter plate of pan seared foie gras, hamachi carpaccio & Japanese scallops was served with mixed berry sauce, puree of roasted bell pepper and macro green. The ingredients were complemented by the sauces. A delicious dish to start the evening.
The foie gras added a rich velvety texture to this starter plate
The starter was followed by the cream of asparagus soup, served with pieces of fresh asparagus and homemade prawn gnocchi. The gnocchi and the pieces of asparagus added lovely texture to the frothy, creamy soup.
There are four selections of mains – Christmas turkey with roasted seasonal vegetables and potatoes, roasted rack of lamb, Australian beef tenderloin and the grilled fisherman's catch.
The meat dishes were hearty and filling while the pan-grilled black cod with slight smoky char and touches of mustard vinaigrette and carrot puree, would be a winner for those who love fish.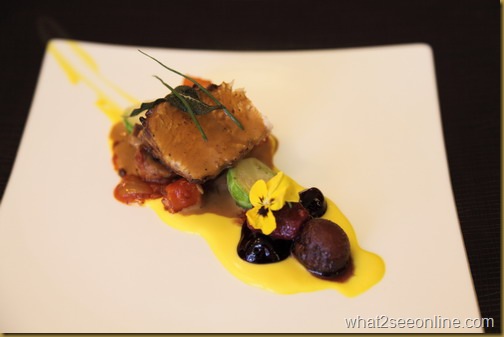 Christmas turkey with roasted seasonal vegetables and potatoes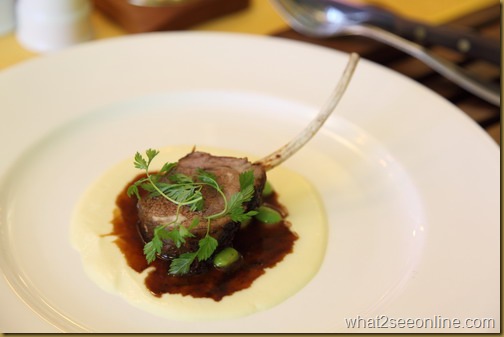 Roasted rack of lamb – slow roasted with honey Dijon mustard
   Australian Beef Tenderloin – caramelized with Cabernet Sauvignon reduction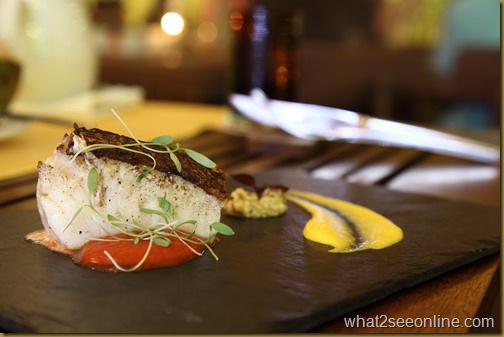 Pan-Grilled black cod with coriander, mustard vinaigrette & carrot puree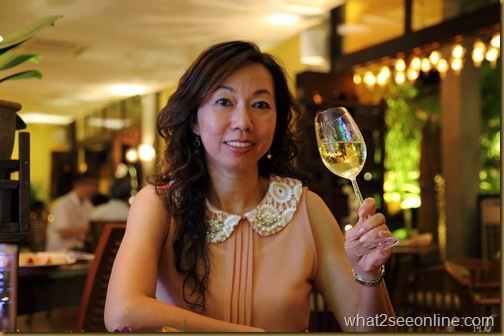 The grilled fish went well with the white wine
We ended the Christmas Eve menu with the dessert. The poached pear with coconut ice-cream was served with roasted silver almonds, mixed berry reduction and garnishing of afilia cress and edible flowers. The softness of the pear was beautiful against the crunchy almonds while the rest of the ingredients brought the dish together.
We couldn't resist a cup of brewed coffee along with homemade festive cookies. The cookies choices included basler brunsli, pistachio & lemongrass, almond & oats, sunflower seeds & coconut and chocolate chips & walnut. Packed in 200gram vacuum sealed bags, these cookies are wonderful to give as Christmas gifts.
Coffee & cookies
Beautiful displayed of gingerbread houses
If you wish to have the Christmas Eve dinner menu, it is available on 24th & 25th December 2012. The New Year's Eve menu is available on 31st December 2012. Both menus are priced at RM198++ per person. Click here for the google Map Location.
Ferringhi Garden Restaurant
34-C Batu Ferringhi
11100 Penang
Tel : 04 8811193
* Many thanks to Ferringhi Garden Restaurant for laying on this invitation.