Seven Terraces & The Kebaya at Stewart Lane, Penang
BY CK Lam
The newly opened Seven Terraces in the heart of World Heritage Site is Penang's newest boutique hotel. Sitting on Stewart Lane, this hotel by hoteliers Christopher Ong and Karl Steinberg is converted from a row of seven C19th Anglo Chinese terraces houses.
Seven Terraces offers guests a boutique hotel experience with its Peranakan and contemporary design and its many Baba Nonya and Chinese antique furniture and collectibles. The hotel comprises a restaurant, bar and 18 air-conditioned suites with modern amenities.
We paid a visit to the hotel recently. Walking past the huge ornate antique wooden doors led us into the reception lobby with old-world charm. The lobby attracted attention with its antique furniture, wooden door panels and blue and white porcelain heirlooms.
The lobby is flanked by the reading room at one side and the living room which overlooked a lap pool at the other.
The suites on the first floor are accessed via the lift or the striking staircase custom-made by local craftsmen. Cozy and artistically decorated, several of the suites offers view of the surrounding Georgian Church and the Kuan Yin Temple.
Housed in this boutique hotel is The Kebaya. This ground-floor restaurant is an elongated hall, with one side facing Stewart Lane and the other side looking into the long Chinese granite courtyard with two frangipani trees.
Dining is totally innovative in the relaxing restaurant. The restaurant's degustation menu showcases dishes of the Straits Peranakan and Indo-Chine cuisines which are done with an innovative twist. Although the names of the dishes are familiar, the presentations and cooking approach is different and more refined.
The Kebaya dining room
The degustation 4 course menu at RM100++ per person is very attractive, with appetizer, followed by the main course, greens and dessert. We sit down for a meal, starting with savory appetizers of Pai Tee, pork mantou and the Kebaya Banh Xeo. Each of the starters has different combination of ingredients.
The Pai Tee is a serving of 'top hats'. The crispy deep-fried pastry shell is filled with an enticing combination of saltwater school prawns and fresh julienned vegetables. It is best to eat the small top hat in one bite with some sweet chili and coriander sauce.
The next starter is the Kebaya Banh Xeo, a dish with its origins in the Vietnamese cuisine. This small crunchy pancake folded in half is filled with much texture and flavors, with a combination of bean sprouts, crispy tofu, dried shrimp, julienned carrots, greens and a tamarind sauce.
The homemade pork mantou is pockets of goodness with tender pieces of sous vide soy pork, crunchy pickled vegetables and flavorful soy sauce. It's hard to resist another piece of this steamed fluffy bun with comforting flavors.
Pork Mantou & Banh Xeo
The selection of mains in the menu includes Lor Ark, Prawn Geng, Hong Bak Lamb and Grilled Chicken Kapitan.
The Prawn Geng is a wonderful (Thai) dish of jumbo white prawns cooked in a pungent and smooth curry. The creamy coconut milk and a medley of ingredients and herbs including turmeric and lemongrass, gives a rich full bodied taste to this curry dish. On another visit, we had an enjoyable serving of Crab Geng, with all the shells removed.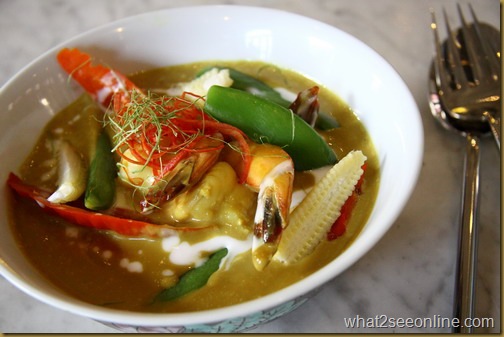 Prawn Geng – a rich full bodied curry dish
Another main dish that grabs our attention is the Lor Ark. This plate of tender meaty duck confit with caramelized spiced plums and oranges is prepared with goodness hint of star anise, cloves and nutmeg.
A real specialty in the menu is the Hong Bak Lamb served topped with coriander and chili strips. The prime New Zealand shank is cooked sous vide for 48 hours with a robust spice kurma mixture. The complexity of the spice mixture blends well with the intense flavor of the lamb.
Hong Bak Lamb
As for vegetables, there are choices of sauteed market fresh selection of greens, crispy deep-fried Nyonya tempura and sambal goreng. The latter is a dish of sauteed French beans and enoki mushrooms with lemongrass, shallots, coconut cream and belachan (fermented shrimp paste).
The meal is even more interesting with the desserts. The tang yuen dessert in terms of looks and taste is something you won't find at other restaurants in town. The blue glutinous 'onde onde' rice balls made of glutinous rice flour and juice from the bunga telang (blue pea flower) are stuffed with grated coconut in gula Melaka (palm sugar).
This dessert served with a warm rich coconut broth is heavenly with slices of coconut flesh, toasted sesame seeds and a swirl of thick coconut milk.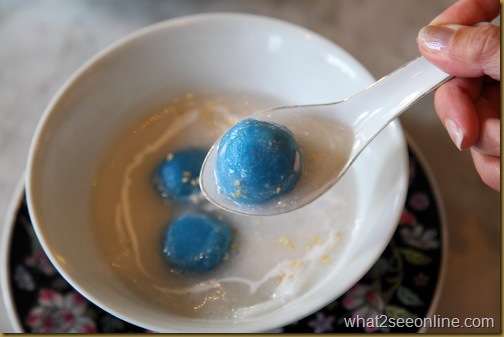 A beautiful intro to the tang yuen dish by Chris Ong
While the tang yuen is the popular choice, it is worth checking out the Crème Brulee. The Pandan egg custard with fragrant pandan juice is served with 'kaya' coconut jam cookies. The egg custard with crisp burned sugar topping has a fabulously deep rich flavour and smooth creaminess.
The other desserts include the Triple Jeweled Tub Tim Krob and the Panna Cotta with passion fruit & coconut panna cotta, candied pistachios and poached pineapple.
Panna Cotta
The Kebaya provides an unforgettable food experience. We would like to return for the other new dishes which we were told will be added to the menu gradually. The restaurant is closed on Mondays, with business hours from 6pm to 10.30pm.
Part of the restaurant is taken up by the Baba Bar. With a marvelous antique bar, this place with live piano performance on weekends is a comfortable place to relax in before or after the meal.
Seven Terraces is located close to many tourist attractions. Click here for the google Map Location.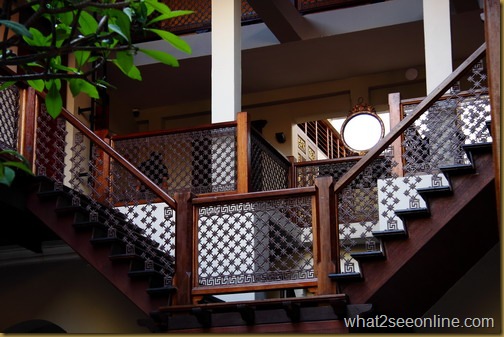 There are several public parking spaces on Stewart Lane and at the hotel entrance (enter from Jalan Kapitan Keling).
For more photos of Seven Terraces, do hop over to my other blog,  penang365.com
Seven Terraces
Stewart Lane
10200 Penang
Tel: +604 264 2333
Fax: +604-264 5222
Email: info@7terraces.com
* Many thanks to Christopher Ong and Karl Steinberg  for laying on this invitation.