'A Nyonya Inheritance' – Nyonya Cookbook with 35 savoury Penang Peranakan dishes
BY CK Lam

Pearly Kee, a fifth generation Penang Nyonya has just launched her first cook book entitled A Nyonya Inheritance at China Tiger, here.  Also present were the writer's mentor, master chef Datuk Lim Bian Yam, family members and friends.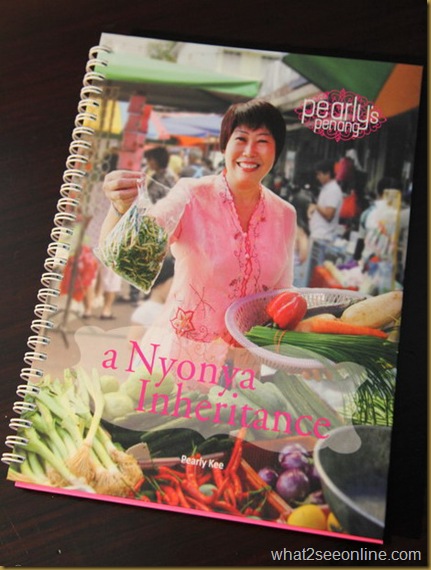 The colourful hardcover book features the recipes of 35 authentic Penang Nyonya dishes, including asam laksa, nasi ulam, sambal udang, otak-otak, chun pneah and curry kapitan. The book is priced at RM60 and published by Clarity Publishing Sdn Bhd.
Guests were treated to several of the dishes, including nasi ulam and asam laksa. The savoury dishes were followed by a dessert of colourful tang yuan (glutinous rice balls).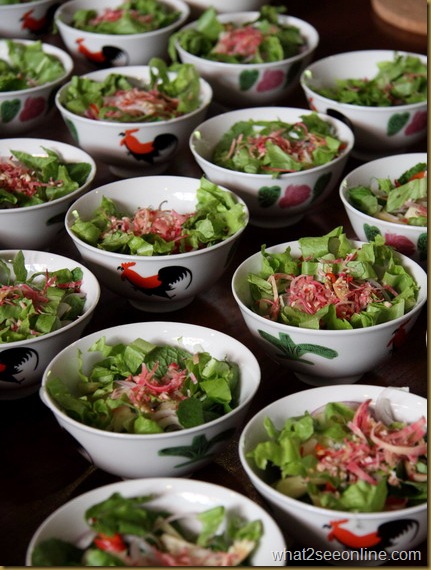 Assam Laksa served with prawn paste and chili padi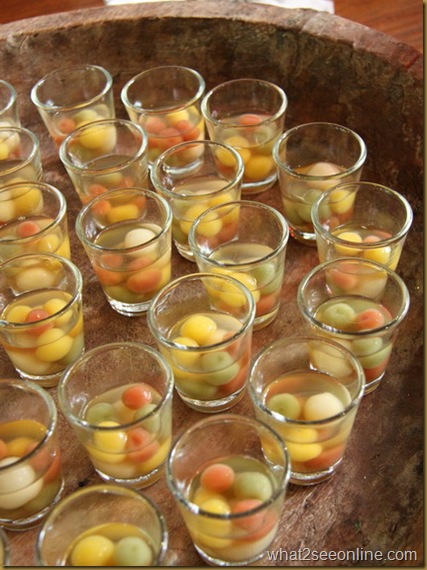 Colorful 'tang yuen'

This is the recipe for Assam Laksa and it is for four to six big bowls.
Spice Paste
110g shallots finely chopped
225g pineapple, cut into small cubes
10 dried chilies, finely chopped
2 stalks lemongrass, finely chopped
30g shrimp paste (belacan)
2.5cm fresh turmeric finely chopped
15g galangal sliced
Garnish
225g pineapple, cut into strips
225g cucumber, thinly grated
3 leaves of local lettuce (o wa chai), cut into thin strips
100g onions, thinly sliced
½ torch ginger flower, thinly sliced
1 cup mint leaves
1 red chilli or chabai burung, remove seeds, thinly sliced
Laksa Broth
1 liter water
30g tamarind
5 sprigs laksa leaves
½ torch ginger flower
4 sardines (mackerel or tuna fish are good substitutes)
1 lemon (optional)
1 to 2 tablespoons sugar
2 to 3 tablespoons of prawn paste (hae koe)
½ packet laksa noodles
1) Grind all the spice paste ingredients together. Add in water (to third of the height of
the paste)
2) Squeeze the tamarind repeatedly in the water. Rest for 15 minutes and strain the
water through your fingers into a pot to remove the pulp (fingers are better than a
sieve which will trap the tamarind cream!) Add the laksa leaf stalks, half a torch
ginger flower and the ground spice paste. Turn to high heat to boil for 5 minutes. Simmer for
another 15 minutes and remove the laksa leaf stalks so that the broth won't be bitter.
3) Add the fish to the boiling laksa broth and allow to boil on high heat. Turn to low heat
to simmer for 8 minutes.
4) Remove the fish and leave to cool. Flake and debone the fish and set aside.
5) Add sugar and prawn paste to the broth. Turn off heat and add the fish flakes. Re-
heat before serving and stir carefully to avoid breaking the fish flakes further.
6) Soak the laksa noodles in water overnight or for a minimum of 4 hours. Cook these in
boiling water and refresh in cold water and set aside. If you can find pre-cooked laksa
noodles, just scald these in hot water until it softens.
7) Reheat the laksa broth (if you prefer it more sour, squeeze in some lemon juice).
8) Place the cooked laksa at the bottom of the bowls and add in the garnish, the fish
flakes and finally pour the hot broth over before serving.
 Guests waiting in line for 'asam laksa' prepared by Pearly Kee
For more info, do contact Pearly Kee at 016-437 4380.
* This is a reproduction of my article published in New Straits Times