Aussie Tucker Buffet at Eastin Hotel, Penang
BY CK Lam
Eastin Hotel Penang is starting off the New Year with its first monthly buffet. The buffet called Aussie Tucker at the Swez Brasserie incorporates a variety of classic and modern dishes spiced up with new flavours.
There is a mix of appetisers featuring uluru calamari salad, chiko rolls and Aussie oyster soup. The uluru calamari salad consists of calamari tossed with orange and walnut dressing, fish caviar, chillies and olives.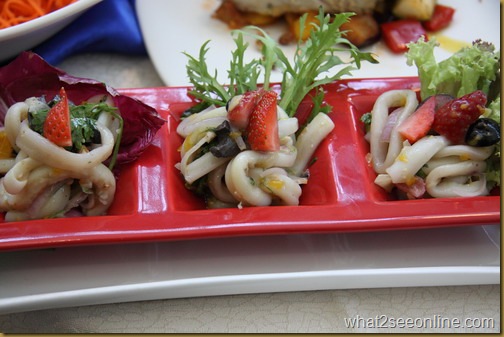 Chiko rolls are egg pancakes with fillings of lamb, celery, carrot and onion cooked in chicken stock. It comes with a side of spicy, sweet sauce.
Next is the creamy Aussie oyster soup garnished with ebiko and monk fish caviar. The soup with fresh plump oyster needs more flavour. All it needs is a squeeze of zesty lemon and a dash of salt to give it flavour.
The main course is the macadamia-crusted fish fillet. This savory dish with crunchy macadamia nuts is served on a bed of ratatouille with ham and orange ginger sauce. While the combination of flavors is wonderful, certain parts of the fish skin is a little chewy.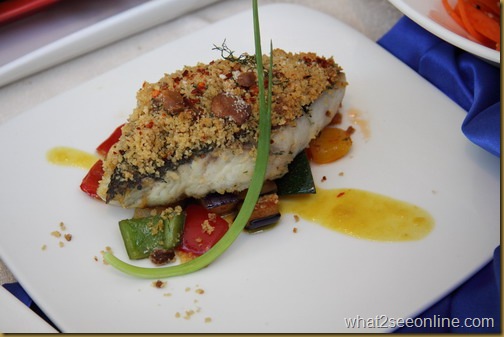 For cuts of white chicken meat, there is the Aussie Swiss chicken. The grilled chicken is topped with ham and melted cheese, among other garnishes, and accompanied by onion sauce.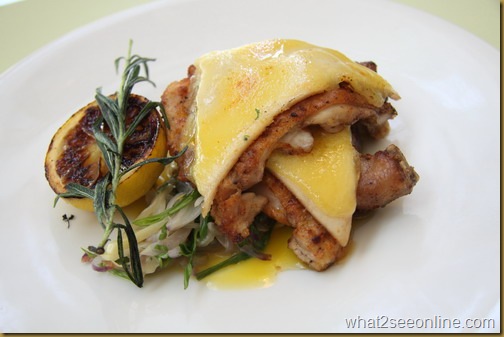 Onion monaquesques is on the main course too.  Prepared with onions, thyme and tomato paste, it makes an interestingly light dip for the nachos.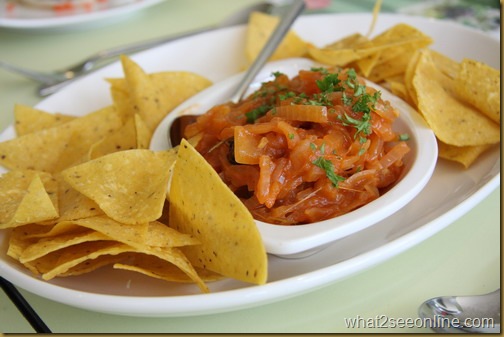 Aside from the appetisers and main courses, the Aussie Tucker buffet offers a variety of desserts. They include the pavlova and the lamington. The classic lamington are small pieces of sponge cake dipped in chocolate icing and sprinkled with desiccated coconut, making for a great dessert.
The pavlova is made with plenty of egg whites, and is served in small glasses with whipped cream and fresh fruits.
Swez Brasserie's Aussie Tucker by Chef Kelvin Cheong and Chef Zaidid is available during lunch, hi-tea and dinner for the whole month of January 2013. Semi buffet dinner is available from Sunday to Thursday at RM48++ per adult.
For lunch from Monday to Friday, the buffet is priced at RM48++ per adult and RM24++ per child. Also worth checking out is the hi-tea from 12pm till 3pm. Priced at RM55++ per adult and RM28++ per child, the buffet is available on Saturday, Sunday and public holidays.
Swez Brasserie offers a special discount of 15% for all Maybankard, Standard Chartered Bank and Visa card members for the Aussie Tucker semi buffet dinner which is available from Monday to Thursday and weekend buffet dinner (Friday & Saturday) from 6.30pm till 10pm.
For reservations, call 04-612 1128.
Eastin Hotel Penang
1 Solok Bayan Indah, Queensbay
11900 Bayan Lepas
Penang
* Many thanks to Eastin Hotel for laying on this invitation.
* This is a reproduction of my article published in New Straits Times