Castello Banfi Wine Dinner at Spasso Milano
BY CK Lam
It was a night with awesome wines and lots of food at the Castello Banfi wine dinner organized by fine wine and spirits distributor Asiaeuro Wines and Spirits at Spasso Milano, Straits Quay. Executive Chef Felice Martinelli presents a five-course meal of game, seafood and vegetables to complement the Italian wine by Italy's award winning wine family – Castello Banfi Wines.
Banfi's Regional Manager, Guillaume Blanchard welcomed us and chatted about the different wine pairings. "Castello Banfi is a family-owned vineyard estate and winery in the Brunello region of Tuscany. With its sister estates in Piedmont, Vigne Regali and Principessa Gavia, it has been recognized all over the world for its dedication to excellence in the art of Italian winemaking," said Guillaume.
The wines for the evening include Principessa Gavia Gavi DOCG 2011, San Angelo Pinot Grigio IGT 2011, Chianti Classico Riserva DOCG 2009, Belnero Di Montalcino DOCG 2009, Brunello Di Montalcino DOCG 2007 and Summus IGT 2007.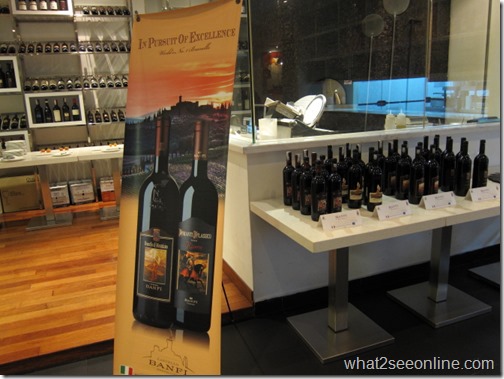 Cocktails moments had everyone sipping on glasses of Principessa Gavia Gavi DOCG, 2011 and feasting on light and savory Italian delights of Arancini Rossi and Cherry Tomatoes Caprese.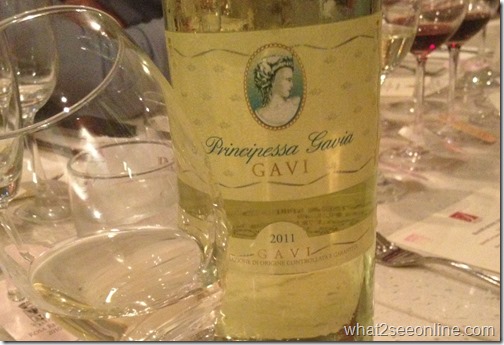 The first of the many dishes was the Grilled Seafood and Vegetables Salad. Tossed in light and refreshing lemon dressing, the salad with black cod, prawns and baby octopus was paired with San Angelo, Pinot Grigio, IGT, 2011. Made from 100% Pinot Grigio grapes, this aromatic medium-bodied white wine paired well with the grilled ingredients.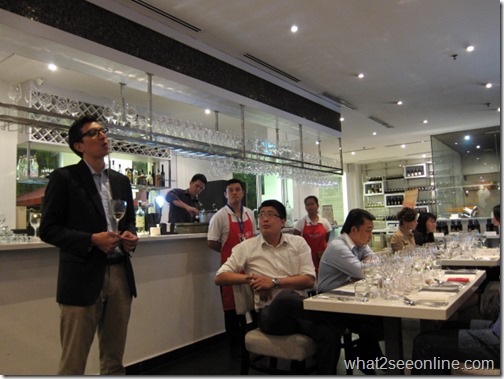 Guillaume Blanchard
Beef and goose liver ravioli on light white truffle cream was the second course. The filling of the delicately wrapped ravioli came up delicious. This dish was paired with Chianti Classico Riserva DOCG 2009.
The next course featured one of my favorite wines of the night. Made from almost exclusively Sangiovese grapes, the Belnero, IGT, 2009 with soft and well-balanced tannins paired well with the Herb crusted Lamb Loin Medallions in red wine and honey reduction.
Also on the menu was the Wagyu Beef Tenderloin "Wellington". The beef wrapped in buttery puff pastry was topped with duxelle – a savory mixture of finely chopped mushrooms, onions, shallots and herbs sautéed in butter. This course was paired with one of Italy's most famous and prestigious wines – Brunello Di Montalcino DOCG, 2007. Made exclusively from Sangiovese grapes, this red with bouquet of berries with underlying vanilla and spice work well with the juicy steak with mushroom flavor.
The Belnero IGT 2009 is priced for around RM130 and the Brunello Di Montalcino DOCG 2007 with its first vintage produced in 1978 is priced at RM210.
For hours we ate and drink with the continue serving of the Summus IGT 2007 and Rosa Regale DOCG 2010. The Summus was a good wine and price wise, this was the most expensive of the range (RM350).
All in all it was a lovely evening with excellent batch of Banfi wines, food with richness of flavors by Chef Felice, and joyous company.