Italiannies at Gurney Paragon Mall, Penang
BY CK Lam
Located adjacent to Gurney Plaza and G-Hotel, Gurney Paragon Mall houses several restaurants and cafes. One Italian chain restaurant that is making its debut in this mall is Italiannies. The restaurant provides diners with the option of dining in the large air-conditioned dining room, or in the alfresco area where they can enjoy the sea breeze.
All its outlets nationwide offer the same menu. Our dinner consisted of appetisers, pasta and pizza, and complimentary bread with vinegar and olive oil. As usual, the food is served in large portions.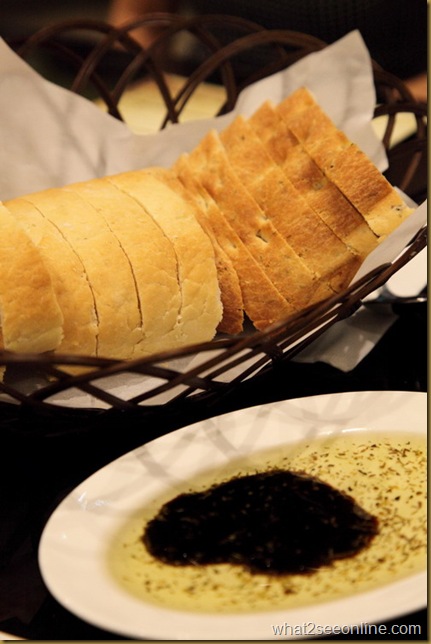 For starters, we opted for an unique dish — the spinach and artichoke formaggio. It is essentially fresh cheese blended with spinach, artichoke and mushrooms. It is then baked and served topped with sun-dried tomatoes and toasted homemade garlic bread.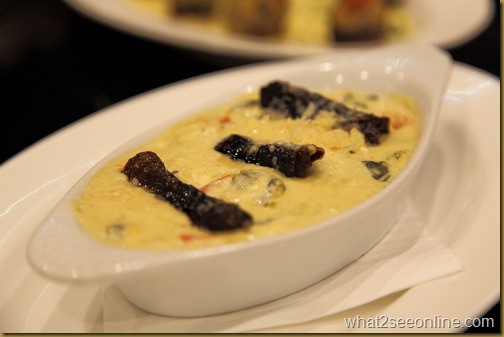 Spinach & Artichoke Formaggio RM31.90
Another dish that is great for sharing is the stuffed mushrooms. The mushrooms are stuffed with Italian chicken sausage and spinach, then oven-baked with three Italian cheeses.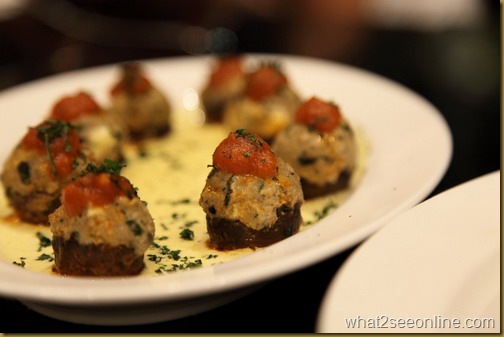 Pasta forms an essential part of the Italian palate. Our favourite at Italiannies is the angel hair pomodoro. The fine noodles are prepared in a light, tomato-basil sauce and tossed with chopped, red tomatoes. This pasta dish is simple, yet strong in flavour.
Angel Hair Pomodoro comes in three sizes, from RM18.90 to RM37.90
Clams and mussels are well represented on the menu, with a choice of broths. We had the clams fra diavolo for sharing. Fresh clams are sauteed in a spicy tomato broth, and topped with parsley and lemon juice. The broth is equally addictive, as it draws flavours and sweetness from the herbs and clams.
Pizza is synonymous with Italian food, and has remained Italiannies's signature dish all these years. There are a great variety of toppings to choose from, and all pizzas are freshly made in the restaurant.
Sticking with the theme of unique offerings, the Italiannies special comes with shrimps, anchovies, mushrooms, melted mozzarella and asiago cheese. Each bite is delightful, as the kitchen is generous with the ingredients and toppings.
  Italiannies special RM32.90
The opening of Italiannies in Gurney Paragon Mall adds to the ever growing list of restaurants and cafes serving Italian cuisine in Penang.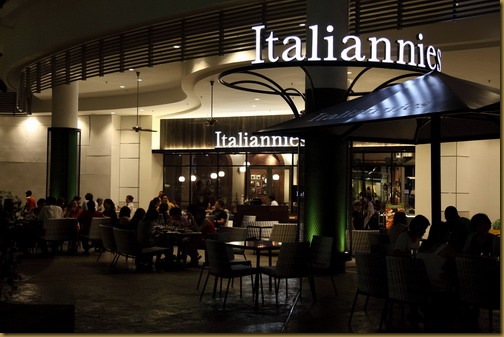 * The above post  is a reproduction of my article published in New Straits Times  
At the moment, Italiannies is introducing eight new pasta dishes during its Festa della Pasta promotion. These new pasta dishes give customers the chance to savor a selection of authentic pasta recipes which originated from various regions of Italy. This promotion runs from now till end of June 2013.
The media launch held at Italiannies in Gurney Paragon Mall, Penang had us tasting several pasta dishes served in 'abbondanza' (sharing) portion.
We start off with the Mediterranean salad and the gamberi con aglio. The latter cooked with shrimps, black olives, tomatoes and dried red chillies is literally a great start with the garlic bread soaking up the remnants of the delicious sauce with lemon tanginess. Extremely appetizing but the shrimps are a little over-cooked. The Mediterranean salad served with Italian dressing makes a good meal on itself with juicy smooth texture grilled chicken and fresh crisp greens.
The mussels & clams Lombardi con pappardelle  (RM26.90) is definitely worth a try. They are pappardelle pasta cooked with fresh clams, mussels and white wine. Garnishing of fresh herbs and chilli flakes added freshness and spiciness to the dish.
Mussels & clams Lombardi con pappardelle
Another highlight of the Festa della Pasta menu is the freshly made tagliatelle con pesto al pomodoro (RM22.90) that comprised of spinach tagliatelle and plain tagliatelle served with green pesto and fresh tomatoes.  This is garnished with a topping of grated parmesan cheese and pine nuts.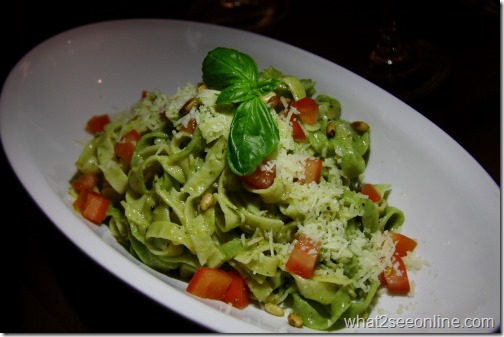 Tagliatelle con pesto al pomodoro
Also on the promotional menu is fusilli con spinaci ed Alfredo sauce, paccheri con ragú, fileja con pomodoro e Basilico, tagliatelle con salvia and funghi e Popettine, and some vegetarian meals, with prices ranging from RM18.90 to RM26.90 each.
Paccheri con ragú
Tagliatelle con salvia, funghi e popettine and cannelloni are also offered. The tagliatelle pasta sautéed with lemon and shiitake mushrooms is served with homemade meatballs.
Their cannelloni well-stuffed with spinach and artichoke filling is a dish that deserves a look into. Served with homemade marinara sauce and topped with melted Mozzarella cheese and béchamel sauce, it is a satisfying pasta dish.
The dishes are paired with red and white wines, with prices ranging from RM14 to RM17 per glass.
Desserts are chocolate brownie drizzled with chocolate sauce, Italian trifle and the classic tiramisu with creamy texture and aroma of coffee.
Italiannies also provides lunch and dinner promotion from the Festa Della Pasta menu. The lunch promotion  includes a top of up RM6 for a choice of pasta and a choice of either a salad (insalata verde), a dessert (chocolate brownie) or a glass of Pepsi that will be served from 11am till 3pm.
The dinner promotion which is applicable from 6pm onwards includes a top up of RM16, for a choice of pasta, and a choice of an entrée (gamberi con aglio), a salad (insalata mediterranean) or a dessert (Italian trifle).
The making of fresh tagliatelle pasta at the open kitchen
Italiannies
Lot 1-31 Ground Floor
Gurney Paragon Mall
Gurney Drive
10250 Penang
Tel: 04-228 9761
Business Hours: 11am till midnight (Daily)
* Many thanks to RAPR for laying on this invitation.