Welcome Ramadhan 2013 with Breaking Fast at Hard Rock Hotel Penang
BY CK Lam
There is a fair share of hotels in town celebrating the fasting month of Ramadhan and Hard Rock Hotel Penang is attracting its clientele with its Bintang Rock Buffet. Running from 9th July till 9th August 2013, diners can look forward to a buka puasa feast with great mixture of appetizers, main courses and desserts at the Starz Diner.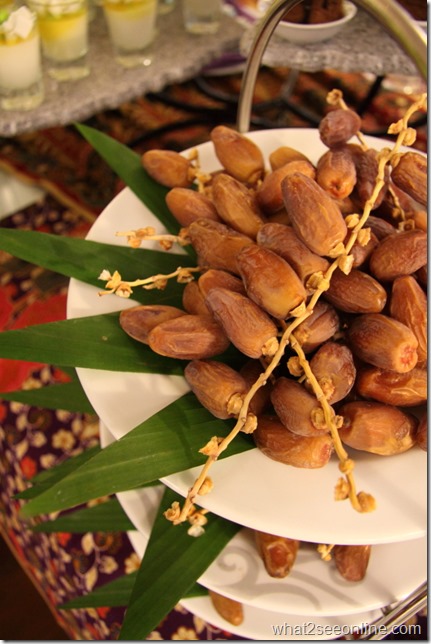 In addition to the Bintang Rock Buffet, there is another variety to celebrate this festive season. The Hard Rock Cafe is offering the Rock Platter starting from 10th July till 7th August 2013, and is available from 11:30 am to 10:30 pm.
The Rock Platter is an enormous specialty of red cooked chicken, tupelo chicken tenders, grilled mini beef quesadilla, mini rendang pulled chicken sandwich, Hickory-smoked barbeque chicken, tomyum linguine with onion rings and tomato rice. Accompanied by soup of the day, local drinks, dates and dessert, the platter priced at RM120++ is good for two to share.
Mini apple cobbler with vanilla ice-cream & soup of the day
Prices for the Bintang Rock Buffet are very reasonable, at RM68++ per adult and RM34++ per child (4 – 12 years old) and it is available from6:30 pm until 10:30 pm daily. For every booking of 10 diners, the 11th person gets to eat free.
Diners get to enjoy a  plethora of appetizing kerabu dishes (salad) along with the keropok lekor (fish mousse crackers), keropok udang (prawn crackers) and keropok sayur (vegetable crackers).
The kerabu dishes are done with freshness of herbs and spicy notes. Choices include kerabu daging (beef salad), kerabu udang (prawn salad), kerabu ayam (chicken salad), kerabu nangka (jackfruit) and kerabu ikan kembung (mackerel salad).
The buffet also features  selection of serunding such as serunding daging (beef)  and serunding ayam (chicken).  Both the floss meat and the rich beef rendang are well complemented by the nasi impit (Malay traditional compressed rice).
Serunding and beef rendang
Mains include some Asian dishes besides an extensive spread of Malay gulai (curry dishes). Expect to find dishes like udang masak hijau putik pisang (slow cooked spiced sweet soy beef), sambal tumis udang & petai (prawn sambal with petai), pari assam pedas (hot & sour stingray, sambal sotong emak (dried squid in chili sauce) and ketam masak kicap (braised blue crab).
Meaty dishes include gulai kambing serai (lemongrass mutton curry) and ayam percik (percik chicken). All the dishes are on rotation.
A specialty among the condiments is the budu, a heavenly sauce made with anchovy paste, shallots and chilli. A dash of the sauce is good with the dishes and rice.
  Gulai ayam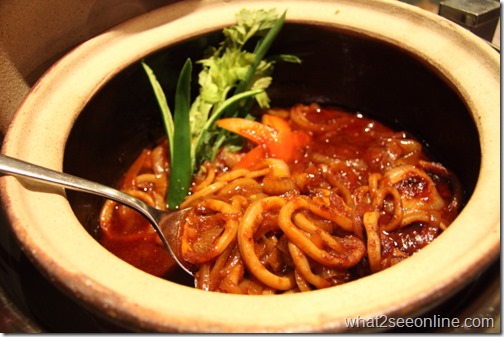 An attractive dish is the Sambal Sotong Emak
No Ramadan buffet is complete without the bubur lambuk (Ramadhan congee). This is in addition to the comforting sup soto ayam (spiced chicken soup) served with benggali bread.
If all the other dishes did not fill you, there is more from the 'action station'. Chefs are around dishing up roti canai, satay and the sourish sweet Penang assam laksa prepared with a range of herbs.
Skewers of beef & chicken satay
In the dessert counter is the offering of freshly cut fruit, traditional kuih-muih (local Malay kuih), bubur pulut hitam ( hot black glutinous rice porridge) and other Western sweets such as coconut panna cotta with mango chutney, strawberry cheese cake, pear almond tart, chestnut dark chocolate mousse and bread butter pudding.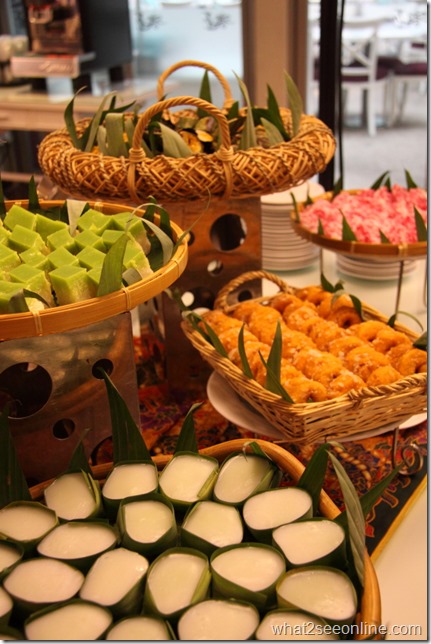 The Bintang Rock Buffet is inclusive of free flowing local drinks and dates.
Hard Rock Hotel Penang
Batu Ferringhi Beach
11100 Penang
Tel: 04 8811711
* Many thanks to Hard Rock Hotel Penang for laying on this invitation.