Coffee Elements at All Season Place, Penang
BY CK Lam
The locals in Penang, especially those living around the vicinity of Air Itam, Farlim and Paya Terubong no longer have to travel to the central Georgetown for a cup of gourmet coffee and food with the newly opened All Seasons Place. Located along Lebuhraya Thean Teik, this complex is a nice place to stop by for the weekend.
One place to enjoy a good cup of freshly brewed coffee is Coffee Elements. The cafe features order-at-the-counter service, and food delivered to the table.
The cafe offers Long Black and single origin of Guatemala Pastores, Ethiopia Yirgacheffe and the Colombia Supremo (RM 12).
Long Black
For those who preferred flavoured coffee, try their home made Caramel Latte and Toffee Caffee Latte, remarkably smooth cups at RM 7.50 each.
The ice blended variety includes the regular mocha and mocha chips. And if coffee is not your cuppa, there is also a short list of other beverages, such as Choco Nutella, Matcha Latte and Masala Chai.
Caramel latte & white cafe mocha
Ice-blended variety
To go along with that, the cafe has also prepared assorted cakes, such as the lemon orange meringue, red velvet cupcakes and chocolate fudge cake. From the triple treat fudge, you will get a piece of creamy sweet treat paired with a scoop of vanilla ice cream.
Do not miss  out the Triple threat fudge RM11.50
For a lighter meal, opt for their American potato salad or daily soup instead. Pumpkin, cream of broccoli or leek and potato soup, all come with free flow of baguette slices.
They also serve sandwiches (a range of egg, salmon, beef salami and tuna mayo) and poppy seeds bagels with minced beef or egg-in-ham. The bagel is wholesome and chewy, with crunchy toasted edges.
Minced beef poppy seed bagel
Egg-in-ham poppy seed bagel & healthy Vegemite
Located on the first floor, Coffee Elements has several small tables and a huge communal table that can sit 14 comfortably. Its outdoor sitting area with a bit of noise level is a nice spot to watch activities go by.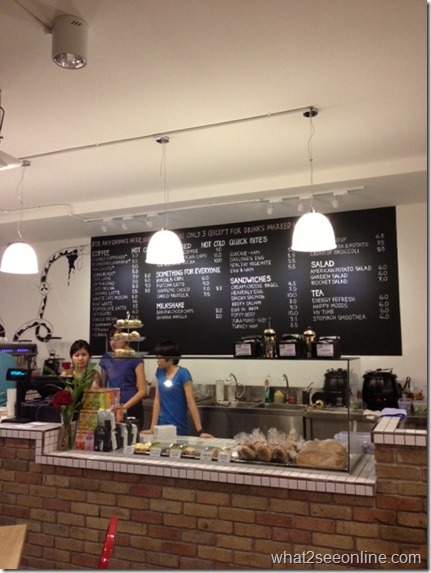 Coffee Elements, a free Wi-Fi hot spot is open seven days a week from breakfast till late in the night. The café is growing with another outlet just opened in Gurney Paragon Mall.
Coffee Elements
Level 2 All Seasons Place
Lebuhraya Thean Teik
Bandar Baru Air Itam
11500 Penang
Tel: 012-478 2693
Opening Hour:
Monday – Friday 10.30am
Saturday – Sunday 8.30am
Closing Hours:
Sunday – Thursday 11pm
Friday – Saturday 12am
* This is a reproduction of my article published in Makansutra