Lotus Root and Fresh Fruit Creations @Sesame & Soy, G Hotel
BY CK Lam
Diners visiting Sesame & Soy at G-Hotel, Penang will find solace in the unique dishes crafted by chef de cuisine Chiam Choon Heng. This award winning Pan Asian restaurant offers a variety of fusion contemporary Chinese cuisine.
Besides the ala carte menu, Sesame also features quarterly seasonal menus. From August to September 2013, the menu listed with nutritious lotus root and fresh fruit creations awaits you.
Try the Stuffed Lotus Root with Prawn. This dish with peanut butter mayo and sesame seeds atop huge prawns stuffed with moderately minced lotus root and prawns is prepared in an interesting and flavorful way. The lotus root is rather unique, with fine threads when you bite into it.
芝麻莲藕酿凤尾虾佐花生酱汁
One can be easily distracted by the Lotus Root Stuffed with Glutinous Rice. "As the name suggests, there is a blend of crunchy and starchy texture with sweet spicy and refreshing flavors," says Chef Chiam.
糯米莲藕佐甜辣酱汁
Savour the classic favourite of Braised Duck Drumstick with Lotus Root and King Top Shell. The duck is slow braised in thick gravy with a decent bite and its flavor enhanced with five spice powder and oyster sauce. Duck lovers with hearty appetite will appreciate the dish.
  白玉鲍莲藕扒鸭腿
In addition to the creative varieties, Chef Chiam serves the deep-fried lotus root with golden garlic and togarashi shichimi (a blend of spices). The crunchy lotus roots which resemble wagon wheels are especially addictive and one can easily consume all of them.
七味粉伴香酥莲藕
The fresh fruit creations are both savoury and sweet, with a match of seafood and endless combination of fruits such as apple, mango, honey dew, dragon fruit, cranberry and kiwi fruit.
A must have is the Baked Salmon Roll with Fresh Fruit, with the salmon fish encased in a roll with dragon fruit and honey dew. For a unique taste, Chef Chiam serves the savory roll with  nicely balanced leek and carrot cream sauce.
鲜果鲑鱼酥卷佐奶油香蒜萝卜汁
Another dish is the Pan-seared Fresh Scallops with homemade apple sauce. The natural sweetness of the apple works well with the briny scallops.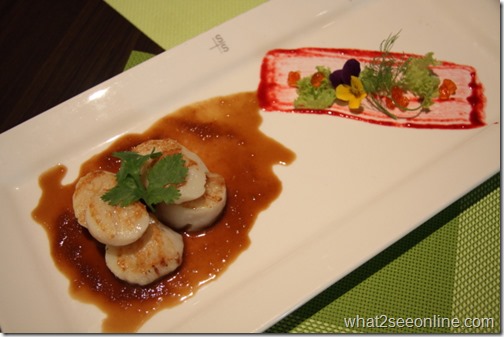 锅煎帆立贝襯 特制苹果酱
Chef Chiam made a twist to the fairly light bean curd with chessy flavor. The pieces of bean curd are paired with a bright mango and tomato sauce, which is a favorite part of the dish.
芝士豆腐配芒果番茄酱
The simple Crab Claw Tempura on a bed of deep-fried noodle is a favorite and complemented well with fruity richness of  the kiwi fruit and cranberry sauce. Both of the fruity dips with smooth texture are delicious.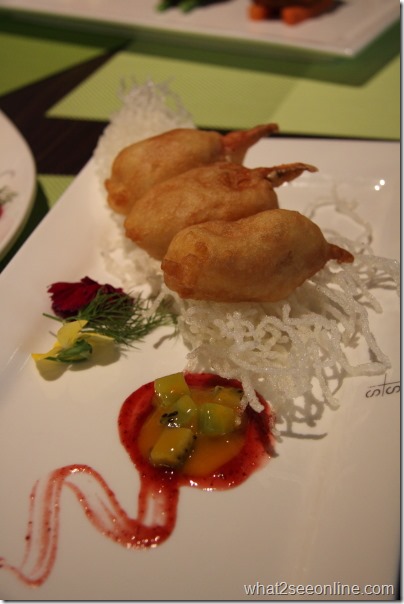 天妇罗蟹蚶襯奇异果蔓越莓将
To sample the delectable fusion of Chef Chiam's creativity, hop over to Sesame & Soy. The dishes which can be served either as an appetizer or main course are available only during dinner.  Prices range between RM20++ and RM48++.
Soy opens daily for lunch from noon to 2.30pm, while Sesame operates from 6.30pm to 10.30pm.
Sesame & Soy
G Hotel
168A Persiaran Gurney
10250 Penang
Tel : 04 2380000
* Many thanks to G Hotel for laying on this invitation.