Kaffa Espresso Bar launched its Penang Outlet
BY CK Lam
Coffee drinking has taken over Penang, with the opening of many new places. One such outlet is Kaffa Espresso Bar, a Kuala Lumpur based vintage themed coffee bar, with its second outlet officially launched in Green Hall.
Invited guests were served with their favorite choice of coffee: mocha, chocolate, espresso and piccolo latte, with some choosing the salted caramel macchiato, which is a beautiful sight and delightful to sip on.
The bar also unveiled its art gallery, featuring an art collection by Rofizano Zaino (Rofi) along with a demonstration of the art of coffee cupping, showcased by Coffee Sommelier, Claudio Pinto from Italy.
Speaking at the launch event, Dr. Darren Ng, Group Managing Director of Kaffa Espresso Bar said, "Most people perceive an espresso bar as just another coffee place with a cool name. However, it is so much more than that. It is the distinct yet subtle concept of the connection between coffee and art behind it that gives it the wow factor."
Dr Darren Ng delivering his speech
The art gallery located on the first floor is dedicated to host solo art exhibitions, product launches and private events. Aptly named 'The Imaginarium' the art gallery opened its doors with an art exhibition titled 'Psyche' by renowned international artist, Rofi.
"I enjoy painting faces and figures. More than mere portraits, the faces in my paintings are metaphors for personifying issues relating to identity, society, spirituality and socio-political affairs," says Rofi.
The launch event also featured a "coffee cupping session" which allows the guests to open up their perspective on coffee with tasting several types of coffee from the moment it was done and when it cools off.
Demonstrated by Coffee Sommelier, Claudio Pinto, the typical cupping procedure involved deeply sniffing the coffee and loudly slurping the coffee so that it spreads to the back of the tongue.  "This is to measure aspects of the coffee's taste, specifically the body, sweetness, acidity, flavour and aftertaste," says Claudio Pinto.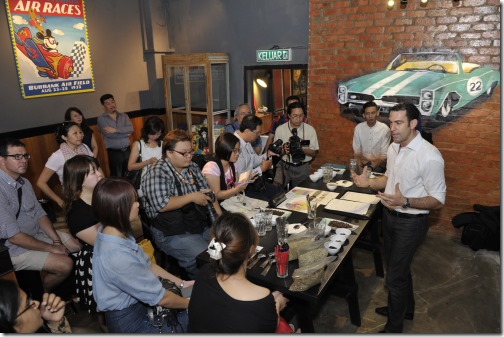 Photo via Kaffa Espresso Bar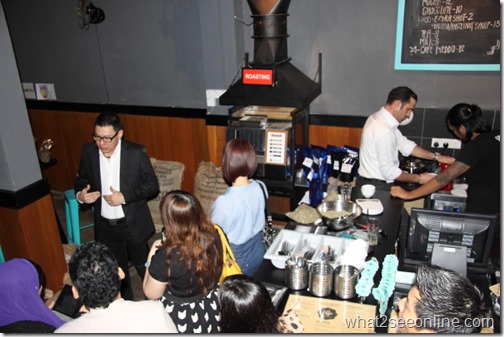 For that aromatic cup of coffee, Kaffa roast their own blends
Everything coffee related items on the menu are handcrafted while the fusion menu offers the chef's specialty BBQ Beef Ribs besides Spicy Aglio Olio with Turkey Ham & Seaweed and Philly Cheese Steak Sandwich.
Kaffa location nearby Dewan Sri Pinang and Esplanade makes it a favourite coffee place for those working in the vicinity. Its atmosphere and interesting decoration also attracts the young crowd and families during the night.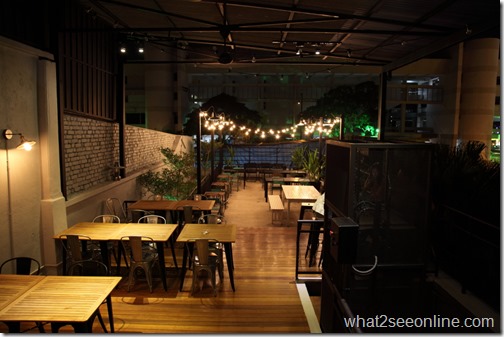 Also on the first floor (back portion) is an outdoor dining area

Kaffa Espresso Bar will be opening another two more outlets by year end, with one at the Penang International Airport and another at Bandar Sri Damansara in Kuala Lumpur.
Kaffa Espresso Bar
22 Green Hall
10200 George Town
Pulau Pinang
Tel: 04 2622822
Business Hour: 8am till late (Monday till Sunday)
* Many thanks to Kaffa Espresso Bar for laying on this invitation.