The View in Hotel Equatorial Penang
BY CK Lam
It had been a while since I visited The View in Hotel Equatorial Penang. The restaurant which offers classic French/Mediterranean cuisine has recently unveiled its refreshed menu. Executive chef Philippe L'Obry and sous chef Looi Soon Lee worked well in bringing their food styles together. The new dishes and hearty classic dishes are prepared with several notches above what was originally served.
The restaurant's semi-buffet menu remained unchanged, still with one main course from the a la carte menu, and unlimited helpings of delectable appetizers and desserts. The buffet spread is lay out in small portions and replenished as soon as the previous batch runs out.
The spread of cold succulent seafood include large prawns, oysters and scallops. The oysters with briny flesh are just perfect with few drops of lemon juice.
Large prawns, oysters and scallops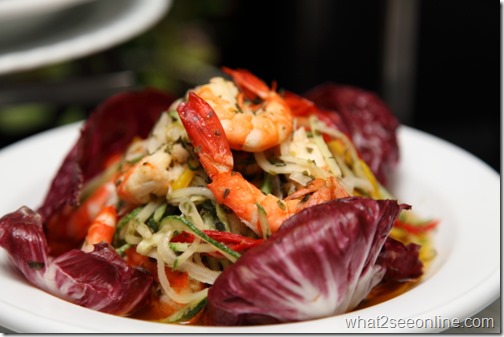 One of The View's tasty appetizer is the salmon marinated with herbs, spices and cognac. The ingredients add a lovely aroma to the fish. Sliced very thinly, the fish is delicious along with capers, lemon juice and helpings of salad.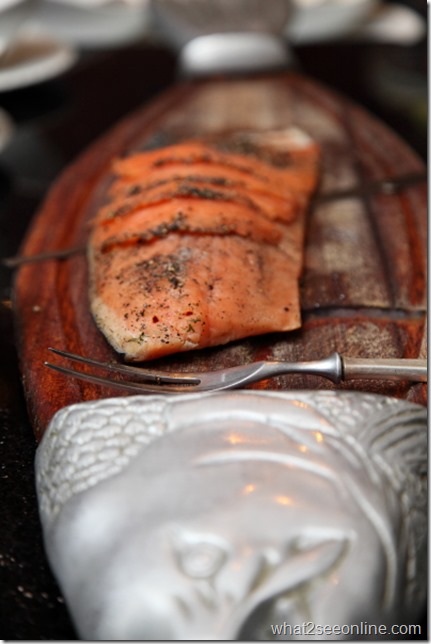 A perfect appetiser to the meal
Freshly made crusty baguette is served on a basket, sided with butter and a mix of olive oil and balsamic vinegar.
From the mains selections, it is hard to pick among the many choices of duck, veal, lamb and fish dishes. Prices are RM88++ and above, depending on the chosen main dish.
The restaurant's popular crispy roasted duck leg confit is revived with a fresher look. Served with a bed of mashed potatoes, the duck is wonderful complement by roasted fennel and perigueux sauce, a rich and pungent red wine sauce flavored with truffle.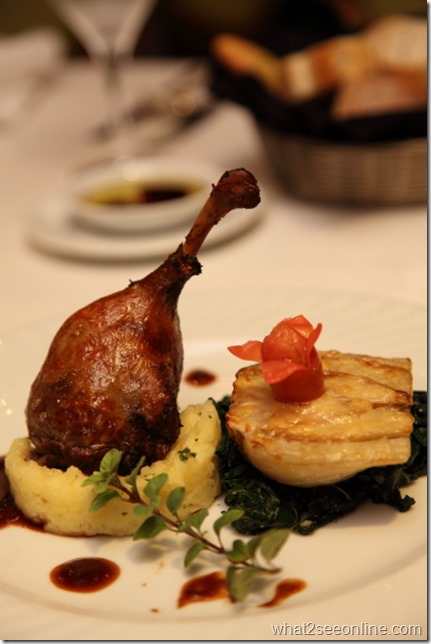 The pistachio nut crusted cod fillet is a choice for those desiring a lighter main dish. The fish is paired with firmly braised artichoke Barigoule and noble mushroom which provided comfort flavors. The texture of the fish is fine, but it just lacked some salt. More flavor would have been better.
A more luxurious main course is the Veal Rossini. This dish with a touch of French comes with well prepared sides of carrot and zucchini and topped with rich buttery foie gras. It is necessary to scoop up the rich meaty flavored gravy with the freshly made baguette.
Alternatively, the Pumpkin seeds crusted Australian Rack of Lamb, which is one of the best sellers, is served with sauteed assorted mushrooms and apricot infused lamb jus. The well balanced flavor and tender texture of the meat is pleasing.
There are many variations of sweet treats gracing the dessert table: cheese cakes, light chocolate mousse, succulent and ripe fruits, cheese board and chocolates. The most popular desserts are the bread butter pudding and sinfully rich tiramisu.
If you are looking for an evening indulgence, romantic environment and entertained by soothing music of the resident pianist tinkling away on the piano, then head over to The View.
The restaurant with two private rooms can accommodate up to around 90 diners. And needless to say, the fascinating view from the restaurant is one of the island's best.
Go early and watch the sun set
"The hotel is offering 20 per cent discount off the menu to diners who mention the magic password Bon Appetiti in The View Semi Buffet Lunch, Oishii in Kampachi A La Carte Lunch and Hao Chi in Golden Phoenix A La Carte Dinner. The promotion is valid till 31st December 2013," says public relations manager Debra Gerardine Jayesuria.
Hotel Equatorial Penang
1 Jalan Bukit Jambul
Bayan Lepas
11900 Penang
Tel:04 632 7000
Business Hour:
Lunch from Monday – Friday – 12noon – 2.30pm
Dinner from Monday – Saturday – 6.30pm – 10pm
Closed on Sunday and public holidays
* Many thanks to Hotel Equatorial Penang for laying on this invitation.
* This is a reproduction of my article published in New Straits Times