Herbs and Spices Feast @Eastin Hotel Penang
BY CK Lam
The buffet at Swez Brasserie, Eastin Hotel Penang for November is all about herbs and spices. The spread has an assortment of Northern and Southern Indian style curries prepared with riot of fresh flavors and sauces. The aroma of herbs and spices wafts through the restaurant as I made my way to the buffet place.
The spread of dishes had my taste buds tingling with popular appetizers and mains; some are much heavier and creamier than others. There are three appetizers: Achari Paneer, deep-fried Pakoras and the Mulligatawny soup.
First is the Achari Paneer with cubes of cheese curd made from fresh full cream cow milk. The dish packed with aromatic flavor of fresh herbs and spices fills the mouth with delicate creamy texture.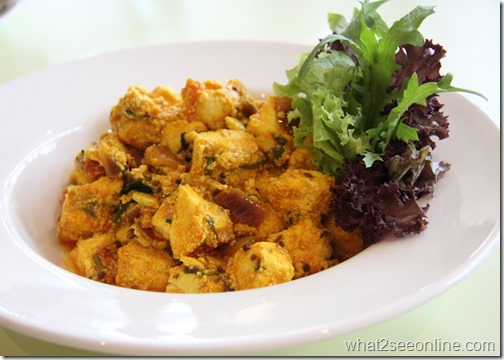 The deep-fried pakoras served with Madras curry mayo is addictive. The station churns out these piping-hot snacks made with capsicum, onion, carrot and eggplant. The sooner you eat these pakoras, the better as they tend to lose their appealing texture.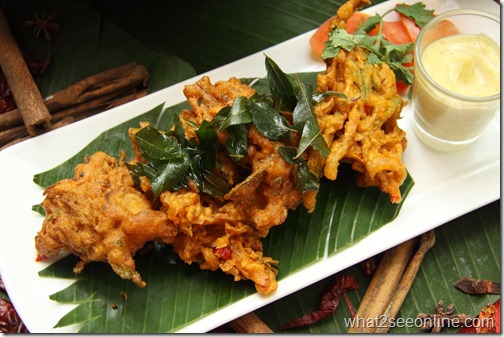 Next is the Mulligatawny soup. The soup created with tart green apples, tomatoes, milk, chicken, rice and spices such as turmeric, cumin, coriander, and ginger is okay albeit a touch on the lighter side. There is a changing flow of soup, with choices of Rassam soup and creamy tomato soup, depending on the day of visit.
Dishes prepared by Chef Bakri, Chef Khazali and Chef Buvanes
For the main course, the Goan Fish Curry had pieces of seabass prepared with tomatoes, lady fingers in a mild curry. Flavors are delivered with a melange of spices, with apparent presence of black pepper and turmeric.
The subtly spiced Chicken Tikka Masala marinated overnight in onions, garlic, turmeric, paprika and ginger brings out mild heat. Baked in the oven, the boneless chicken is tender moist and does deliver on flavour with added droplets of fresh lime juice.
The Sindhi Kadhi and Murgh Aloo Masala are great vegetarian options. The Sindhi Kadhi is a stewlike dish with potatoes, lady fingers and carrots cooked in a fragrant yellow color chickpea sauce. I particularly like this dish.
The Murgh Aloo Masala resembled a standard Chinese stir-fried dish of capsicum and florets of cauliflower but with the exception of spices and potatoes.
Sindhi Kadhi and Murgh Aloo Masala
The meal is accompanied with Lamb Briyani. This one pot dish with rice cooked with a good amount of meat, abundance of nuts and perfumed with mouthwatering spices, is perfect with a spoonful of curry and yogurt.  A rotating menu of Chicken Briyani and Tomato Rice is available.
The buffet offers tempting desserts, including Payasam, Gulab Jamun and Mango Lassi. The Payasam is a popular South Indian dessert that is creamy sweet, and comes with  raisins and cashew nuts.
For those who likes sweet desserts, you can't go wrong with Gulab Jamun – remarkable sweet deep-fried sugar dumplings with hint of cinnamon.
The Mango Lassi (mango and yoghurt) with little pieces of fragrant fresh mango is immensely refreshing and should not be missed. I ended up having two glasses.
Gulab Jamun
  Mango Lassi and Payasam
Currently, there is a 15% discount promotion for Maybankard, Standard Chartered Bank, OCBC Bank, CIMB Bank and Citibank card members for the Herbs and Spices Semi Buffet Dinner which is available from Monday to Thursday and Weekend Buffet Dinner (Friday & Saturday) from 6.30pm till 10pm.
Herbs and Spices is available during lunch, hi-tea and dinner from 1st until 30th November 2013:
Lunch: Monday – Friday
12pm-2.30pm
RM48++ (adult) RM24++ (child)
Hi-Tea: Saturday and Sunday and Public Holiday
12pm-3pm
RM55++ (adult) RM28++ (child)
Semi Buffet Dinners: Sunday – Thursday
6.30pm-10pm
From RM48++ per person
For reservations, call 04-612 1128.
Eastin Hotel Penang
1 Solok Bayan Indah, Queensbay
11900 Bayan Lepas
Penang
* Many thanks to Eastin Hotel for extending this invitation.