Royce' Chocolate – Chocolatey Treats from Hokkaido, Japan
BY CK Lam
Silver bells are already jingling in some places in Penang with the coming Christmas festive season celebration. And what could be better celebrating the festival with chocolates from Royce'.
Royce' is offering attractive gift selections from the great land of Hokkaido. I had the chance to enjoy the festive box of Christmas Selections and Nama Chocolate (champagne) upon receiving the two packages delivered to my doorsteps.
I was introduced to Royce' a few years ago, by Michelle Goh who visited Penang with her family. Michelle got me some chocolates and potatochips chocolate. Since then the product has gain a placing in the household especially during festive celebrations.
If you prefer a selection of treats to surprise someone's Christmas, do get Royce' Christmas Selection. Royce' build the charming festive box with a special mix of sweet treats.
Priced at RM168, the box comes with 31 pieces of hand-picked Christmas treats to please: Royce' Kids Pure Chocolate, Christmas Cookies, Amande Chocolate – Milk, Nutty Bar Chocolate, Fruit Bar Chocolate, Petit Kurumaro Chocolat, R Chocolat and Chocolate Wafers.
Royce' makes special yummy delights for the little ones. The  Royce' Kids Pure Chocolate made with a blend of creamy milk and cocoa chocolate is lovingly wrapped in individual colourful packet.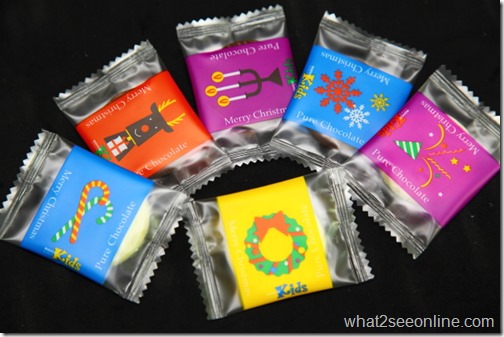 Royce' Kids Pure Chocolate comes with wave design on one side

Other treats include the Nutty Bar Chocolate and Fruit Bar Chocolate. The latter with creamy white chocolate is all about rich fruit flavors –  from four dried fruits including strawberry, mango, cranberry and banana.
The Nutty Bar Chocolate with almonds, cashews, pecans and macadamias is blended with semi-milk chocolate and gianduja of hazelnuts and almonds. I like its appealing chocolate flavor as well as the medley of nuts but it would be lovely with coarsely chopped nuts, which adds texture instead of fine bits of nuts.
The assortments R Chocolate bearing the alphabet R has creamy centers with flavors such as sweet strawberry, tart lemon, gianduja hazelnut paste and milk cocoa cream. The sweet and fruity strawberry flavor has me hankering for more.
An ideal choice for  nut  lover is the bitter cocoa dusted Almande Chocolat with roasted whole almond and a sinful coat of dark bitter chocolate.
The dark bitter chocolate flavor is strong and particularly brings out the almond flavor. This is one of my favorites of the box.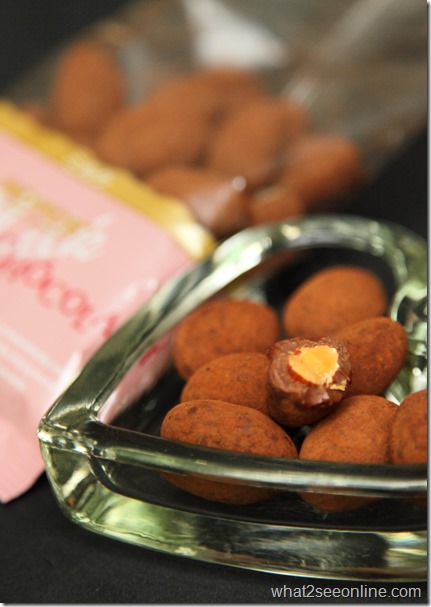 Light textured chocolate wafers come with two different flavors. Wafers with tiramisu cream filling delights with a coating of premium white chocolate while hazel cream helps flavor the chocolate wafers coated with chocolate.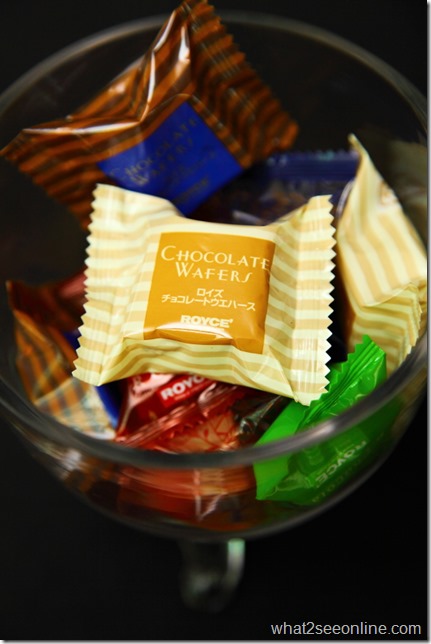 Royce' Christmas Cookies (in Christmas motif design) are packaged up in colorful bright festive colors. Semi-coated with mild milk chocolate on one side, the cookies are perfect pairing with coffee.
Christmas cookies and the Petit Kurumaro Chocolat
Apart from the Royce' Christmas Selection, the other package I received is the Nama Chocolate (champagne). Familiar to fans of Royce's Chocolate, this strong and mildly bitter flavour chocolate features fruity fragrance of Pierre Mignon Champagne, fresh cream, cocoa butter, sugar and milk powder.
I enjoyed the mouth-feel and flavors of the Nama Chocolate. It is velvety luscious and leaves a lingering chocolate taste. Best of all, the tinge of Champagne Pierre Mignon is right, not too much or too little. The box with 20 delicate pieces of chocolate is priced at RM45.
Nama Chocolate is packaged in an insulated bag with a cold pack
This chocolate company established in 1983 has been attracting notice in its seven outlets in the Klang Valley: Isetan Suria KLCC, Bangsar Village, The Gardens Mall, Ben's Independent Grocer at Publika, Tropicana City Mall, Tropicana Golf & Country Resort and Empire Shopping Gallery.
And good news for Penangites, shopping for the chocolate is made easy by simply purchasing online. Delivery is available to Penang besides Kedah, Johor and the Klang Valley. For more information, log on to www.royce.com.my or visit the ROYCE' Malaysia Facebook page.
* Many thanks to Royce'  for extending this invitation.