Chefs Come Together For a Good Cause @Eastin Hotel, Penang
BY CK Lam
There has been many events organized to provide assistance to the Super Typhoon Haiyan victims in the Philippines and one such event is the World Chefs Without Borders.
Organized by Chefs Association Malaysia Penang Chapter together with Le Toque Blanche Philippines Chefs Association, the charity event was held on 9th December 2013 at the Eastin Hotel Grand Ballroom. The fund raised will go towards to rebuild homes in northern Cebu through the Roof for Relief program of Gk Cebu with Chef Raki Urbina, The Islands Group and LH Foundation.
Among those present at the event were OC Chef Audee Cheah, CAM, Penang chapter chairman Chef Peter Chan, MAH Penang chapter chairman & GM of Eastin Hotel, Penang, Mary Ann Harris and Penang Tourism Malaysia deputy director, Logi Dhasan. Chef Audee Cheah delivered the welcome speech for this event.
Everyone donating for a good cause
The charity event feature a dinner, with the menu prepared by The Young Chefs who recently won the silver medal at the International Young Chefs Challenge 2013 in Korea.
All the guests got the first-hand to sample the dishes that the chefs crafted in that competition, which include the delicious creamy cauliflower soup with smoked garlic.
For starters, we had the refreshing taste of trio flavors, with serving of oriental cured salmon with apple salsa, crabmeat otak-otak terrine, sour & spicy papaya salad. The flavours of the crabmeat otak-otak was retained while its presentation was more exciting.
The main course was a duo of beef – a la mode with herb crusted tenderloin of beef & stewed beef cheek puff with beef jus. We especially enjoyed this dish accompanied with cheese & chive mashed potato, saute spinach, mushroom and seasonal vegetables.
The final highlight was the dessert: a symphony of guanaja chocolate bavarois, yuzu mango mousse, chocolate mint ganache with hazelnut dacquoise berries compote, kyuri lime sorbet with almond crumble, warm banana date pudding and honey diploma cream with crispy tuiles. Many guests were impressed with the dessert presented with delicate sweetness.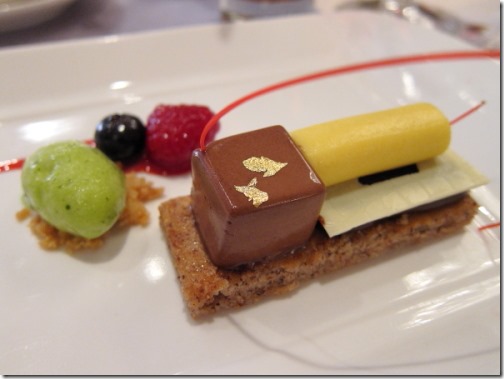 The night capped off with a photo session after Logi Dhasan's speech.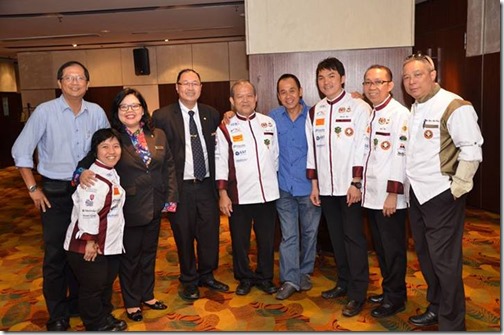 Thank you to everyone for their generosity in contributing to this event and also to Audee Cheah for inviting me to be with them. It was certainly a great evening!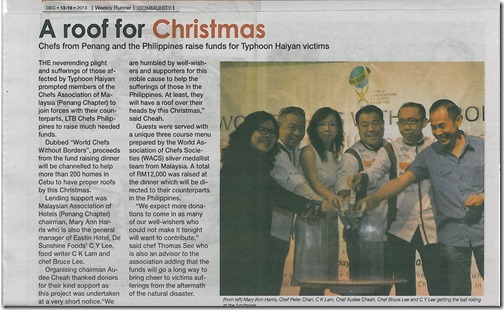 A write up in the Malay Mail on the charity event
* The photos were taken by William Tan P E.