Hawker Food at Penang's Cecil Street Market Food Court
BY CK Lam
The Cecil Street Market Food Court in Penang 七条路巴刹 has wafting aromas of food emanating from its rows of hawker stalls. You can find just about any hawker food in the large food court, commonly known as "chit teow lor ban san" (7th road market), named after the well-known market located right beside it. The last few years saw the upgrading of this food court that gave it its more polished eating environment, but the price and serving portion remain reasonable.
A firm favourite is the koay teow thng from Lum Lai, flat rice noodle served in a bowl of clear and flavourful soup. Toppings include pieces of fish cakes, springy fish balls, blood jelly and shredded duck meat. Add-ons, such as a whole duck drumstick, its liver or gizzard, are also available.
The economy rice stalls, with one serving dishes cooked a la minute style, are popular among the lunch crowd. They have a wide range of dishes, such as the staples of Nyonya restaurant – perut ikan (fish stomach), assam gulai and parcels of otah made of fish paste and spices.
Other local favourites here include the lorbak (five-spiced fritters) stall, jawa mee, fried sago cake, char koay teow and pasembur. The lorbak comes with a side of rather mild chilli and "lor" – a starchy sauce made with corn starch and spices.
 Deep-fried lorbak
Char Koay Teow
Fuzhou fishball stuffed with minced pork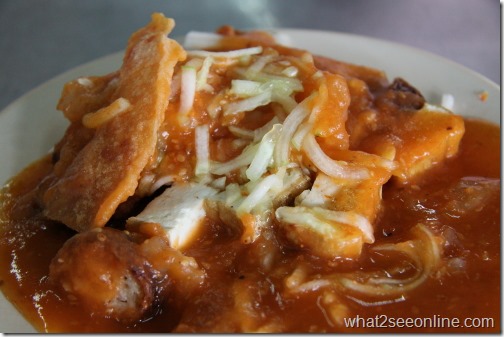 Plate of Pasembur
There are great Nonya kuih (snacks and dessert) choices too, take your pick from the colourful sweet bites of kuih talam (rice coconut tray cake), kuih lapis (layered cake), onde-onde (rice cake stuffed with palm sugar) and pulut tekan (steamed glutinous blue rice). The latter is delicious with a spread of pandan scented coconut jam.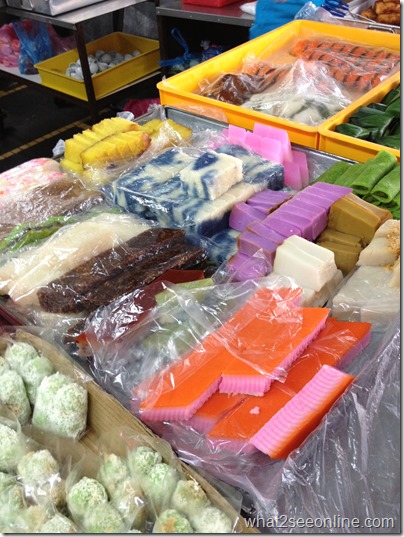 Plenty colorful sweet bites of Nyonya kuih
Grab some fresh coconut juice or loh hon kor (traditional Chinese herbal drink) to complement your meal. Parking is generally easy before 3pm in the afternoon, as activities began to pick up when people starts patronising the bustling late afternoon market.
Cecil Street Market Hawker Center 七条路巴刹
Junction of Cecil/Mc Nair Street
Penang
* This is a reproduction of my article published in Makansutra