High-End Flavours of Penang
BY CK Lam
Besides dubbed as the top state for hawker food, Penang also offers places to indulge for high-end flavors. Follow me as I uncover the luxurious flavors in the island.
Chin's Stylish Chinese Restaurant
A flamboyant restaurant at the end of Church Street Pier, Chin's Stylish Chinese Cuisine serves cuisine leaning towards the Hunan and Szechuan style. The restaurant is run by Dave Chin, a long time entrepreneur in restaurant business and has earned several prestigious awards in his London restaurant during the 8o's and 90's.
Four Happiness
A graphic designer by profession, Dave decorates his dining area with distinctive sophistication and surrounds the place with floor to ceiling windows to exploit the spectacular harbour view. The result's akin to the attitude of a grand dame who presides at one end of the pier.
Starters of cold garlic cucumber, Hunan shredded seaweed, seaweed cashew and century egg with grilled red peppers are robust in flavour and skewers of Heavenly Blessed Joss Stick of seashell meat, baby abalone and sea fungus soaked in spicy and chilli oil in a bamboo holder, are presented elegantly.
Heavenly Blessed Joysticks
While most dishes are Szechuan-influenced, such as his flamed cod fish, cumin infused mutton and fresh-water fish steamed with chopped chillies and spicy poached fish, the one closest to his heart was born in his London restaurant many years ago – the crispy aromatic duck has flaked duck meat wrapped together with shredded cucumber and scallion in homemade pancake. Exotic flavours bloom in his lightly spicy, sweet and sour frog-legs accompanied by fragrant rice and served in a stone pot to keep it warm to the last spoonful.
Chin's Stylish Chinese Cuisine
Tanjong City Marina
Church St Pier (Next to QE II)
8A Pengkalan Weld
Georgetown
Penang
Tel: +604 2612611
Business Hour: 6pm till 11.30pm daily
Suffolk House Restaurant
Restaurants put as much thought to the food presentation and dining environment as the taste and quality of the food. One such place is Suffolk House Restaurant housed in a restored Anglo-Indian Georgian Mansion that belonged to Captain Francis Light, the founder of Penang. A sprawling lawn dotted with large, old trees adds serenity to its old world charm.
As of Oct 2013, this restaurant is helmed by a new chef who adds creativity through available ingredients to the dishes. Comforting yet elegant flavours are evident in their new menu of western fare that match the romance of the surroundings and the building's history. This is a wonderful place for first-time visitors or out-of-towners.
Suffolk House Restaurant
Suffolk House
250 Jalan Air Itam
10460 Penang
Tel: +604 2283930
Business Hour:
Lunch from 12 noon – 3pm
Tea from 2.30pm – 6pm
Dinner from 7pm – 11pm
The Kebaya at Seven Terraces
Stewart Lane has its fair share of cafes but now there's a greater variety on offer – a restaurant serving Nyonya cuisine with modern twists within the newly refurbished boutique hotel, Seven Terraces.
The Kebaya offers Straits Peranakan and Indo-China cuisines. Their degustation menu showcases dishes that may be familiar but with a refined cooking approach and presentation style.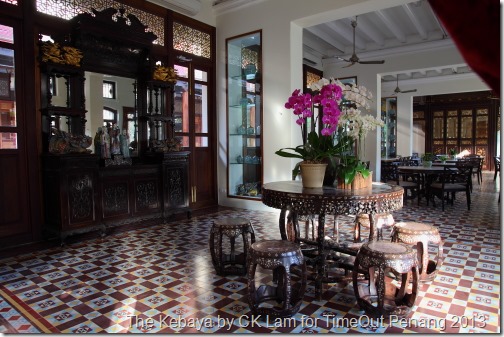 Their hong bak that's a Nyonya dish of braised pork, for example, is particularly special as it is cooked with lamb shank instead. The complexity of the spice mixture, plus coriander and chilli strips, blends well with gamey lamb and this results in a mix of flavours akin to that of Nyonya hong bak and Indian kurma. Meanwhile, their lor ark is more than the standard braised duck. Here, it morphs into duck confit with caramelized spiced plums and oranges that is tender while exuding hints of star anise, cloves and nutmeg.
For a touch of Indo-China flavour, prawn geng is fresh jumbo white prawns cooked in pungent, smooth curry along with a medley of ingredients such as herbs including turmeric and lemongrass that gives a rich full-bodied taste to it. Besides that, there's crab geng that's normally a messy feed, is thoughtfully served with the shells removed, making this dish even more delightful. Also banh xeo, a Vietnamese dish is a small crunchy pancake folded in half and filled with textured combinations of bean sprouts, crispy tofu, dried shrimp, julienned carrots, greens and a tamarind sauce.
Sweet endings come in the form of local-styled crème brulee of pandan egg custard with fragrant pandan juice served with kaya or coconut jam cookies. The egg custards with crisp-burnt sugar has deep rich flavour and smooth creaminess. Their unique dessert with a touch of curious blue hue is tang yuen or onde-onde rice balls made of glutinous rice flour and juice from bunga telang blue pea flower. These balls are filled with palm sugar and desiccated coconut and drenched in rich coconut milk.
The Kebaya
Seven Terraces
Stewart Lane
10200 Penang
Tel: +604 264 2333
Vino Vino Bistro
Vino Vino Bistro is the place to go for a wonderful yakitori experience. They serve a myriad of this skewered, barbecued delights. The yakitori pieces are delicately grilled after marinating in either delicate soy-based sauce or salt.
There are outstanding and extraordinary pieces such as aburi eihire or grilled stingray fins and hamichi teriyaki or grilled yellow tail. Admittedly, not many places would have thought of using whole stingray fins on their yakitori menu and theirs are stunningly flavorful and the perfect accompaniment to a crisp, French chardonnay.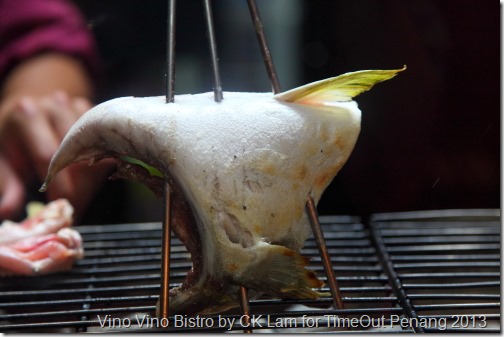 Another unexpected find here is the bonjiri or bishop's nose. Not always a favorite with many since it's the wrong end of the chicken but to those who do enjoy it, it's considered the juiciest part and here it's carefully grilled to perfection, yielding a flavorful meat. Pop one fully into your mouth for a juicy and tender bite.
Besides the yakitori, which is their chef's specialty, there are tapas dishes such seared foie gras marinated in teriyaki sauce, smoked duck with wasabi cheese, marugo yamakake and hamachi saikyo yaki.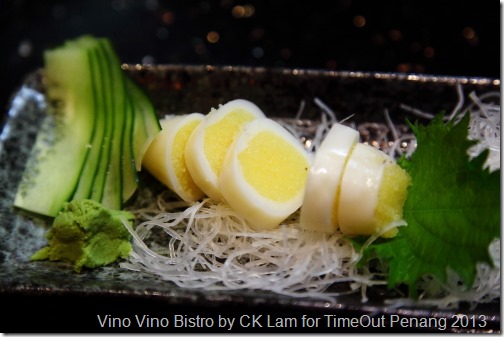 Then on weekends, a daily tapas promotion of air flown fresh oysters and wine certainly brings in the crowd.
Besides that, their extensive list of alcoholic beverage spans single malt whisky, champagne, sake, shochu and over 100 wine labels. Premier wines are offered to customers by glass from the Vino Tech dispensing system.
Vino Vino Bistro
Block H-10-3
Lorong Bayan Indah 2
Bay Avenue
11900 Bayan Lepas
Penang
Tel: +604 6451188
Business Hour:
Monday to Saturday – 12noon to 1am
Sunday – 5pm to 1am
Feringgi Grill at Rasa Sayang Resort and Spa
This restaurant needs little introduction. Serving fine food for over three decades has made it an institution in Penang. Its Tudor style setting, warm lighting and exposed red brick wall shape the atmosphere that matches its status while long walls of picture windows give a killer view of the manicured gardens. What's considerate is, tables are set far apart to give diners privacy and there's a lounge and bar adjacent to the dining hall where guests can chill before or after the meal.
Although their rotating roster of chefs has helped its menu's evolution, there are favourites that never change such as their creamy and velvety signature tomato soup of tomato puree, butter, mushrooms, shallots, gin and fresh tomatoes and it is prepared at the table then served with parsley and cream. Of course, grilled dishes of beef, chicken and fish as mains are a must and the crepe Feringgi has been their trademark dessert for decades and again, it is prepared at the table, as per their tradition.
Currently, a touch of contemporary and vibrant flavours are added by German chef de cuisine, Matthias Tretbar, whose five-course degustation dinner menu includes an amuse bouche of soft boiled quail egg injected with truffle oil and served nestled on micro green salad with pumpkin seeds and sunflower seeds. His seafood delight of prawn, scallop, squid and tuna whispers hints of Asian sauces such as teriyaki, chilli and wasabi. While his butternut cappuccino soup carries the delicate spicy notes of curry and topped with vanilla foam.
Matthias serves a refined touch with his poached halibut drizzled with lemon butterscotch, chilli and sweet soy sauce and accompanied by wilted greens, capsicum, mash and mushroom dust for a modern, playful twist. However, his surprising robust flavours appear with the slow cooked shredded oxtail meat that can rival any good red wine with a long finish and velvety tannins.
The restaurant's wine menu offers an impressive line-up ranging from Chateau Latife Rothschild- Emilion, Bolgheri Sassicaia to Australia's Penfold's Grange. For those who wish to pop champagne, the Louis Roederer Crystal is a great choice.
Feringgi Grill
Shangri-La's Rasa Sayang Resort and Spa
Batu Feringgi Beach
11100 Penang
Tel: +604 8888888
* This is a reproduction of my article published in TimeOut Penang annual guide 2013/14