'Hit the Jackpot' at Hotel Equatorial Penang
BY CK Lam
Each year there is a celebration in bringing the year to a close and usher in another brand new year at Hotel Equatorial Penang. For this year, the hotel calls for the celebration of New Year Eve and bringing in 2014 with high rolling action.
The event themed 'Hit the Jackpot Night', will be held in the Matahari Ballroom. Guests will have lots of fun trying their luck at the roulette, French bull and blackjack tables with '$200 play-money'. Winners can then bid for various electrical items, hotel stay and meal vouchers.
The celebration offers an all-you-can-eat buffet. Executive Chef Patrick Chew is the man behind the menu which covers both Western and Asian cuisines. You will find something that suits your tastebuds within its wide selection of salad and condiments. There is the broccoli, cauliflower, iceberg, cherry tomatoes, radicchio and lollo blonda. Condiment choices include chick peas, artichoke bottom, stuffed olives, alfalfa sprouts, corn kernel, grated cheese and bacon bits.
The cold selection featuring many tasty appetizers like salmon gravlax, Nevada country side cold cuts, smoked turkey, fish pate, seafood casino on ice and Mandalay Bay prawn cocktail.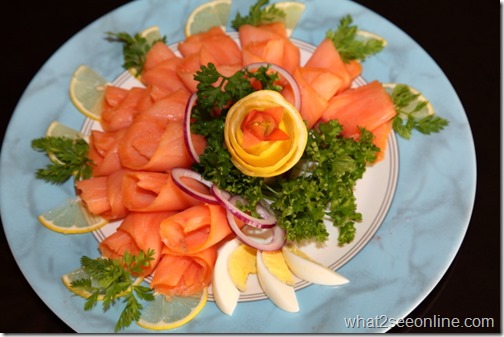 Salmon Gravlax
There is a variety of seafood to choose from the seafood casino on ice. The spread include cold succulent live tiger prawns, slipper lobster and fresh oysters.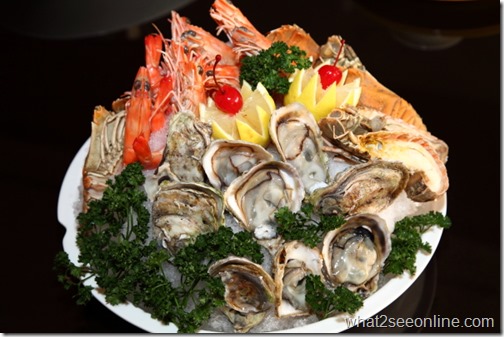 After the many appetizers, be ready for the dishes from the cooking station. The choice ranges from Japanese sushi making, grilled seafood to carving station.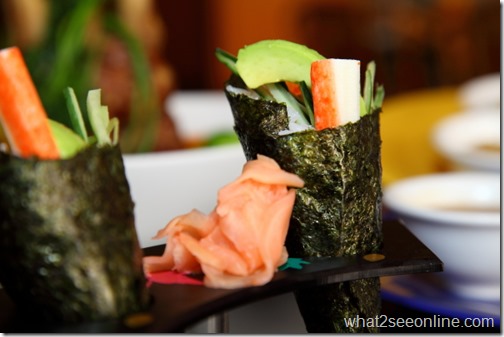 California roll and Japanese sushi
Grilled seafood with nice little char
Guests will be able to savor oven roasted prime rib accompanied with crunchy brussel sprouts at the carving station. The flavor of this meaty dish is paired with a range of condiments and dressing. Dijon mustard, shallots, garlic, brown sauce are some of them.
Apart from the food from the cooking station, let your taste-buds explore dishes from the chafers like Rock N' roll tiger prawns with sweet & sour sauce, chicken Maryland in Vegas, seafood baked pop pie and beef tornado stewed.
There are also the many desserts such as the black jack fruit cake, roulette swiss roll, Carson City mango panna cotta, jackpot cream caramel, California cherry clafoutis, Spring Valley pineapple gratin and sweet heart macaroon. The black jack fruit cake and sweet heart macaroon turn heads with its attractive casino style design.
Black jack fruit cake and sweet heart macaroon
'Hit the Jackpot Night' celebration also includes performance by magician Samuel Chong, fun factory dance entertainment, airbrush tattooist, best dressed contest, games, party novelties and countdown to 2014.
 Party accessories 
"The buffet is priced at RM165++ per adult and RM85++ per child. It will be better to purchase the 'Hit the Jackpot Night' voucher before 25th December 2013 as you can get a 20% discount," says public relations manager Debra Gerardine Jayesuria.
The celebration on 31st December 2013 starts at 7.30pm and continues until 1am.
Hotel Equatorial Penang
1 Jalan Bukit Jambul
Bayan Lepas
11900 Penang
Tel: 04 632 7000
* Many thanks to Hotel Equatorial Penang for extending this invitation.