Savor Auspicious Chinese New Year Treasures at Dragon-i
BY CK Lam
Dragon-i welcomes the "Year of the Horse" with many auspicious culinary creations. We sampled some of the dishes put together by the Shanghainese restaurant, located at Queensbay Mall, Penang.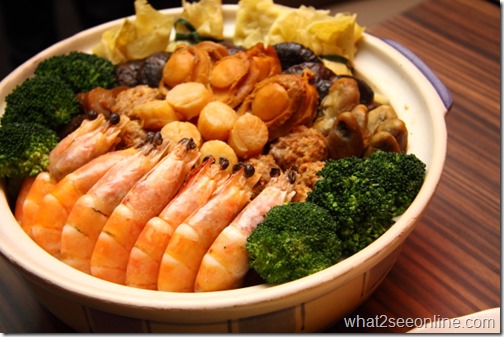 Dragon-i Yu Sheng menu features Raw Salmon Fish with Jelly Fish Yu Sheng at RM48++ for half portion and RM68++ for full portion.  The Australian Abalone with Raw Salmon Fish Yu Sheng is priced at RM98++ for half portion and RM138++ for full portion.
Master Chef Chau Sze Lun introducing the Yu Sheng
It is an appetizing start with the Raw Salmon Fish with Jelly Fish Yu Sheng. This delicacy features raw salmon fillets, heaps of colorful shredded vegetables, crackers, seasonings and sauces with light touches of flavoring. The freshness of ingredients and condiments contribute flavors, particularly the pickled onions and dried orange peel.
This first course makes a statement with bringing in the ingredients together with the chopstick and tossing them high up along with the chanting of good wishes.
We sat back and enjoy the lavish dish of Dragon-i restaurant, the Prosperity Abalone Treasure Pot (poon choi). Priced at RM388++, the Prosperity Abalone Treasure Pot caters for a group of six to eight persons. This pot is a harmony of flavors, with 18 premium ingredients: twelve-heads braised premium Chilean abalone, sea cucumber, Japanese dried scallops, Japanese dried oysters, premium mushrooms, fresh sea prawns, roast chicken, roast pork belly, golden money bags, pork balls, dried beancurd skin, yam, black moss, Chinese cabbage, broccoli, deep-fried beancurd skin and radish in superior pork bone stock.
The Prosperity Abalone Treasure Pot (RM388++) and the Signature Prosperity Abalone Treasure Pot (RM688++) is available for dine-in from now till 28th February 2014.
The restaurant's variety of Chinese New Year delicacies include the Braised Pork Knuckle prepared with Shanghai recipe. The meat with hours of braising over low heat with many sauces and spices (star anise and clove) is meltingly tantalizing.
We also savor the Fried Glutinous Rice with Waxed Meat, a dish associated with the festive season. This rice dish with sweet aroma of Chinese sausage, waxed meat, soy sauce and fragrance of rice wine offers a bowl of comfort for everyone.
Dragon-i outlets are renowned for their xiao long bao. The signature steamed dumpling folded with delicate care packs a tender pork meatball and judicious amount of soup. This is accompanied by strips of fresh ginger in black vinegar.
For desserts, there is a bowl of warm chestnut broth, prepared with silky threads of egg white and sea coconut. It is a soothing light choice with well-balanced sweetness.
Dragon-i is offering the Prosperity Treasure Pot Takeaway for customers to enjoy the dish in the comfort of their own home. The stainless steel pot of ingredients is properly frozen and packed in a cooler bag. You get to keep the pot and the bag.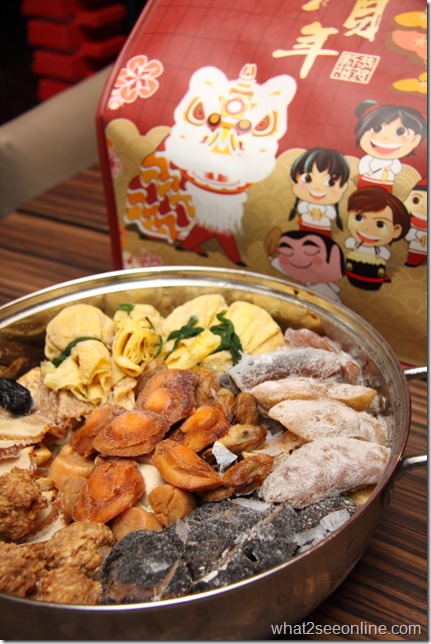 Frozen Treasure Pot for takeaway
Listed here are various Chinese New Year set menus. More information of the Takeaway Chinese New Year delicacies can be seen here.
Dragon-i Restaurant
Lot 77, 78 & 79 & 81
2nd Floor Queensbay Mall
Penang
Tel : 04 646 6888
* Many thanks to Dragon-i for extending this invitation.