Pirates Seafood Night at Eastin Hotel, Penang
BY CK Lam
Eastin Hotel Penang is offering a pirate-themed seafood buffet. Held at Swez Brasserie, the menu features fresh seafood, along with pasta, sushi, fresh fruits, ice cream, cakes and a chocolate fountain.
The entrance of the restaurant is decorated with cut out pirate figures and pirate flags, swords, cannons, wine barrels, wheels from ships, pirate hats and skull-shaped candle holders.
The entrance to the restaurant resembles a pirate ship
For starters, opt for the cold seafood which has some pretty good options. Fresh oysters, chilled prawns, scallops, mussels, snow crab legs and Canadian lobsters are some of the seafood options available.
Utensils for cracking the crab shells are also provided to assist diners in removing the flesh from the legs of the crab.
The cold seafood section
 The buffet also offers seafood terrine and a fresh spread of sashimi as well as sushi rolls with wasabi and pickled ginger.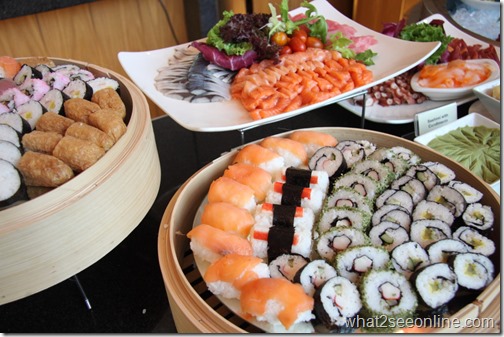 A variety of sushi rolls and sashimi at the buffet table
At the seafood cooking station, the chefs are often busy with a variety of preparations for the seafood. There are 12 kinds of sauces to choose from.
Among these are the lobster broth and the turmeric sauce with tomatoes, onions and chili padi, all of which go well with the seafood. Some of the more notable dishes to look out for are the wok-fried mantis prawns with salted egg and grilled spicy king prawns with cilantro salsa.
Wok-fried mantis prawn with salted egg

Grilled spicy king prawn with cilantro salsa
There are also plenty of hot seafood dishes which include grilled lobster with seafood broth, chili flower crabs, oyster kilpatrick and sauteed mussels with garlic herbs.
A great way of enjoying the natural flavour of the fish is by roasting it and then serving it with a variety of sauces. The turmeric sauce with tomatoes, onions and chili padi tastes perfect. Equally delicious is the sambal kicap.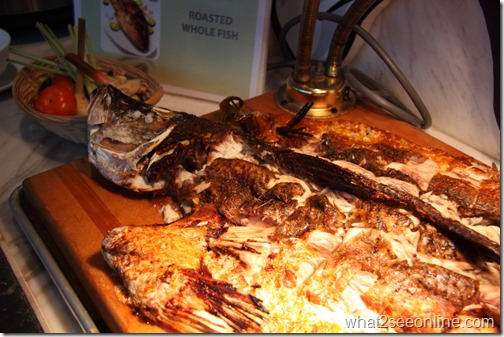 For dessert, there's fresh fruit shortcake, strawberry mousse, macaroons, banana cake and cheesecake to choose from as well as a chocolate fountain.
The lightly textured macaroon is an attractive-looking treat as well. These cute delights are not overly sweet and the peanut butter filling adds to the flavour.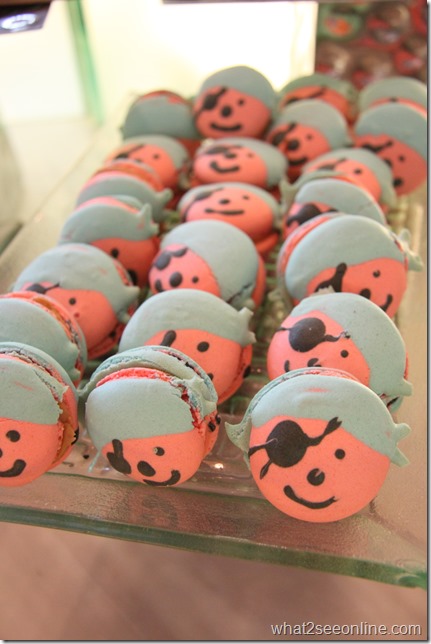 The Pirates Seafood Night buffet dinner priced at RM80++ for adults and RM48++ for kids is held every Saturday throughout this year. The restaurant is offering a 15 per cent discount for card holders using Standard Chartered Bank, CIMB Bank, Citibank and Mastercard Worldwide. The buffet is from 6.30pm to 10pm.
Eastin Hotel Penang
1 Solok Bayan Indah, Queensbay
11900 Bayan Lepas
Penang
For reservations, call 04-612 1128.
* Many thanks to Eastin Hotel for extending this invitation.
* This is a reproduction of my article published in New Straits Times.