Nona Bali Restaurant – Balinese Dining Experience in Penang
BY CK Lam
Diners will be pleased with the opening of Nona Bali Restaurant at Promenade 28, in Karpal Singh Drive (Sungai Pinang), Penang. Owned by partners Peter Tait and I Made Sudiarta, Nona Bali is the place for Balinese food cravings in Penang.
The restaurant thrives on set meals throughout lunch and a la carte menu for dinner. While there is no pork on the menu, the restaurant in a casual and comfortable environment offers a variety of seafood, poultry and vegetables. The dishes are prepared combining Balinese culinary traditions.
"I source the ingredients locally and from neighbouring Indonesia and Thailand. No MSG and food enhancer is used,"said Sudiarta who heads the kitchen.
Complimentary tempeh with crisp crunchiness was served while we grazed our way through the menu. There are many appetizers to start with before moving to the mains. Vegetarian options include Karedok with fresh vegetables (RM12.90) and Jukut Cantok with blanched vegetables (RM12.90). Both are served with house made peanut sauce.
The simple-looking Rojak Timun Bali (RM9.90) has little cubes of crunchy cucumber tossed in spicy sauce and lots of crushed peanuts. This refreshing dish adds a little lightness to the meal.
   Rojak Timun Bali – a vegetarian option
The Balinese style satay is wrapped around lemongrass stalks and comes with choices of Sate Lilit (fish satay), Sate Be Siap (chicken satay) and Sate Sampi (beef satay). Marinated with a paste made of Balinese spices, the sate is grilled over a charcoal fire while basted with the paste.
 The Sate Lilit has distinctive flavor with the combination of red snapper fish paste, shredded coconut and daun jeruk purut (kaffir lime leaves). For the Sate Sampi, the beef is well-marinated with lengkuas and turmeric, and cooked with a little charred.
The Sate Lilit and Sate Sampi are differently pleasing but it is the Sate Sampi that packs the most flavor.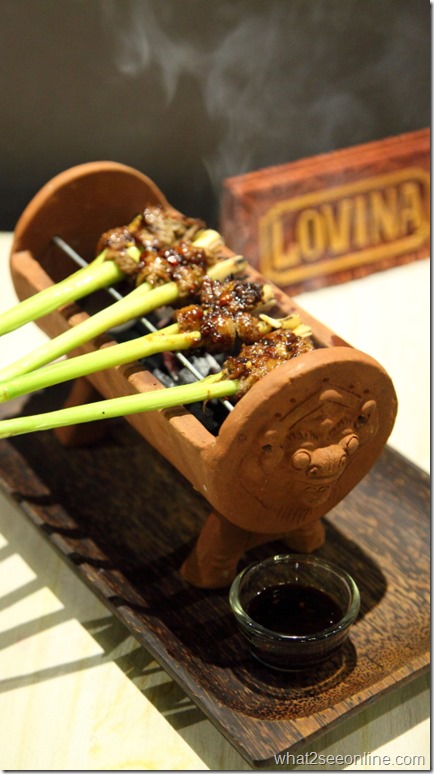 Sate Sampi (beef satay)
Lime juice give a refreshing tang to the sate lilit

The Balinese dishes at Nona Bali come with a shear variety of textures and flavors. Each dish is served with tumpeng (cone shaped rice), accompanied by urab (mixed vegetable), emping Melinjo (deep-fried crackers) and three different condiments: sambal terasi, acar and sambal matah.
The spicy sambal terasi made with dried shrimp paste has a seducing aroma, and the tasty sambal matah stimulate the palate with ground garlic, onions and chillies.
The Bebek Crispy (Balinese fried crispy duck) is a firm favorite with the diners. The poultry marinated with aromatics spices, is first boiled then deep-fried. With crispy edges, the duck infused with pungent aroma is moist to the bite.
  Bebek Crispy (RM32.90)
For those who have a penchant for beef, tuck into the Be Sampi Mebase (RM36.90) with succulent chunks of beef. The traditional Balinese beef stew in yellowish spiced gravy (from the unique color of turmeric) is cooked in coconut milk and combination of Balinese spices.
  Be Sampi Mebase (beef stew)
Others include the Bebek Metunu – Balinese grilled duck (RM32.90).
"The duck is seasoned with the same aromatic spices of the Bebek Crispy, and it goes through two processes of cooking – first boiled for several hours, before grilling." said Sudiarta.
The duck basted with rich complexity of spices is very appetizing.
One of dishes from the set lunch menu is Set Nasi Campur Be Pasih (RM20.90). This Balinese mixed fish rice set includes a skewer of sate lilit, grilled red snapper with sweet sauce and stir-fried kankung (water spinach). The set lunch comes with a glass of iced peach tea or iced lime drink.
Nasi Campur Be Pasih (mixed fish rice)
Tait suggested to us a couple of desserts – Kukus Injin, Kolak Sela, Es Teleer Nona Bali, Dadar Bali and Biu Gulung. We loved the pleasant flavor of the Dadar Bali. A dollop of vanilla ice-cream is paired with two rolls of pandan flavored pancake filled with grated young coconut and palm sugar (RM9.90).
The Kukus Injin (RM9.90) grabs our attention with black glutinous rice cooked with dark brown sugar, topped with grated and strips of candied coconut. Served with creamy dark brown sugar syrup and coconut milk, it is just heavenly.
The chilled 'Tape ketan' is an interesting choice. This traditional dessert made from fermented glutinous rice is served at Nona Bali upon request.
Dadar Bali
Among the drinks are chilled glasses of smooth dotty soursop with basil seeds (RM12.90) and refreshing lemongrass mojito (RM11.90). Both are apparently the popular drinks, not only just for the taste, but also for its health benefits.
Lemongrass mojito
  Dotty soursop
Penang is hungry for Balinese fare and what's best is that Nona Bali Restaurant delivered them. According to the owners, more dishes will make their way onto the menu very soon.

Chef I Made Sudiarta & Peter Tait (right)
Besides the air-conditioned dining area, there is a small outdoor area with a long table where people can sit and enjoy their meal and the seaview.
There is ample free parking space right at its doorsteps. Business hours are from 11:30am to 2:30pm and 6pm to 10:30pm.
Nona Bali Restaurant
25 Ground Floor
Lebuh Sungai Pinang 5 (Off Lebuhraya Tun Dr Lim Chong Eu)
George Town
11630 Penang
Tel: 04-281 5983
Closed on Wednesday