Sensational Sakura Japanese Buffet by Chef Ricky Hui
BY CK Lam
Swez Brasserie at Eastin Hotel Penang is offering the Sensational Sakura buffet. The promotion is until the end of the month.
In this promotion diners can indulge in a smorgasbord of Japanese delights prepared by chef Ricky Hui from the multiple award winning Eyuzu Japanese Cuisine Restaurant, in Eastin Hotel Petaling Jaya.
The outstanding chef with 30 years of culinary experience recently won the Hospitality Asia Platinum Awards (HAPA) Masterchef (Asian) of Authenticity.
We were treated to a plate of sashimi, dressed with a variety of ingredients. Slices of pristinely fresh salmon, tako, aka gai, and salmon belly garnished with shiso leaf and wasabi were served alongside pieces of tuna tataki.
The pieces of lightly seared tuna were drizzled with vinaigrette.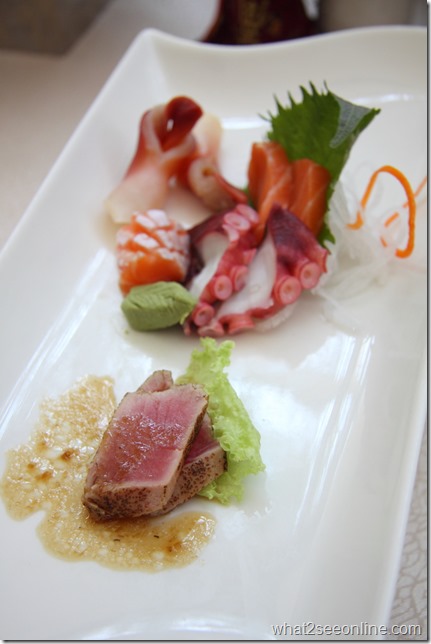 Hui's zuke kajiki features white tuna which has been marinated for 12 hours.
With a strong flavour, the white tuna is well matched with the accompanying wasabi mayo. This dish is served with ika ebiko (a combination of raw squid with prawn roe).
Next on the menu was the eyuzu maki (crispy soft shell crab sushi maki), one of the many rolls available throughout the promotion. The maki with mayonnaise sauce is delicious fusing all the flavours together nicely.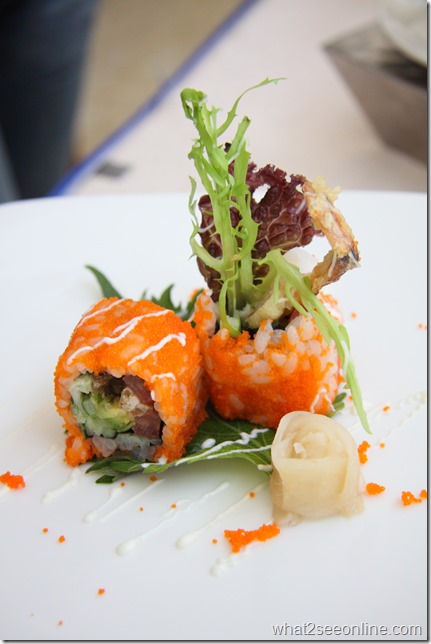 The kaki motayaki (gratinated oyster) is served hot with a layer of melted cheese and cream. The lemon enhances its taste and aroma.
Next on the menu is the teppanyaki gyu maki topped with deep-fried garlic.
Hui created the rolls of grilled beef striploin with enoki mushroom and green onions and arranged it with a mix of capsicum, broccoli and black mushroom. This dish has a delicious flavour.
Hui is also offering the ninniku yaki meshi (garlic fried rice). The fried rice was light and fluffy and garnished with deep-fried garlic for a crunchy bite.
Be sure to indulge in the oshiroko, a red bean dessert.
The dessert has a nice texture and a pleasant fragrance. "The red bean dessert is boiled slowly for 10 hours with the zest of the Yuzu, a Japanese citrus fruit," said Hui.
This dish is best served hot with its mochi filled centre of black sesame paste.
The semi-buffet dinner is available from Sunday to Tuesday and Thursday at RM50++ per adult.
Lunch is from Monday to Friday, priced at RM50++ per adult and RM25++ per child.
Also worth checking out is the high tea from noon until 4pm available until weekends. This is priced at RM68++ per adult and RM34++ per child.
The restaurant is offering a 15 per cent discount for all Standard Chartered Bank, CIMB Bank, Citibank, OCBC Bank, UOB Bank and Mastercard Worldwide card holders.
The semi-buffet dinner is available from Monday to Thursday and the weekend buffet dinner is available on Friday and Saturday from 6.30pm to 10pm.
Eastin Hotel Penang
1 Solok Bayan Indah, Queensbay
11900 Bayan Lepas
Penang
For reservations, call 04-612 1128.
* This is a reproduction of my article published in New Straits Times.