Delights of Penang Street Food – Kareem Pasembur Rojak
BY CK Lam
Heeding my friend's advice, I headed out to Kareem Pasembur Rojak stall. This little pasembur stall opening on the side of Union Street in Penang is constantly packed at lunch hour, with a line of people  from the surrounding offices.
The man behind the stall is Abdul Kareem Yusoof.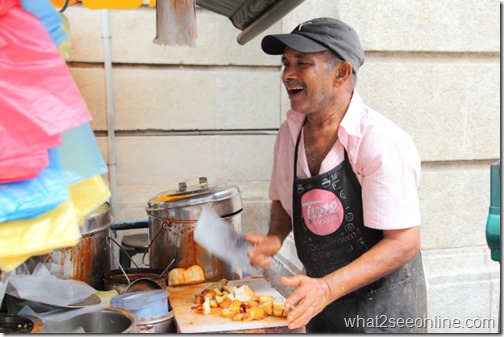 Pasembur, a favorite snack for many, is a dish with deep-fried and boiled ingredients served along with a vegetable portion of fresh cucumber, turnip and bean sprouts.
You can choose from a menu with everything from fishball, crabstick, crab, fish, sotong, hardboiled egg, fish cake, potatoes, beancurd, and many types of deep-fried fritters  – cucur udang, cucur kacang, cucur Kupaai and cucur udang garing.
Kareem is very generous with the portion of the fritters. My favorite choice is the prawn fritters or commonly known as cucur udang. Following close is the cucur kacang, especially addictive topped with plenty of roasted peanuts.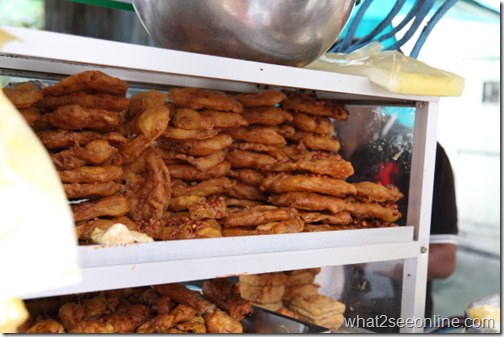 Many types of cucur (deep-fried fritters)

 Cucur udang
The ingredients are priced from RM0.50 onwards and do expect to pay more, depending on the size and type of ingredient.
The chosen ingredients are cut into bite-size and topped with blanched bean sprouts, strips of fresh cucumber and turnip before drizzled with sweet and spicy peanut sauce.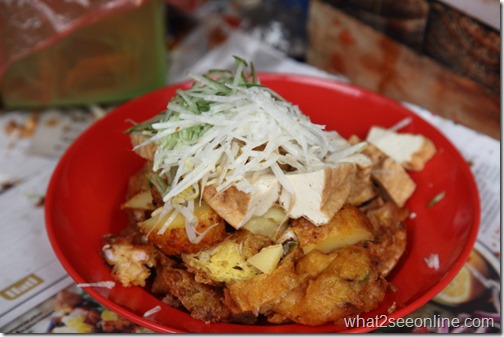 Kareem's version of this popular snack is quite unique with its homemade sauce which is dramatically less reddish in colour and has a well balance mixture of spices. The bright orangey sauce is delicious and its creamy texture coats the ingredients well.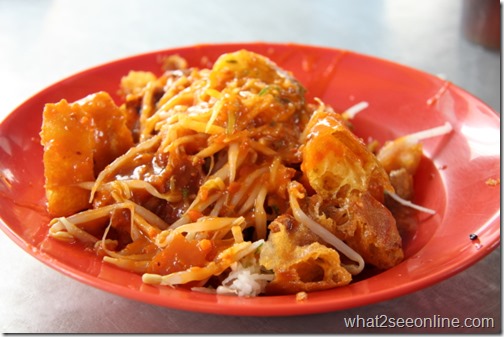 Take-aways are also available with the sauce and ingredients wrapped separately but I much prefer taking a seat and enjoy the plate of pasembur with teh tarik (milk tea) from the neighbouring stall.
Pasembor alongside beverages and nasi lemak
Do check out this pasembur stall when you are around the area. Business hours are from late morning till teatime.
Kareem Pasembur Rojak
Union Street (behind Standard Chartered Bank)
10200 Penang
Closed on Sunday