Edo Ramen at Gurney Paragon Penang Holds Opening Ceremony
BY CK Lam
The ribbon cutting ceremony of Edo Ramen at Gurney Paragon Penang on 11th April 2014 saw the presence of Sushi Kin President & COO, Mr Akihiko Hijioka. He was joined by Mr Khor Siang Gin, Managing Director of Hunza Properties Berhad.
Located on the east wing of the building, this outlet branching off from Goku Raku Ramen offers a fresh approach to ramen indulgence. "The handmade Tokyo-style ramen created by Chef Tetsuya Fukino features four choices of soups and two categories of toppings. The handmade Japanese wheat ramen is made fresh daily and is pleasantly firm," said Hijoka.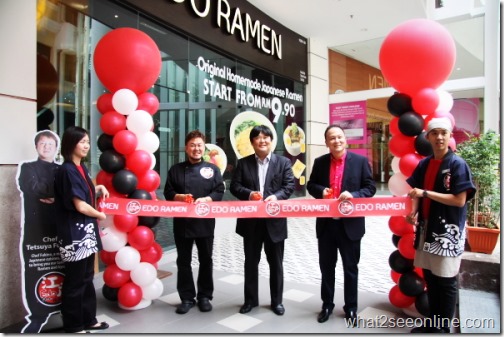 Chef Tetsuya Fukino, Mr Akihiko Hijioka and Mr Khor Siang Gin (right)
The ramen comes with standard and ultimate toppings. Tender slices of succulent char siew, sweet corn, pakchoy and spring onions are the standard toppings while the ultimate toppings are the traditional cooked lava egg, char siew, chunks of kakuni, naruto, seaweed, pakchoy, sweet corn and spring onions. Among the ramen toppings, I really like the lava egg with slightly runny yolk and the slow braised kakuni made with pork belly.
Edo Ramen has eight types of ramen and priced from RM9.90 onwards. For those who prefer a bit of spiciness to tickle the palate, just add in some spicy miso (RM2.50). A serving of Kaedama noodles priced at RM2.50 is also available for those who are keen on adding more noodles to the leftover broth in the bowl.
Tokyo Ramen
Edo Ramen recommends the Tokyo Ramen and Ultimate Tokyo which comes in specially concocted Tokyo broth. Chef Fukino uses lighter food of chicken, anchovies and Japanese ingredients for the broth. Slow-cooked over low fire for seven hours, the fragrant broth is easy and light on the palate.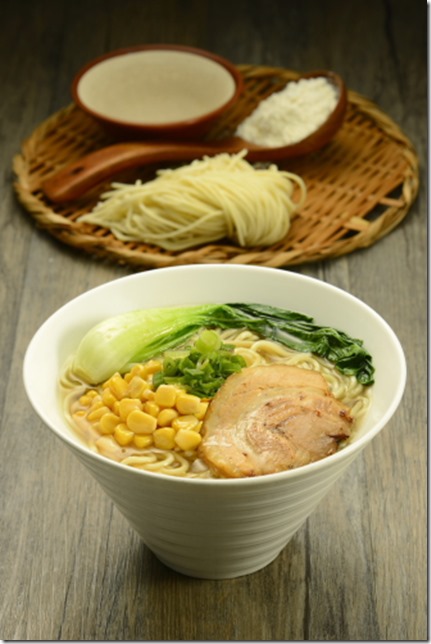 Tokyo Ramen – RM9.90
Ultimate Tonkotsu
The Ultimate Tonkotsu comes in a thick pork broth boiled over medium to high heat for more than 12 hours with pork bones. The flavorful broth with creamy consistency is full of hearty pork flavour.
Miso Ramen
Miso Ramen comes with pork broth cooked with Japanese soybean paste. With a slight tinge of sweetness, the robust and tangy broth makes a great complement to the variety of toppings.
Miso Ramen – RM10.90
Ultimate Black
The most notable is the Ultimate Black, with pleasantly firm noodle in the long simmered heavy and rich pork broth. The bowl of ramen is served with a small heap of Japanese fish powder and flavorful garlic oil.
This is the best bowl of ramen for me.
Ultimate Black – RM17.90
The menu at Edo Ramen is not just about noodles. There are a few side dishes to complement the meal such as the aburi char siew and gyoza. Besides the boiled gyoza, there is also the pan-fried gyoza, paired with miso tare and shoyu tare.
The aburi char siew has thick slabs of grilled char siew served on a bed of onions.
Aburi Char Siew – RM11.90
For gyoza fans, do not miss out the two kinds of gyoza: boiled and pan-fried versions. The gyoza plates have chives and pork-filled dumplings. The better of the two versions is the boiled dumplings. They are delicious, served sprinkled with scallions and sesame seeds and a right amount of sauce.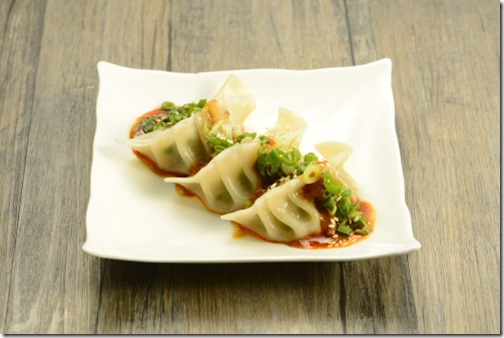 Boiled gyoza – RM4.90
Pan-fried gyoza – RM4.90
From 11th April until 31st May 2014, Edo Ramen is offering a free plate of boiled gyoza (three pieces) with minimum RM30 spend. Just present this printed page before you make any payment.
During the lunch time hours, the restaurant was filled with the working and shopping crowd.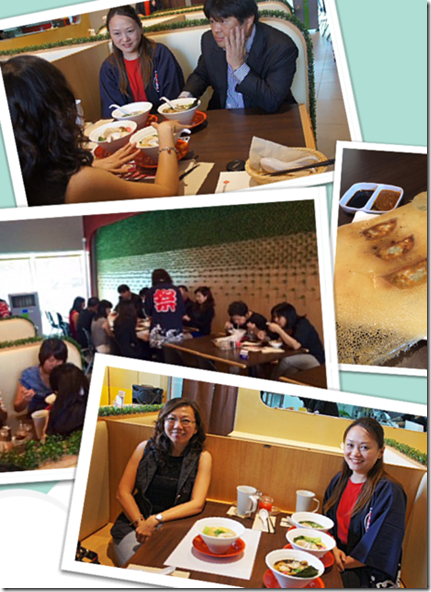 Edo Ramen
Lot 163-D-1-05
Gurney Paragon Mall
Persiaran Gurney
10250 Penang
Tel: 04 2260961
Business Hours:
11.00 am – 10.00 pm (Sunday to Thursday)
11.00 am – 11.00 pm (Friday, Saturday & Eve of Public Holiday)
* Many thanks to Texchem Group for laying on this invitation and sharing the photos.