Chilling out at Mish Mash, Muntri Street, Penang
BY CK Lam
If you are planning for drinks or cocktails in Muntri Street, Penang, hop in to Mish Mash. The place which has recently obtained its liquor licence is boasting a full bar besides its coffee and seasonal drinks.
The place with warm and friendly environment is own by two Old Frees (ex-students of Penang Free School). One of them is Ben Ng, who runs his own gig called Fluid Alchemy. He was on hand to show us the cache of whiskey that he has been accumulating over the time.
Mish Mash will be serving many sophisticated sips to the guests with its wide selection of whisky, tequila and vodka.
As Whisky Month kick starts in this month of May, Mish Mash has chosen some fine whiskies in celebrating this global event. Black Nikka, The Glenlivet, Monkey Shoulder and Bulleit Bourbon are some of the varieties.
Beluga vodka and Milagro tequila in a nice crystal bottle
Mish Mash is offering seasonal beverages and our visit did not disappoint with its making technique.
Its menu displayed on the chalkboard above the counter focuses on a number of drinks prepared with depth of flavor using fresh juices, homemade sugar, syrups and oil.

Homemade produce using locally sourced ingredients
We tried a few different creations. Ben whipped up the Supernova with thyme, white peach puree, apple juice, Rozelle hibiscus sugar and ice. The harmonious pink drink garnished with a 'pineapple flower' is already one of Mish Mash's popular drinks. It is refreshing and smooth.
"We go beyond in making the pineapple flower. Sourced from the farm, we dry the slices of pineapple for several hours and it comes out light and airy," said Ben.
A delightful change from the Supernova is the Ravaging Beast. This rich chocolaty treat is made with a combination of dark chocolate, milk froth, spice reduction and Scottish peat smoke from a peat-fired flame.
This rich and textured drink with spice notes and smoky flavor is priced at RM13.

Frrom left – Ravaging Beast, Mish Mash Ginger Soda and Supernova
In addition to the Supernova and the Ravaging Beast, Mish Mash is also bringing on other concoctions like the Orange Blossom Cappuccino,  Body & Soul and Mish Mash Ginger Soda.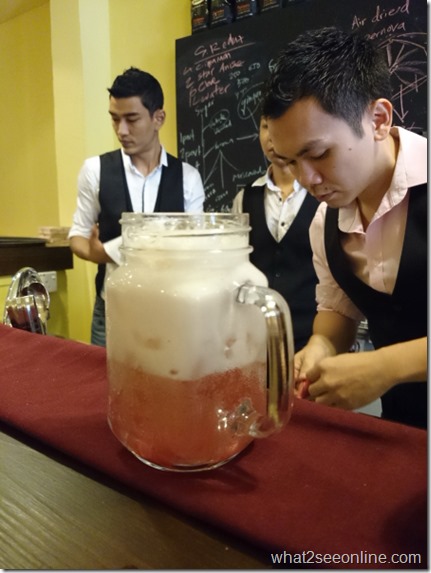 Ben preparing the Mish Mash Ginger Soda
On the coffee menu is all the standards: Americano, espressos and machiatto. An icy cold Americano is perfect for the scorching hot afternoon.
It is also worth noting that there is an array of tea options. Sip on Roselle hibiscus tea, English breakfast tea or tea made with rose and osmanthus.
At one side of the shop is a cabinet shelved with a selection of cigars, tobaccos and smoking accessories. This is a place to stop by for tobacconists.
Mish Mash is a place for late night hangouts, with its mashing hours from 2pm till midnight (daily). There is also free wi-fi available. A few tables and chairs on the five foot way offer outdoor seating.


There is not much to snack on as Mish Mash has yet to serve food, but do keep an eye on their facebook page for updates.
Mish Mash Penang
24 Muntri Street
Georgetown
10200 Penang
Tel:  017-5365128
Close on Monday