Real Food Sonnentor Penang @Straits Quay
BY CK Lam
Real Food Sonnentor Penang is a new cafe and grocery store located at Straits Quay in Tanjung Tokong. The corner lovely space previously occupied by Aseana is marking the beginning of a new meat-free concept cafe to Penang. The decor is modern and delightful, with indoor and alfresco dining.
The health driven menu offers dishes prepared without processed ingredients, artificial preservatives and trans-fat. The item worth trying is the Organic Pizza prepared without cheese. The thin crust 'green' pizza comes topped with homemade pesto sauce and organic seasonal vegetables – three types of mushrooms, tomatoes, pineapples, onions and olives. The pizza with balanced yet intriguing flavors can be shared or just eaten in lieu of a main course.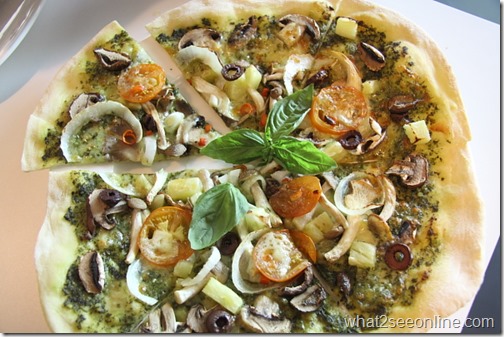 Organic pizza RM28.80
Our next choice is the Portobello Herbs Burger. The restaurant keeps the lightly toasted burger bun interesting with a deep-fried Portobello mushroom coated in herbs. Deep-fried in organic sunflower and sesame seed oil, the batter is delicate and crunchy. Then, it's layered with organic lettuce and a touch of homemade soy mayonnaise.
The burger priced at RM26.80 is served with crunchy organic raw dehydrated vegetable chips.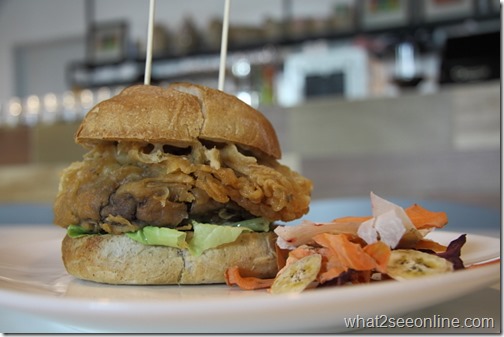 The Chickpea Cake is a leafy green salad with chickpea cakes. Made from mashed organic chickpeas, organic sweet potatoes, cumin seeds, finely chopped fresh coriander and curry powder, the savory chickpea cakes have a nutty and curried flavour.
Served topped with French beans, olives, roasted nuts and grilled organic asparagus, the dish is drizzled with organic soy mayonnaise and olive oil.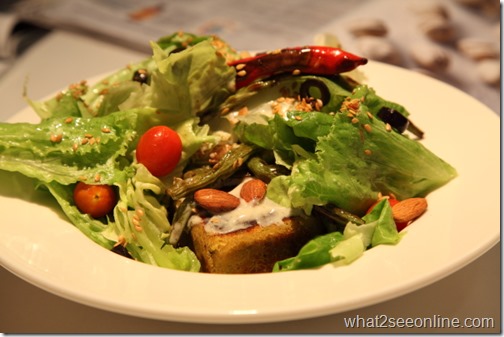 Chickpea Cakes  RM32.80
Sonnentor serves the Genovese Pesto Pasta with organic pasta tossed with homemade organic pesto and grilled Japanese cucumbers, olives and mashed boiled sweet/potatoes. Garnished with freshly grated feta cheese and fresh basil leaves, the dish has yet to accommodate my taste.
Genovese Pesto Pasta RM24.80
Among the variety of beverages are organic carbonated drinks, organic honey, freshly brewed organic coffee/tea and dairy-free organic milk drink.  Sonnentor Flowers Herbal Tea is one of the many herbal teas.
Priced at RM10.80, the floral tea created from apple mint, sunflower leaves, sunflower blossoms, calendula, oregano, cornflowers, rose petals, lilac blossoms and chamomile is soothing.
The warm Walnut Milk is a gluten and soy free beverage, and it goes well with the organic banana pancake which is served with seared local bananas drizzled with raw maple syrup.
There are several other treats to woo diners, including organic vegan banana cake RM9, brownies RM12, scones RM9 and organic vegan ice-cream made from brown rice milk and sugar cane. Each scoop costs RM12.
Banana pancake at RM22.80
This is one dining place to incorporate healthy, nutritious and creative vegetarian foods into your diet. The cafe which opens daily has a large welcoming among of  organic products on the shelves and cupboards.
Plenty of teas, herbs and spices
Real Food Sonnentor Penang
Lot/Unit No 3A-G-13D Block A
Ground floor Straits Quay
Jalan Seri Tanjung Pinang
Tanjong Tokong
10470 Penang
Business Hour:  10am to 10pm