Enjoy a Delectable Jamuan Buka Puasa Buffet at Sarkies, E & O Hotel Penang
BY CK Lam
For the coming holy Ramadan, Sarkies at E &O Hotel Penang will be introducing the Jamuan Buka Puasa buffet.
"Besides the Jamuan Buka Puasa buffet, other ongoing buffets are the Salam Aidilfitri Hi-Tea and Salam Aidilfitri Buffet Dinner. You will find rotating menus, incorporating spread of traditional Malay delicacies prepared with fresh local ingredients," says communications and public relations manager Eileen Chong.
There is nothing more comforting than warm soup. The menu includes hearty choices like soto ayam (chicken soup), sup daging (beef soup), sup ekor, sup kambing (mutton soup) and the milder and clear sup ikan berbola (fish ball soup).
The sup ekor (oxtail soup) is delicious with rich complex flavor from the combination of meat, fresh vegetables and herbs. I enjoyed the soup with some freshly made bread.
The appetizer features many types of kerabu and ulam. Choices of kerabu include acar rampai, acar ikan, acar buah, kerabu kacang botol, kerabu taugeh, kerabu tembikai, kerabu perut to kerabu jantung pisang.
The leafy herbs of ulam are eaten with fiery condiment of sambal, made from fresh chillies.
Ulam- ulam – selection of greens with sambal

On top of that, there are cucur udang and gado-gado. The cucur udang offers deep-fried fritters, cucumber and turnip with spicy and sweet sauce while the gado-gado has a selection of blanched ingredients accompanied by a delectable peanut sauce.
Cucur Udang

Gado-gado
The buffet is complete with seafood dishes, like ikan pari asam pedas, sambal tumis sotong petai, udang lemak nenas and ikan panggang Portugis (grilled fish) prepared with pungent chili paste and fragrant ginger torch flower.
Sambal tumis sotong petai
The udang lemak nenas is a mouthwatering dish. This dish with prawns and pineapple comes in spicy rich coconut gravy, made of lemongrass, turmeric, chili padi, shallots, red chillies and coconut milk.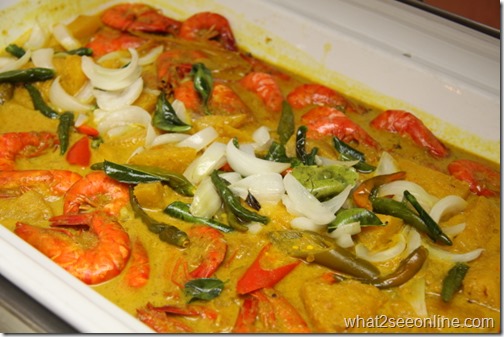 Udang lemak nenas
After the round of seafood, moved on to the bubur lambuk and other meaty offerings of ayam curry kapitan, beef masak kicap, ayam tandoori, ayam masak rose, ayam percik, ayam percik padang, daging rendang tok, kambing masak hitam berlada, gulai puyuh daun selasih, and beef serunding.
The gulai puyuh daun selasih is a lovely rendition of quail cooked with fragrant basil leaves in gravy that pack a spicy punch.
I particularly like the beef serunding, a classic treat of beef floss served with compressed rice.
Beef serunding and daging rendang tok
Rice options include white rice, nasi minyak, nasi briyani, nasi yoghurt, nasi tomato and nasi jagung.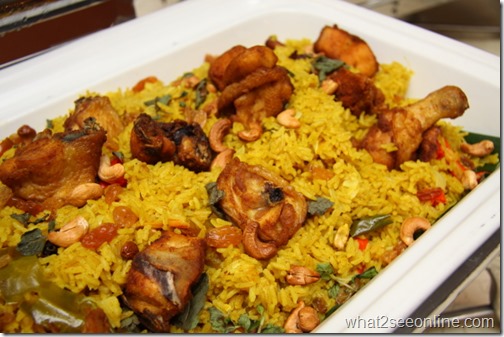 Nasi briyani
Live cooking stations are located both indoor and outdoor. One can easily be swoon with delightful offerings of chicken and lamb satay, kebab, roasted baby lamb, roasted chicken, roasted duck and roti canai.
Many waited in line for the roasted baby lamb which goes well with a helping of salad.
Dessert is truly cherry with selection of traditional delights and Western desserts, including dates, ice-cream and fresh fruits.
Sago gula Melaka, goreng pisang. kuih-muih and mango pulut are among the varied local selection Sarkies has to offer. The kuih-muih offer interesting flavors, though some can be a bit too sweet.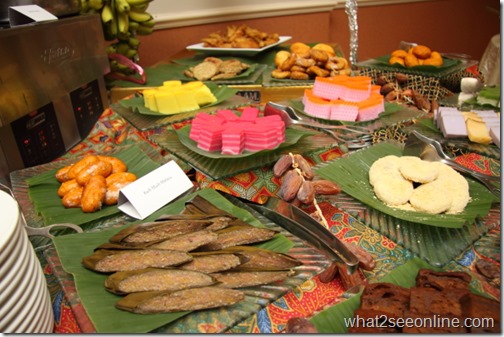 For drinks there are the cold winter melon, bandung and calamansi with assam boi besides hot teh tarik, made from black tea, evaporated milk and condensed milk.
Ice kacang 
The Jamuan Buka Puasa will be available from 28th June 2014 to 27th July 2014. It is priced at RM 96++ per adult and RM 48++ per child from Sunday to Tuesday and at RM 110++ per adult and RM 65++ per child from Wednesday to Saturday (7pm – 10.30pm).
The Salam Aidilfitri Hi-Tea takes place on 28th July and 29 July 2014 (12 noon – 2.30pm). The buffet is priced at RM78++ per adult and RM39++ per child.
The Salam Aidilfitri Buffet Dinner is available on 28th July and 29 July 2014 at RM110++ per adult and RM65++ per child (7pm – 10.30pm).
Airy outdoor sitting under the twinkling lights and feeling the sea breeze is great option.  Alternatively, you could opt for the air-conditioned indoor dining area.
For reservations, call 04 – 2222101.
Eastern & Oriental Hotel
10 Lebuh Farquhar
10200 Penang
Malaysia
* Many thanks to Eastern and Oriental Hotel (E&O), Penang for extending this invitation.