Ramadhan Buka Puasa Buffet Dinner at G Hotel Gurney Penang
BY CK Lam
For this holy month of Ramadhan, G Café in G Hotel Gurney Penang is offering the Ramadhan Buffet Dinner. Diners will be able to savour a delectable treat of Malay cuisine from different parts of Malaysia.
Chef Hamizi, the sous chef presents three main themes for the buffet – Rasa Rasa Utara, Selera Pantai Timur and Juadah Seri Selatan.
We enjoyed the many different raw vegetable of ulam-ulam which was delicious with spicy and zesty condiments of sambal belacan, cincaluk, acar limau and budu.
Sambal belacan and air assam
Rasa Rasa Utara (Monday)
Some interesting and tasty appetizers from the North included nasi impit with serunding ayam, tempeh goreng berlada and pasembor.
Dishes like laksa Kuala Kedah, ikan keli masak kari, nasi hujan panas and gulai daging batang pisang were the recommendations by Chef Harmizi. The ikan keli masak kari is a dish that catfish lovers would enjoy. This curry dish of catfish cooked in coconut milk, turmeric leaf green chili, galangal and cumin, got our appetite going.
Kari Ikan Keli
Laksa Utara
Rendang ayam piru was a dish unlike other rendang as it feature turkey. According to Chef Harmizi, the turkey was cooked with coconut milk, cumin, fennel seeds, red chili and turmeric leaves.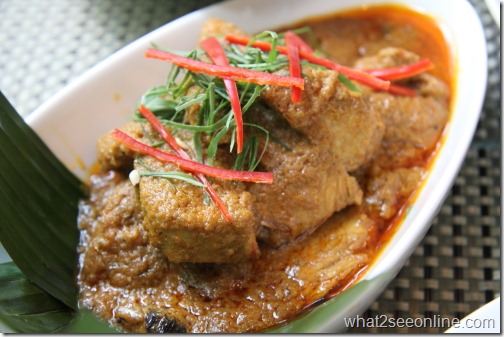 Rendang ayam piru
Juadah Seri Selatan (Thursday and Friday)
Highlights from the Juadah Seri Selatan theme buffet included dishes such as sup tulang sum sum, briyani gam, laksa Johor and ikan tenggiri masak asam pedas. The sup tulang sum sum was slow boiled for two hours with cinnamon stick, fennel seeds, cumin and dates.
Chef Harmizi's nasi briyani has a distinctive flavor infused from spices and overnight marination in milk and yogurt. However, the rice was rather soft  and moist. It would be wonderful to settle with light and fluffy texture rice.
Selera Pantai Timur (Tuesday and Wednesday)
As for Selera Pantai Timur, the appetizers featured jelatah, kerabu taugeh dengan perut, tauhu sumbat and the kerabu kacang botol.
The main course spread was the ketupat sotong marang, ekor asam pedas, as well as a tantalising daging kerutup kemaman. Specialties included ayam percik Kelantan, laksam, gulai ikan tongkol and nasi dagang.
Middle East and Peranakan Fiesta (Saturday and Sunday)
Besides the three themes, there was a selection of favorites from both the Middle East and Peranakan recipes. Dishes to start off with included acar jelatah, hummus and lentil soup.
Peranakan main courses included kari ayam kapitan, ayam pongteh and the perut masak lemak while the Middle East choices included lamb kofta, falafel, braised beef with couscous and lamb rogan josh prepared with a nice blend of spices.
  Lamb rogan josh
Besides the customary dates, layer cake and kuih bahulu, other choices included ice kacang, waffles and unlimited helpings from the ice-cream counter and the chocolate fountain. Also, for something seasonal, try the durian mousse. This pungent and creamy dessert will appeal to durian lovers.
Cold beverages on rotation to set the taste buds tingling included air bandung, air kurma, air sirap ros, air teh bunga, air kundur and the refreshing air soya. Last but not least was the serving of hot coffee and tea.
Durian mousse
Layer cake and kuih bahulu
Unlimited helpings from the chocolate fountain & colorful fruit konyaku

Sago gula Melaka and assorted kuih-muih
The Ramadhan Buffet Dinner is available daily from 6.30pm to 10pm, starting 29th June to 28 July 2014. The buffet dinner is priced at RM88++ per person.
The Aidilfitri Lunch and Dinner is available on 29th and 30th July 2014. The buffet is priced at RM68++ and RM88++ per person.
G Hotel also offers special Ramadhan room package promotion – a night of accommodation in the modern and stylish room is priced from RM498++.
G Hotel Gurney
168A Persiaran Gurney
10250 Penang
For reservations, call 04- 2380209
* Many thanks to G Hotel for extending this invitation.