Experience Moroccan and Mediterranean Food at Al Medina in Penang
BY CK Lam
It is always interesting to taste something new, especially with great company
Together with a group of friends, we had a meal of rich flavours, aromas and colours of Moroccan and Mediterranean cuisine at Al Medina Moroccan Restaurant.
Located in Tanjung Bungah, Penang, the house converted restaurant with both indoor and outdoor seating exudes a warm welcome.
The spacious lawn has a number of bamboo huts
Al Medina has a menu that covers traditional dishes such as the hummus, tajines, chargrilled meats and kebabs to sweet tooth delights.
Meats and kebabs cooked over an open charcoal fire
Their offerings of fresh salads include the Moroccan Salad, prepared with tomatoes, cucumber, olives, green salad and hardboiled egg. Dressed in olive oil, the salad (RM14) with a light taste goes well with the many rich lamb and chicken dishes.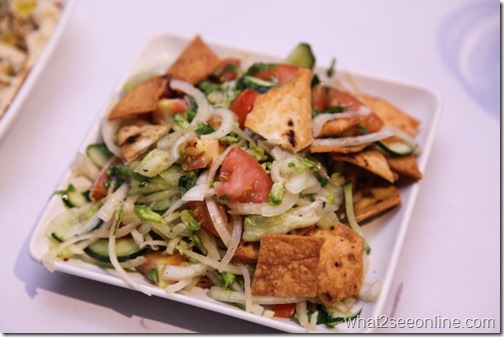 On the soup dishes, we chose the Harira soup and Adas soup. The classic Harira soup is made from tomatoes, carrot, potatoes and chickpeas (RM14) while the Adas soup is made of lentils (RM12). Both are somewhere between a soup and a dip, and served with fresh homemade Arabic bread.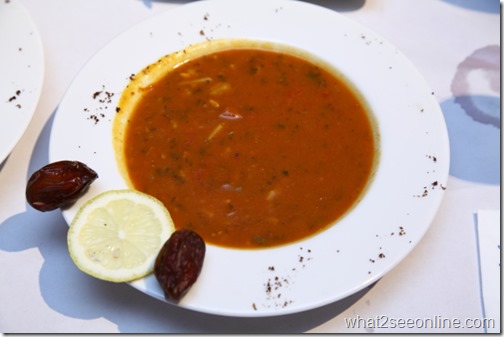 Appetizer is a starter in most tables and come with varieties of Babaganush with walnut, Hummus with olive oil, Multabal, Humus Beirutti and Hummus with minced lamb.
We had a mix of three appetizers (RM32) accompanied with generous portion of homemade Arabic bread. Although not appetising-looking, the appetizers are flavorful, particularly the Babaganush, a dish with pungent smoked taste of grilled eggplant and tahinia paste.
It's bread heaven for me!
Pots of tajine are laid on the table: Tajine Royal, Lamb Tajine (RM32) and Chicken Tajine (RM25). Prepared with a fragrant rich broth with Moroccan spices, the tajine pots are served sizzling to the table with a side of fresh homemade tajine bread. The tagine with dome-shaped cover plus low temperature cooking time keeps the meat melting tender.
If you want to experience a mix of textures and flavors, then it has to be the Tajine Royal. Priced at RM60, the slow cooked stew has light yellowish couscous (tiny granules of durum wheat) and an array of lamb, chicken, fish, carrot, potatoes and onions in a savory sauce.
The Tajine Royal is a hit among some of us but the Lamb Tajine and Chicken Tajine get me smiling with their simple individual flavors.

Tajine Royal
Chicken Tajine and Lamb Tajine
With the plenty of meat from the tajines, we add-on sides of fluffy kabsa rice and mandi rice (both cooked with long and slender basmati rice).
Mandi and kabsa rice
From the barbeque and grills, there is the meaty delight of Chicken Kebab (RM24). Marinated in an aromatic blend of spices, the chunks of charcoal grilled chicken meat with nice smoky char are served alongside fries and bread.
Chicken kebab
Al Medina offers a selection of drinks, wines and a small choice of desserts. There is Mahalabiah (creamy pudding) and Baklava – a popular Middle East dessert of crispy pastry with grained nuts and honey.
Bottles of red wine on the table paired with the food
Al Medina is among the handful of Moroccan restaurant in Penang. The indoor dining room dressed up with colorful paintings and photos on brightly colored walls is lighted just cozy.
The restaurant is open everyday from 11am to 12 midnight.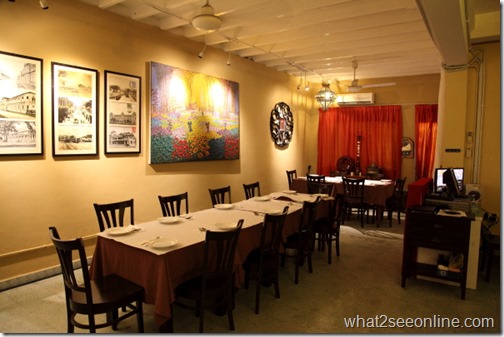 Al Medina Moroccan Restaurant
523C Jalan Tanjung Bungah
11200 Penang
Tel: 019-526 6686
 ****Update on January 2015 – The restaurant has since closed down.