Jiao Sai – Penang Supper Place
BY CK Lam
For those who go for late night eats in Penang,  I am sure you have patronized Restoran Yunus Khan. Popularly known as Jiao Sai, the supper spot is renowned for its signature stir-fried and soup based instant  noodles.
Jiao Sai has been serving noodles for several years. Its name is derived from bird droppings in Hokkien dialect since its first location in Jalan Phee Choon is covered in bird droppings from the swarm of birds flying over the area.
From its first location, followed up with the second in Argyll Road, Jiao Sai has since shifted to Lorong Abu Siti. In this new location with bigger sitting space, Jiao Sai continues to provide its customers with the same platefuls and bowls of  instant noodles.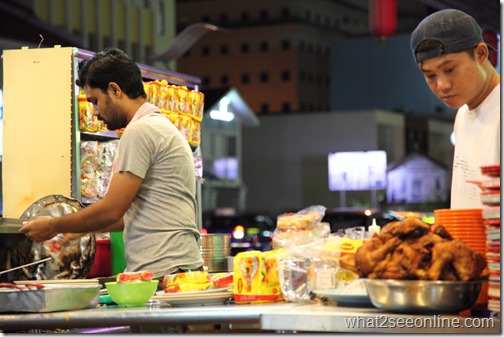 Jiao Sai uses packets of  instant noodles – brands include Maggi and Pama 
The fried noodles come with two flavors – mee maggi goreng (original) and tomyam goreng for those with a yen for spicy food.
The owner cooks the curly noodles in boiling water before stir frying it with the sachet of seasoning powder. The noodles are quite addictive and can be jazz up with ingredients such as sunny-side up egg and pieces of deep-fried chicken.
A serving of spicy tomyam goreng

The side dish of Jiao Sai special is favored by many customers. The simple deep-fried chicken marinated with spices is succulent and it makes a good companion to the meal.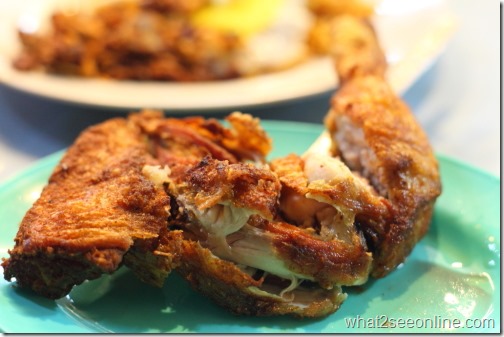 Chicken Jiao Sai special
Besides the popular fried noodles, Jiao Sai simple menu offers nasi goreng, mee maggi soup, tomyam soup and Roti John.
The Roti John may appeal to those who wants a serving of bread with the meal. Jiao Sai flips up the Roti John with rich flavor from soft sunny-side up eggs, chicken meat omelette and tomato sauce. If you enjoy this combination, Roti John may be for you. Personally I like it with a little less sauce.
For drinks, the hot teh tarik is a popular choice with sweetness kept in moderation. A cold choice is the teh-o ice limau.
Alternatively, diners could opt for the nasi lemak bungkus, wrapped in brown paper with a plastic layer.
The convenient ready packed nasi lemak with a combination of fragrant coconut rice, spicy sweet sambal and hard boiled egg comes with two varieties – ikan bilis (anchovies) or fried fish.
Nasi lemak with anchovies and fried fish
So, if your tummy is rumbling after a late night outing, just hop over to Jiao Sai. The business hours are from 5.30pm until 4.30am.
Jiao Sai / Restoran Yunus Khan 鸟粪 (Behind Red Rock Hotel)
No. G3, Red Rock Commercial Centre
202-A, Jalan Macalister
10400 Georgetown
Penang.
Tel: 011 – 1645 5440