Acupaday at Bishop Street Penang – Cafe where Vespa and Illy works together
BY CK Lam
A drive pass the bustling Bishop Street in Penang had us discovering Acupaday. This cafe is attracting attention with its combination of fun Vespa theme, Illy coffee and light meals.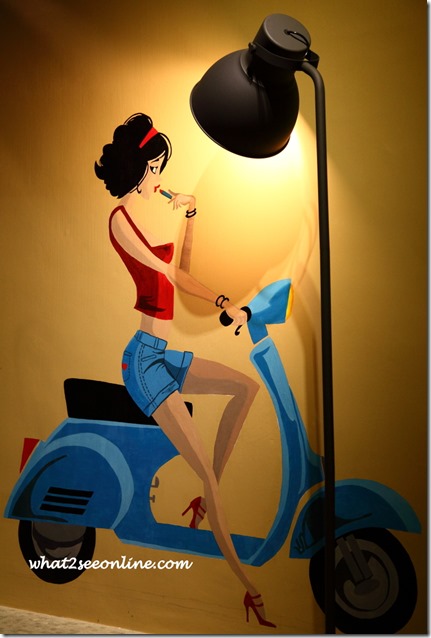 A Vespa scooter is displayed at its main entrance while its interior offers an arty vibe, with walls adorned with scooter theme paintings and coffee bean artwork. Selves and display cabinets are decorated with many scooter-related memorabilia.
The all-day menu is small and held no surprises. It features simple Western fare – salad, pies, croissants and pasta as well as sweet desserts. Ordering is done over the menu laid on the counter which takes pride in the centre of the shop. Photos of the food are shown on the iPad to assist the customers.
The drinks menu is wholesome with plentiful cappuccinos, espressos and other caffeine concoctions such as the espresso cube. A cup of long black goes for RM8.
In addition to the coffee drinks, there are the smoothies available in several refreshing flavors. I liked the mixed berries yoghurt smoothie made using a combination of berries.
Mixed berries yoghurt smoothie RM14
Croissants come with two choices of fillings – ham and cheese and the smoked salmon. The smoked salmon croissant presented with a salad had a bit too much sauce for my taste.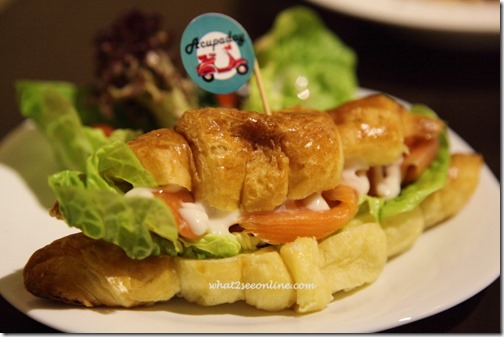 Croissant smoked salmon RM15
The spaghetti bolognese is the only pasta dish on the menu.  However do not overlook this dish as its gravy delights with just a light touch of tomato sauce and right amount of fresh herbs. I thoroughly enjoyed this dish.
Spaghetti bolognese RM15
For desserts, there are several varieties –  red velvet, tiramisu, chocolate rum, matcha and orange cake. I indulged in the tiramisu. The delightful dessert with liqueur sells out fast.
Acupaday is open 12pm until 12am on weekends and from 3pm until 12am on weekdays. This coffee spot on the right side of Bishop Street is easily spotted with its circular logo.
Acupaday
55 Bishop Street
10200 Georgetown
Penang